Research article
Open Access
Open Peer Review
This article has Open Peer Review reports available.
Do we have the right models for scaling up health services to achieve the Millennium Development Goals?
BMC Health Services Research
2011
11:336
Received: 15 October 2010
Accepted: 14 December 2011
Published: 14 December 2011
Abstract
Background
There is widespread agreement on the need for scaling up in the health sector to achieve the Millennium Development Goals (MDGs). But many countries are not on track to reach the MDG targets. The dominant approach used by global health initiatives promotes uniform interventions and targets, assuming that specific technical interventions tested in one country can be replicated across countries to rapidly expand coverage. Yet countries scale up health services and progress against the MDGs at very different rates. Global health initiatives need to take advantage of what has been learned about scaling up.
Methods
A systematic literature review was conducted to identify conceptual models for scaling up health in developing countries, with the articles assessed according to the practical concerns of how to scale up, including the planning, monitoring and implementation approaches.
Results
We identified six conceptual models for scaling up in health based on experience with expanding pilot projects and diffusion of innovations. They place importance on paying attention to enhancing organizational, functional, and political capabilities through experimentation and adaptation of strategies in addition to increasing the coverage and range of health services. These scaling up approaches focus on fostering sustainable institutions and the constructive engagement between end users and the provider and financing organizations.
Conclusions
The current approaches to scaling up health services to reach the MDGs are overly simplistic and not working adequately. Rather than relying on blueprint planning and raising funds, an approach characteristic of current global health efforts, experience with alternative models suggests that more promising pathways involve "learning by doing" in ways that engage key stakeholders, uses data to address constraints, and incorporates results from pilot projects. Such approaches should be applied to current strategies to achieve the MDGs.
Keywords
Absorptive CapacityPilot ProjectSkilled Birth AttendanceGlobal Health InitiativeGAVI Alliance
Background
It is widely agreed that health services in developing countries need to be "scaled up" to achieve the Millennium Development Goals (MDGs). The MDGs, which were adopted in 2000 at the United Nations, set ambitious goals for reducing child and maternal mortality, combating HIV/AIDS and malaria, and achieving high levels of coverage for basic health services. New global health initiatives (such as the Global Fund to Fight AIDS, Tuberculosis, and Malaria (GFATM), the World Bank Multi-Country HIV/AID Program (MAP), the US President's Emergency Fund for AIDS Relief (PEFFAR), the GAVI Alliance, the Roll Back Malaria Partnership, and the Stop TB Partnership), and increased financial resources [1] have raised expectations to deliver health programs at large scale. Although not explicitly defined by the global health initiatives, a working definition of scaling up has been proposed as "an ambition or process of expanding the coverage of health interventions" [2].
Most of the recent emphasis on scaling up has focused on achieving high coverage rates of health services and reducing mortality, rather than the processes for how to scale up. The MDGs are identical for all countries, which in the case of childhood mortality, sets the target as a two-thirds reduction in child mortality rate between 1990 and 2015, the equivalent of an average annual decline of 4.3%. For the most part, the scaling up process is seen as the replication of specific health interventions (e.g. immunization, skilled birth attendance, integrated management of childhood illness, etc.) that have been shown to be cost-effective in a limited number of settings - usually a research setting or special projects conducted in a few countries. The intervention is expected to be delivered through a better-resourced and enlarged public health delivery system by replicating a similar package of interventions at more points of service delivery, often through model district health systems. HIV/AIDS programs are somewhat different in that they also enlist large numbers of non-governmental organizations (NGOs) for some of the interventions. The process of expanding coverage also involves the swift disbursement of funds, expanding partnerships, ensuring sustainable funding and promoting ownership, particularly at central levels [3–5]. These assumptions have been used to estimate the costs of scaling up of several health services intended to achieve the MDGs [6], and to estimate the human resources needed to provide them [7]. Although in some cases adjustments are made for expected economies of scale, the expanding coverage of specific health interventions is largely expected to be independent of each other.
Unfortunately, many countries are not on track to achieve the MDG health goals by the end date of 2015 [
8
], with one quarter to one half of all countries projected to not achieve their target levels for health services [
9
]. Previous analysis of national trends in coverage of MDG-related health services where there exists sufficient data for trend analysis demonstrated that countries have very different rates of change of coverage [
9
]. It was also found that changes in the rates of coverage of some health services are associated with the rates of change of other services (the services with sufficient data to assess annual rates of change include childhood immunization coverage, skilled birth attendance, tuberculosis treatment completion, and tuberculosis case detection). Using World Development Indicators data and the same multi-level statistical models as were used to assess changes in health services [
9
–
11
], we also analyzed the annual rates of change in under five mortality for each low and middle income country between 1990 to 2009 (Figure
1
). Each line represents one country, and suggests that rates of change are highly divergent from one country to the next, and that the concept of an average country or average rate of change does not represent past experience. Figure
2
uses the same data to plot a country's under five mortality rate in 1990 against its subsequent annual rate of change, demonstrating that many countries are not reaching the target level of 4.3% reduction per year, and that there are very few clusters of countries with similar rates of change and starting points. These results suggest that even if common sets of health interventions and common health goals are being pursued by the MDGs, the rates at which they are being scaled up is quite different, and with some countries even losing coverage and increasing mortality.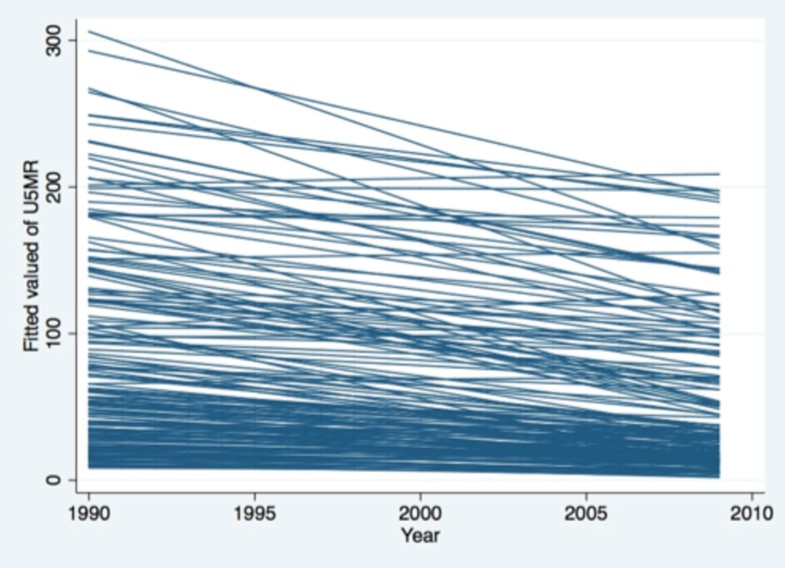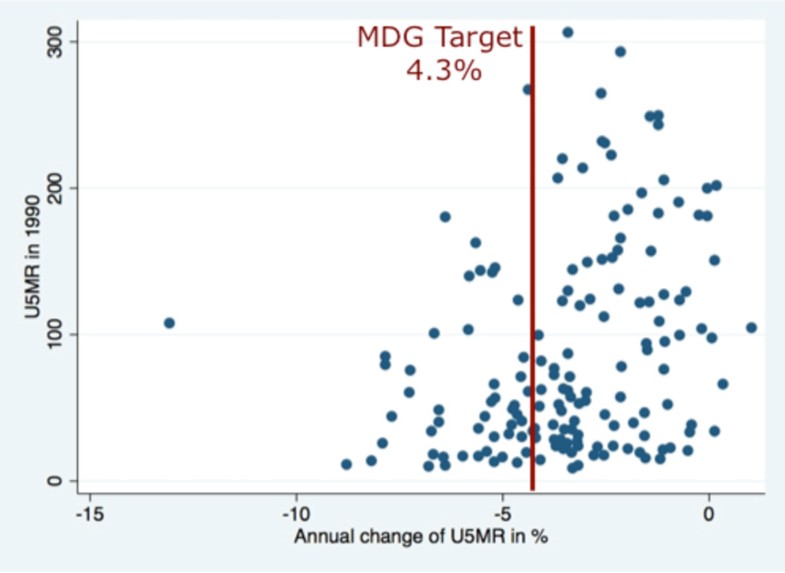 Notably absent from much of the discussion around scaling up to reach MDG targets has been the logic models or theories of change that can guide practice and research [12], though a number of recent papers have examined why scaling up is not happening at the targeted rates. A recent review of the literature on scaling up in international health identified a number of common constraining factors, including the lack of absorptive capacity, weak health systems, human resource limitations, and high costs [13]. On the other hand, strong leadership and management, realistic financing, and technical innovation are believed to be common characteristics of successful large scale health programs [13, 14]. However, there has been little attention paid to understanding why these factors occur and how to change them in ways that would guide practice for scaling up [12]. Recent publications that have addressed how scaling up occurs have concluded that scaling up processes are complex [15], with changes in political context and program management factors being major sources of variation in how scaling up occurs [16, 17]. There have also been warnings against the over-reliance on "gold standard" evidence on intervention cost-effectiveness as basis for policy and implementation choices, as there are limitations on how relevant they are to what will happen in a particular country [18, 19].
Because of the continued interest in scaling up health services, and the limited application of theoretical perspectives on scaling up in the current efforts to achieve the MDGs, it is a good time to examine what theoretical models have been used in scaling up for health in low and middle income countries. The purpose of this paper is to identify the theoretical frameworks that have been used to understand the issue of scaling up in the health sector in developing countries, and to identify how they inform practical questions of planning, implementation, monitoring, and evaluation for scale. It is hoped that by examining the theoretical approaches and lessons learned from them, we can gain insights for how to achieve the MDGs.
Methods
We used a systematic approach to review the published and grey literature to identify and examine conceptual models for scaling up health programs in low and middle income countries. The areas of enquiry for understanding scaling up health services were identified through prior knowledge of the literature and discussions held with academics and professionals from development agencies (UNICEF, World Health Organization, GAVI Alliance, World Bank, Canadian International Development Agency, and United States Agency for International Development), and were intended to highlight the practical concerns about how to scale up. This resulted in the identification of a set of key domains and related questions, which are listed in Table
1
. The key domains include the meaning or definition of scaling up used in the conceptual model, the type of resources required for scaling up, and the different perspectives on planning, implementation and evaluation. We also reviewed the political, social, and environmental context in which scaling up occurred, and the entity being scaled up (e.g. type of health service, health organization, or health program).
Table 1
Key Dimensions of Scaling Up Health Services
| Scaling Up Dimension | Questions Addressed |
| --- | --- |
| Meaning of Scaling Up | How is scaling up defined? What is the time horizon for scaling up? How are valid strategies determined? |
| Scaling Up Resources | What types of resources are needed? How do we define absorptive capacity? What type of absorptive capacity is required for scaling up? |
| Planning Perspectives | How to plan for scaling up? |
| Implementation Perspectives | What are the key implementation components for scaling up? |
| Monitoring and Evaluation | How do we monitor and evaluate scaling up? Are the criteria for success aligned with the definition of scaling up? |
To identify articles for review, we began with the World Health Organization (WHO) sponsored Expandnet database, with all 178 articles available on the site in March, 2009 subjected to initial review for relevance [20]. Expandnet, which began in 2003, is a global network of representatives from international organizations, non-governmental organizations, academic and research institutions, ministries of health and specific projects who seek to advance the science and practice of scaling up. Members of Expandnet include public health professionals who have been active participants in scaling-up initiatives including those implementing the WHO-sponsored Strategic Approach to Strengthening Reproductive Health Policies and Programmes in countries in Africa, Asia, Eastern Europe, and Latin America, individuals from technical assistance and donor agencies and people with expertise and interest in issues related to scaling up. An additional 22 articles were retrieved from a hand search of the references from these articles. We also used a systematic search of electronic databases using a set of relevant key words as search terms (see additional file 1), on studies published up to March 2009. The electronic resources included PubMed and websites for Human Resources for Health, the International Health Partnership, The WHO, The World Bank, GAVI, GFATM, the United States Agency for International Development, United Kingdom Department for International Development, PEPFAR, Commission on Macroeconomics and Health, JHPIEGO, Save the Children, Overseas Development Institute, United Nations Millennium Project, and Management Sciences for Health. This yielded another 72 articles for review. No year or language restrictions were placed on the electronic search. An article was eligible for review if it discussed the process of scaling up health services in a low and middle income country, as categorized by the World Bank [11]. To be included for review, the article needed to include a conceptual model for scaling up health services, which was defined as the identification of factors and their relationship to each other and the process of expanding health services, health programs, or other definition of scaling up in health. An article that described factors that influence MDG health outcomes, but did not define or describe a scaling up process, was not included in the review. After screening for duplicates and eligibility, 102 articles were included in the final review (listed in additional file 2). Data were abstracted from each article by one reviewer (SS) according to a standard set of questions concerning the conceptual models and the practical implications (Table 1), with further review by two other authors (JN and DHP) to arrive at a consensus in the case of uncertainty over the content. The results below are presented according to the domains of enquiry.
Results
From the 102 articles reviewed, we identified six distinct conceptual models that focused on the question on how to scale up health services in developing countries, which are briefly summarized in Table
2
[
20
–
25
]. Although three of the papers were published after 2000, none of the post-2000 frameworks were adopted by a global health initiative as a model for practice, nor were any developed specifically for scaling up services to achieve the MDGs. All frameworks tended to draw on lessons learned from scaling up experiences prior to the declaration of the MDGs. They were designed in the context of underlying concerns about how to expand and sustain experience gained from pilot projects or the diffusion of innovations in health, and so we have labeled these approaches broadly as "Scaling up Innovations and Pilot Projects". Although they differ in their emphases and content (e.g. some focus on scaling up of a health service, whereas others focus on the health technology or the organization providing services), they share similar perspectives about the meaning of scaling up, the resource requirements, and planning and implementation issues.
Table 2
Conceptual Frameworks Identified for Scaling Up Health Services
| Name of Framework | Description of Framework | Year of Publication |
| --- | --- | --- |
| A Learning Process Approach [21] | A model that describes a learning process to building program strategies and organizational competence. It suggests that a new program should progress through three developmental stages in which the focal concern is successively on learning to be effective, learning to be efficient, and learning to expand. | 1980 |
| Alternative Strategies for Scaling Up NGOs [22] | A model that describes four dimensions of scaling up of programs and organizations: (i) quantitative, (ii) functional, (iii) political and (iv) organizational development. | 1995 |
| Diffusion of Innovations [23] | Diffusion of innovations theory seeks to explain how, why, and at what rate new ideas and technology spread through cultures. The four main elements involve: (i) the innovation, (ii) communication channels, (iii) time and (iv) a social system | 1995 |
| SEED-Scale [24] | A model involving three principles for scaling up: (i) forming a three way partnership of community members, officials and experts, (ii) basing action on locally specific data, (iii) using a community work plan to change collective behavior | 2002 |
| Scaling Up Management (SUM) Framework [25] | A framework for those planning, implementing and funding pilot projects with the intention of scaling up. The three steps include: (i) developing a scaling up plan, (ii) establishing the pre-conditions for scaling up and (iii) implementing the scaling up process based on the identification of factors that can promote extension and sustainability | 2003 |
| Expandnet Framework [20] | A framework that presents the scaling up process within a systems context involving the following components: (i) determining the innovation, (ii) identifying the user organization, (iii) defining and analyzing the environment, (iv) identifying the resource team. It also involves identifies the need for considering the role of: (i) policy/legal/political scaling up, (ii) physical expansion of services and programs, (iii) diversification, and (iv) spontaneous scaling up | 2008 |
Discussion
Although this paper does not capture all the subtleties of the different global health initiatives or models for scaling up, it is clear that the current focus on quantitative coverage targets provides little insight for the actions needed for further growth or sustainability. Rather, the lessons from the past suggest that attention is needed to political, organizational, and functional dimensions of scaling up, and the need to nurture local organizations. The current bias toward supply side solutions and over-reliance on the public sector also ignores the importance of demand side factors and influence of market systems that are often critical for long-term success [35]. Most global health initiatives largely fund public sector programs, often through budget support to governments that rely on government systems, or by creating special projects that bypass usual government systems, sometimes relying on large NGOs [19].
Each of the scaling up models described here also challenge the utility of any "one size fits all" strategy or the assumption that strategies can simply be adapted to local conditions. Rather, they suggest that specific strategies need to be developed in ways that are appropriate to individual countries and areas within a country, so that they can better involve and build local institutions and address local contexts. Systematic reviews of empiric research on strengthening health services support this view, and have demonstrated that no single strategy or blueprint has been shown to repeatedly strengthen health services in developing countries [19]. But successful processes to improve service delivery have been identified, including: stakeholder consultation and involvement; explicitly identifying and minimizing constraints to implementation; feedback mechanisms that allow continuous adaptation to local dynamic contexts; and seeking larger effects through multiple rather than single component strategies [19]. Blueprint approaches are rarely adaptive enough to work in predictable ways in different contexts, and are likely to produce unintended consequences, which can lead to poorly functioning and unsustainable interventions. By the same token, local adaptations are unlikely to be easily scaled up on their own; changing the institutional arrangements for service providers, however, can strongly influence their performance and prospects for scaling up. Yet approaches that involve partnerships among communities, policy makers, and experts have been more successful than approaches that do not create such partnerships [19].
Promoting participatory approaches for implementation and local autonomy does not guarantee success, but it appears to be a critical factor contributing to ownership and sustainability of programs. But rigid models for standardized implementation that exclude national and local institutions in matters of design, resource allocation, and monitoring, particularly those outside of individual projects or programs, ensure that local institutions will remain disempowered and peripheral to the scaling up process.
It is not clear whether the global health initiatives will be able to pursue any radically different approaches to scaling up. To date, the resources provided for scaling up health services to reach the MDGs are larger than those available in the past to scaling up innovations and pilot projects. The increased political and financial attention have created new opportunities for expanding access to essential health services around the world, and has brought a much needed sense of urgency. Whereas it is clearly desirable to have quick action and results, the current approaches show that this cannot be accomplished hastily. Learning lessons from experience and models for change will provide new opportunities to tackle the complexities of scaling up in locally relevant and accountable ways.
Conclusions
Although there is agreement on the importance of scaling up health services to achieve the MDGs, the dominant paradigm for scaling up pursued by global health initiatives has focused excessively on providing adequate funding and rapidly expanding the coverage of health services in a mechanistic way. Such an approach is overly simplistic and not consistent with the experience that each country follows its own pathway in changing health services coverage and health outcomes. The current emphasis on achieving health services targets provides little insight on how to build the organizational, functional, and political capabilities that are needed for scaling up. We examined alternative models for scaling up, which have applied theories of change that demonstrate how scaling up occurs in complex and dynamic environments. Experience with these approaches suggest that rather than relying on blueprint planning and costing that is prevalent among global health initiatives, a "learning by doing" approach that engages key stakeholders, uses data to address constraints, and incorporates results from pilot projects, is a more promising approach to finding pathways to scaling up. These lessons should be applied to current strategies to achieve the MDGs.
Abbreviations
GAVI:

Global Alliance for Vaccines Initiative
GFATM:

Global Fund to Fight AIDS, Tuberculosis, and Malaria
HIV/AIDS:

Human Immunodeficiency Virus/Acquired Immune Deficiency Syndrome
MAP:

Multi-Country HIV/AID Program (World Bank)
MDGs:

Millennium Development Goals
NGOs:

Non-governmental organizations
PEPFAR:

US President's Emergency Fund for AIDS Relief
SEED (in SEED-Scale):

Self-Evaluation for Effective Decision-making
SUM:

Scaling Up Management
WHO:

World Health Organization.
Declarations
Acknowledgements and funding
DHP and SS were supported by Grant # H050474 provided by the United Kingdom Department for International Development (DFID) for the Future Health Systems research programme consortium http://www.futurehealthsystems.org. JN is an employee of the United States government. The views expressed are not necessarily those of DFID or the US government. The funder had no involvement in the study.
Authors' Affiliations
(1)
Department of International Health, Johns Hopkins University Bloomberg School of Public Health, Baltimore, USA
(2)
U.S. Agency for International Development GH/AA, NW Washington, USA
Copyright
© Subramanian et al; licensee BioMed Central Ltd. 2011
This article is published under license to BioMed Central Ltd. This is an Open Access article distributed under the terms of the Creative Commons Attribution License (http://creativecommons.org/licenses/by/2.0), which permits unrestricted use, distribution, and reproduction in any medium, provided the original work is properly cited.