Research article

Open Access

Open Peer Review
This article has Open Peer Review reports available.
The index of rural access: an innovative integrated approach for measuring primary care access
BMC Health Services Research
2009
9:124
Received: 14 October 2008
Accepted: 23 July 2009
Published: 23 July 2009
Abstract
Background
The problem of access to health care is of growing concern for rural and remote populations. Many Australian rural health funding programs currently use simplistic rurality or remoteness classifications as proxy measures of access. This paper outlines the development of an alternative method for the measurement of access to primary care, based on combining the three key access elements of spatial accessibility (availability and proximity), population health needs and mobility.
Methods
The recently developed two-step floating catchment area (2SFCA) method provides a basis for measuring primary care access in rural populations. In this paper, a number of improvements are added to the 2SFCA method in order to overcome limitations associated with its current restriction to a single catchment size and the omission of any distance decay function. Additionally, small-area measures for the two additional elements, health needs and mobility are developed. By utilising this improved 2SFCA method, the three access elements are integrated into a single measure of access. This index has been developed within the state of Victoria, Australia.
Results
The resultant index, the Index of Rural Access, provides a more sensitive and appropriate measure of access compared to existing classifications which currently underpin policy measures designed to overcome problems of limited access to health services. The most powerful aspect of this new index is its ability to identify access differences within rural populations at a much finer geographical scale. This index highlights that many rural areas of Victoria have been incorrectly classified by existing measures as homogenous in regards to their access.
Conclusion
The Index of Rural Access provides the first truly integrated index of access to primary care. This new index can be used to better target the distribution of limited government health care funding allocated to address problems of poor access to primary health care services in rural areas.
Keywords
Primary Care Service
Impedance Function
Spatial Accessibility
Catchment Size
Collection District
Background
Although access to health care is recognised internationally as a fundamental human right [1, 2], population access to health care services in many areas is inadequate [3, 4]. Globally, many rural and remote communities, often characterized by high levels of need for health care because of their poor health status [5], face enormous access barriers (both spatial and aspatial) to health care services. Indeed, for many rural and remote populations, access to health care is the most important issue [6].
Within Australia, numerous programs have been introduced by governments aimed at reducing access difficulties confronting rural populations [7]. Most of these programs target the provision of primary care services, because these are the gateway to the health system for most health care seekers. Moreover, primary care services are most effective at reducing inequities within these populations [8, 9]. To date, however, in the absence of a national index of access, funding for most of these Australian programs is based (rather inadequately) on one of two rural classifications as surrogate measures of access [10] – either the Rural Remote and Metropolitan Areas (RRMA) classification [11] which divides all Statistical Local Areas (SLAs) into three zones (metropolitan, rural and remote) and seven categories across these zones based on the size of the largest population centre within each SLA; or the Australian Standard Geographical Classification (ASGC) Remoteness index [12] which measures road distance (proximity) to five hierarchical levels of service centres (proxy for availability) based on population size alone, the aggregated scores of which are then separated into five hierarchical categories.
Both of these classifications categorise most of non-metropolitan Australia into a few large, apparently homogenous, areas. Moreover, key dimensions of access are not included within either of the RRMA or ASGC Remoteness classifications because this was never their intended application. Nor is either classification able to detect small area variations of access [13].
This article outlines the development of a new index of access to primary care services designed to provide a better and more sensitive measure of access to health care services, particularly in non-metropolitan areas. Importantly, this index integrates the key geographical aspects of distance and location that underpin existing rural classifications with critical aspatial barriers associated with accessing primary care services.
Barriers to accessing primary care services
The first step to developing an integrated measure of access is to identify relevant spatial and aspatial barriers [14, 15]. Access to health services is a function of several factors, including appropriate supply (availability), reasonable distance/time impedance to available services (proximity), the level and nature of need for those seeking care (health needs) and the ability of individuals to access care at a time of need (mobility) [16, 17].
Inadequate availability or supply of rural health care services is the most obvious barrier to accessing services at times of need [14, 18, 19]. Since health services are not ubiquitously available [20], distance and/or time separation between population and health service locations represents an important access barrier for rural populations [21–24]. Regardless of geographical location, a population can only have good access if the availability of services is adequate. Similarly, a population can only have good access if services are located in reasonable proximity, regardless of availability. Thus availability and proximity must be considered together when measuring health service access, often referred to as "spatial accessibility" [25–27].
Since achieving equitable access is widely accepted as an important goal of health service planning [28–31], it follows that the health needs of populations also impact significantly on service availability. A population characterised by higher health needs requires relatively more services to maintain an equivalent level of access compared to a similarly sized population with lower health needs. Similarly, the mobility of a population is another important factor determining their ability to overcome the distance barrier. A key facilitator of mobility is an individual's access to transportation, which enables them to transcend distance when accessing services [32–34]. The addition of these two elements, health needs and mobility enables a broader spectrum of health care access to be captured rather than being simply a measure of geographical accessibility.
With the exception of Wang and Luo [35] and one Australian index which measures access to rural education services [36], there are no rural measures of health care access that integrate both spatial and aspatial barriers. The following Index of Rural Access is designed to take account of these barriers (service availability, proximity, health needs and mobility) which together differentiate access to primary care. Additional barriers [16], which may further explain utilisation differences, such as acceptability (individual chooses not to access services because of provider or organisation preference differences), attitudes (individual chooses not to access services because of health belief or attitude differences) and affordability (individual chooses not to access services because of out-of-pocket costs) are not incorporated in this index.
Methods
In constructing the Index of Rural Access, methods for measuring each individual barrier (spatial accessibility, health needs and mobility) are developed separately before integrating them as a single measure (index) of access. This methodology is defined over four stages which are outlined in detail below. Indicators used to measure each dimension were deliberately sourced from publicly available and regularly-updated datasets. Additionally, the need to measure small area variations of access in rural areas necessitates the use of the smallest feasible geographical unit for all indicators. This new index has been constructed for the state of Victoria, Australia (see Figure
1
).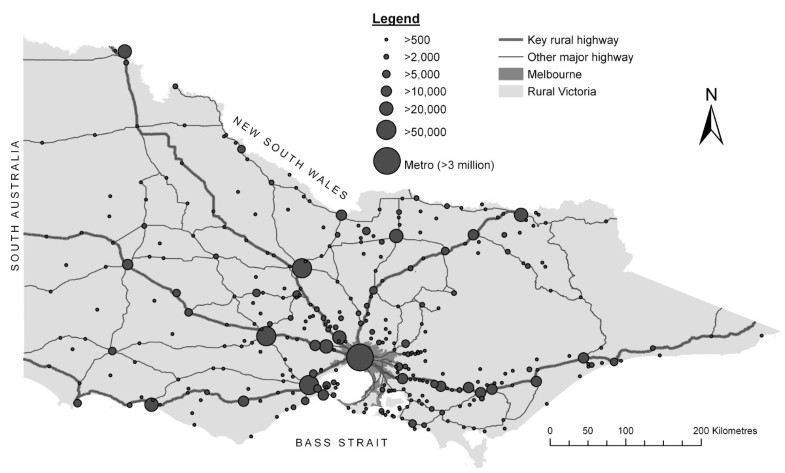 Results
Table 2 shows that access to primary care is far from homogenous within each of the broad levels of the RRMA and ASGC Remoteness classifications, when compared against the Index of Rural Access. For the RRMA classification, the greatest spread of access scores is seen in 'Other Rural' areas – that is, those regions characterised by smaller dispersed populations. Whereas the RRMA classification treats these areas as being equal, the Index of Rural Access calculates a relatively uniform distribution of access scores within 'Other Rural' areas ranging between 1:1200 (equivalent to 0.000833) and much less than 1:3000 (0.000333). In 'Small Rural' and 'Large Rural' areas, though the range of access scores is less, there is still a uniform distribution of access scores ranging between 1:1200 and 1:2500 which once again shows the intra-regional heterogeneity of access to primary care in these areas. For the 'Inner Regional' area of the ASGC Remoteness classification, there is also a significant spread of access scores from the highest access right through to the lowest access.
Discussion
Currently, most health incentive funding programs in Australia aimed at reducing access problems faced by rural and remote populations are based on either the RRMA or ASGC Remoteness classifications. The results shown in Table 2 highlight a major deficiency from using a purely geographical classification as the basis for resource allocation to address access problems. Existing geographical schemes classify large areas as homogenous and thus warranting equal treatment, whereas the use of a more appropriate and sensitive measure of access, such as the Index of Rural Access, indicates a very different scenario. The limitations associated with ongoing use of the RRMA and ASGC classifications have been recognised by both Liberal (conservative) and Labor governments responsible for funding of access initiatives [10, 74]. However, until now, the complexity of developing a suitable index of access has apparently precluded the development of an acceptable solution.
The most powerful aspect of our new Index of Rural Access is its ability to identify areas with access disadvantage at a much finer geographical scale than previously existed. This advantage has been achieved through a number of key methodology design elements. Firstly, the incorporation of actual health service data enables a more accurate measure of availability and proximity as well as temporal changes to be easily captured. Secondly, an improved method to measure rural access was developed by introducing four improvements (a-d) to the 2SFCA method, which overcome its fundamental weaknesses of both failing to differentiate proximity within a catchment itself, and using a single catchment size for all population areas. Additionally, the important aspatial dimensions of access, health needs and mobility, have been integrated within the 2SFCA method. Lastly, all data have been collected and measured using the smallest available geographical unit (CD), which in combination with the first three design elements enables the Index of Rural Access to measure access at a much finer scale than alternative measures. As a result, application of this new index is likely to achieve a more equitable distribution of health service incentive funding within rural areas.
Although the Index of Rural Access has been constructed specifically for primary care services, its application is not restricted to measuring access to GPs. It is an appropriate tool (method) for measuring access for any primary health care service where populations are presented with a choice of services with overlapping service areas, such as dentists, pharmacists, optometrists and other allied health services.
The development of the Index of Rural Access could be further improved if stronger empirical evidence was available to guide some of the key decisions that are required in the development of any index such as this one. Alternative threshold values are available for consideration at several decision points, some of which were highlighted in Table 1, but currently there is little empirical evidence to guide definitive decisions. In the conduct of developing the Index of Rural Access, several alternatives were tested [45], the results of which showed that our choices were robust and realistic for rural and remote regions in geographically large countries such as Australia and Canada. Nonetheless, we recognise that applications of the Index of Rural Access in geographically small countries such as the United Kingdom and New Zealand or other more sparsely populated areas such as the state of Western Australia may warrant the choice of different threshold values. We invite further empirical research to help inform this decision-making.
We also acknowledge that the Index of Rural Access has not yet been externally validated as an improved measure of access in rural areas. Subsequent validation is very important, particularly prior to any comprehensive policy implementation changes based on this methodology. Such validation may come through feedback from the general population who experience access barriers first-hand, or perhaps through feedback from experts (such as rural workforce agencies) with a more intimate knowledge of service distribution. Furthermore, it is recognised that our approach to measuring health needs may not be ideal, but surrogate measures will always be required in situations where no adequate small area measures of observed health needs exists. We would also welcome validation through the application of this index in different settings, such as for different primary care service providers or in other locations both within and outside of Australia where better data may be available within government departments. Finally, we recommend that a useful validation would be to measure the association between the Index of Rural Access scores and age-sex standardised service utilisation rates, which in Australia is not currently possible because of limited access to such data at a sufficiently small spatial scale.
Conclusion
Building on Luo and Wang's 2SFCA method, our Index of Rural Access provides the first truly integrated index of access to primary care services, in the Australian rural context. By combining the four key elements of availability of, and proximity to, services, health needs and mobility and through its calculation at the smallest feasible geographical scale using improved methods, the Index of Rural Access provides a more sensitive and appropriate measure of access, particularly for rural populations, than existing methods.
The potential application of the Index of Rural Access is very significant. In Australia, large amounts of government funding are allocated and distributed in the form of incentives designed to improve the recruitment and retention of the health workforce (especially GPs) in rural and remote areas where primary care workers are currently in short supply and difficult to recruit. Results from the Index of Rural Access in Victoria, have demonstrated the inadequacy of current classifications, upon which funding is based, to distinguish important geographical variation in access disadvantage. Thus, the Index of Rural Access provides a timely solution to the identification of areas of low or high access and can enable better targeted government funding.
Declarations
Acknowledgements
This research was supported by the Australian Postgraduate Award and the Monash University Postgraduate Publication Award schemes, as well as the Monash University Department of Rural and Indigenous Health.
Authors' Affiliations
(1)
Gippsland Medical School, Monash University, Churchill, Australia
(2)
School of Rural Health, Monash University, Bendigo Central, Australia
Copyright
© McGrail and Humphreys; licensee BioMed Central Ltd. 2009
This article is published under license to BioMed Central Ltd. This is an Open Access article distributed under the terms of the Creative Commons Attribution License (http://creativecommons.org/licenses/by/2.0), which permits unrestricted use, distribution, and reproduction in any medium, provided the original work is properly cited.