Research article

Open Access

Open Peer Review
This article has Open Peer Review reports available.
Suicidal patients' experiences regarding their safety during psychiatric in-patient care: a systematic review of qualitative studies
BMC Health Services Research
BMC series – open, inclusive and trusted
2017
17:73
Received: 9 September 2015
Accepted: 16 January 2017
Published: 23 January 2017
Abstract
Background
In-patient suicide prevention is a high priority in many countries, but its practice remains poorly understood. Patients in a suicidal crisis who receive psychiatric care can provide valuable insight into understanding and improving patient safety. The aim of this paper was therefore to summarize the qualitative literature regarding suicidal patients' in-patient care experiences. The following question guided the review: How can we describe suicidal patients' experiences regarding safety during psychiatric in-patient care?
Methods
Systematic searches were conducted in the MEDLINE, Academic Search Premier, CINAHL, SOCINDEX and PsycINFO databases, identifying 20 qualitative studies on suicidal patients and their psychiatric in-patient care experiences. These studies were systematically reviewed using the Preferred Reporting Items for Systematic Reviews and Meta-Analyses (PRISMA) guidelines, synthesized via thematic analysis and subjected to quality appraisals.
Results
Patients described safety as "feeling safe", and three components, i.e., connection, protection and control, were vital to their experiences of safety. Fulfilling these needs was essential to patients recovering from suicidal crises, feeling safe during encounters with health care professionals and feeling safe from suicidal impulses. Unmet needs for connection, protection and control left patients feeling unsafe and increased their suicidal behaviour.
Conclusion
Our review addresses the importance of adopting a wider perspective of patient safety than considering safety solely in technical and physical terms. Safety for the suicidal patient is highly dependent on patients' perceptions of their psychological safety and the fulfilment of their needs. The three patient-identified factors mentioned above – connection, protection and control – should be considered an integral part of patient safety practices and should form the basis of future efforts to understand the safety of suicidal patients during psychiatric in-patient care.
Keywords
Patient experiences
Patient perspective
Mental health
Psychiatric care
In-patient
Suicidal
Suicide
Patient safety
Background
Suicide is a particular concern in mental health settings because of its strong association with mental illness [1]. Although suicides rarely occur during in-patient care, these events are clinically important and are among the most concerning patient safety incidents in the mental health sector [2–4]. Suicide prevention is one of the primary tasks of health care professionals practicing in psychiatric wards [4]. In-patient suicide prevention is a high-priority in many countries [5–7]; however, its practice remains poorly understood.
The ethical and pragmatic problems posed by including suicidal patients in research have contributed to the currently limited research regarding the treatment of high-risk and hospitalized suicidal patients [8]. To understand safety in health care services, information must be obtained from multiple sources, including the patient's perspective. As such, patients can provide insight regarding care and can contribute important information when other sources of evidence are limited [9]. Patients can also provide unique information on adverse events in hospitals [10, 11] as well as useful descriptive feedback regarding safety, in particular sensitive safety-related topics [12]. Patient experiences are considered one of the three pillars of health care quality, along with clinical safety and effectiveness of outcomes [13].
Qualitative studies of patient experiences with psychiatric in-patient care have been reviewed within certain areas, such as involuntary hospitalizations [14], physical restraint [15], acute wards [16], seclusion practices [17], locked doors [18] and service user expectations [19]. However, no reviews to date have examined studies regarding suicidal in-patients. Therefore, this review aimed to summarize empirical qualitative studies by exploring suicidal patients' psychiatric in-patient care experiences to better understand their perspectives toward safety.
Review question
A literature review was conducted to answer the following review question: How can we describe suicidal patients' experiences regarding safety during psychiatric in-patient care?
Methods
The selected studies were systematically reviewed using the Preferred Reporting Items for Systematic Reviews and Meta-Analyses (PRISMA) guidelines [20]; the articles were then synthesized using thematic analysis [21] and assessed further via quality appraisal [22]. The objectives, inclusion criteria, analysis methods and search strategy were specified and documented in a protocol reviewed by the three authors prior to the database search. The authors are researchers with backgrounds in psychology (SHB), mental health nursing (KR) and safety science (SHB and KAA).
Inclusion and exclusion criteria
The eligibility criteria for inclusion in the review pertained to the following three characteristics: Type of study: Qualitative peer-reviewed studies in English with empirical data on patients' experiences regarding safety were eligible. Participants: Studies examining a sample of suicidal in-patients who were interviewed during their hospitalizations or after discharge were eligible. "Suicidal in-patients" included patients hospitalized after a recent suicide attempt, described as suicidal during hospitalization or with serious suicidal thoughts or ideations; self-harming behaviour was excluded. The final criteria related to Setting: Experiences regarding care in psychiatric hospital wards, including psychiatric emergency wards and psychiatric long-term in-patient care, were eligible. Studies in multiple hospital settings were included if information regarding psychiatric in-patient care experiences could be extracted. Patient experiences pertaining to outpatient clinics, community mental health care, home care, forensic psychiatric services, emergency care and medical care were excluded. Studies describing patient experiences with adverse side effects from pharmacological treatment were excluded. Studies with mixed patient samples and studies involving health care professionals' experiences were included if information regarding patient experiences could be extracted.
Search strategy and study selection
To increase sensitivity, limitations on publication date were not imposed during the database search. The selection of databases, search terms and search methodology were determined in collaboration with a university librarian. The databases included in the systematic search were MEDLINE and the Academic Search Premier, CINAHL, SocINDEX with Full-Text and PsycINFO Ovid databases. Systematic database searches were conducted between June and December 2014 and in July 2016.
Search terms were identified in relevant studies during the planning of the systematic review. The terms were selected from qualitative studies of patient experiences in mental health care and from qualitative studies of suicidal patients' experiences. All identified search terms were included to increase search sensitivity. The full electronic search strategy for PsycINFO is outlined in Additional file 1. We also screened reference lists and conducted author searches in EMBASE and Google Scholar.
We systematically searched all of the above databases using the following terms: patient* satisfaction*, patient* preference*, in-patient* experience*, patient* experience*, patient* perception*, patient* view*, patient* perspective*, patient* opinion*, user* experience*, consumer* experience*, consumer participation, suicide, suicidal, feeling safe and feeling unsafe.
The study selection process was conducted according to the eligibility criteria displayed in the flow diagram in Fig.
1
. First, all titles were screened, and the abstracts were read by one author (SHB). Ineligible studies were excluded. Full-text articles were obtained for the eligible studies. Two authors (SHB and KR) independently assessed the full-text articles for eligibility in a standardized manner. A third author (KAA) validated the assessments. The level of agreement was generally high; however, setting was often discussed, as the studies were conducted in mixed settings. Agreement was reached by re-reading the articles to determine whether information on patient experiences with psychiatric in-patient care could be extracted from the studies in question. All authors were in agreement regarding the final inclusion and exclusion of all articles. A data extraction sheet was developed to guide study selection. Information from all full-text articles was added to the sheet. All studies were assessed based on the abovementioned eligibility criteria and colour-coded as red (no), orange (maybe) or green (yes).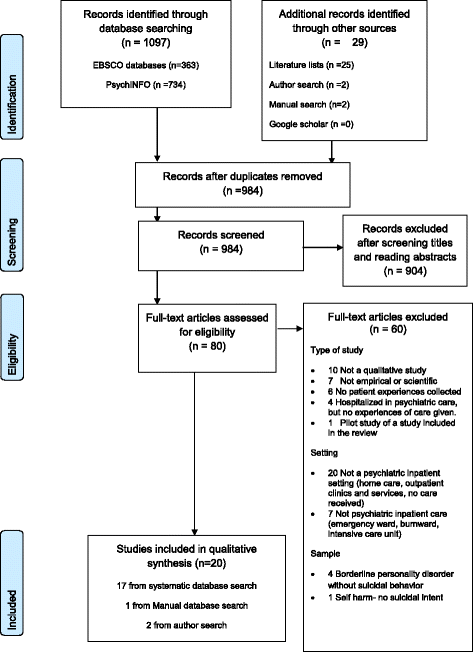 Synthesis of results
Thematic analysis, as proposed by Thomas and Harden [
21
] and Braun and Clarke [
23
], was used to facilitate the synthesis of the results of the included studies. The thematic synthesis consisted of two stages. The first stage entailed coding the text "line by line", condensing the meaning units and developing descriptive themes. An inductive approach was used in which the descriptive themes remained close to the original findings of the studies [
23
]. The second stage developed relationships between the descriptive themes and patient safety to generate analytical themes [
21
]. Thematic mapping was used to identify relationships between meaning units, descriptive themes and analytical themes [
21
,
23
]. Connections between patients' needs, expectations, experiences, reported outcomes (such as experiencing increased or decreased suicidal behaviour) and use of the term 'safety' were studied in the analytical stage. Coding and preliminary theme development were conducted by one author (SHB) and reviewed by all three authors. The analysis yielded 83 meaning units, nine descriptive themes and three analytical themes ("Connection", "Protection" and "Control"). Forty-nine of the 83 meaning units were found in the "Connection" theme, which was thus considered the most comprehensive theme. An example of theme condensation is presented in Table
1
. A full overview of the meaning units and themes is provided in Additional file
2
.
Table 1
Example of theme condensation
| Example of extracted data | Meaning units | Descriptive theme | Analytical theme |
| --- | --- | --- | --- |
| Lack of acknowledgment from observers; these perceptions sometimes overlapped with perceptions of a lack of empathy. Such behaviors included observers' reading books, appearing distracted or uninterested in the participant, and acting like the participant was a burden [40]. | 61. Lack of observer support manifests as lack of empathy and acknowledgement | Receiving support from the observers | Protection |
| Feelings of objectifications in formal observation without interpersonal engagement…It's a scary thing going somewhere where you feel like you're isolated and locked away. (Claire)…Being watched like that; it's freaky…a bit invasive…that separation, that 'us and them'. It's a bit tricky. (Kate) [26]. | 62. Feeling objectified and detached without observer support | | |
| "They don't care. You get that feeling quite often. It just kind of supports that hopeless kind of feeling that life isn't worth living and nobody cares about anything." Such encounters did little to alleviate hopelessness, and six participants noted that they increased their anxiety or aggravated their dysphoria [40]. | 63. Feeling objectified increases stress and hopelessness | | |
Two authors (SHB and KR) independently assessed the methodological quality of the included studies and rated the studies based on Malterud's [22] checklist for qualitative research. Malterud's guidelines for assessing qualitative studies and an example of a scored article are provided in Additional file 3. An overview of the quality assessment of the included papers is presented in Additional file 4.
Discussion
This paper posed the following review question: "How can we describe suicidal patients' experiences regarding safety during psychiatric in-patient care?" Suicidal patients' experiences with safety during psychiatric in-patient care were described in 20 studies that addressed whether their needs were met during their hospitalization. This review argues that patients define safety in terms of "feeling safe" and that connection, protection and control play vital roles in their safety-related experiences. Fulfilment of these needs are experienced as essential for recovery from their suicidal crises, in addition to the ability to feel safe during their encounters with health care professionals and to feel safe from their suicidal impulses. When experiencing unmet needs, the patients not only felt unsafe but also exhibited increased suicidal thoughts and feelings. For some patients, these experiences were characterized as triggers for another suicide attempt.
The patient experiences discussed in our review are related to the relational and emotional aspects of hospital care and are consistent with the findings of other studies regarding patient experiences [10, 13]. Our findings also resonate with those of psychiatric in-patient care studies, in which patients identified psychological safety as the most common safety issue [44]. The connection and protection components discussed herein emphasize the importance of the therapeutic relationship in not only establishing feelings of safety but also optimizing patient outcomes, such as those related to increases or decreases in patient suicidality. The suicidal patients in this review addressed the vital importance of the therapeutic relationship in helping patients both feel safe and be safe. These findings are consistent with those of studies highlighting the therapeutic alliance in effective suicidal patient assessments and management [45–47] and studies identifying the staff–patient relationship as important to patients' feelings of safety [44, 48, 49]. Poor staff-patient relationships were found to play key roles in preventable suicides and were attributed to poor communication and relationship quality [50].
This review highlights the importance of addressing the control component to enable suicidal patients to feel and be safe after discharge from the hospital ward. The control component demonstrates the importance of supporting external and internal processes that help suicidal patients feel a sense of control and of understanding the individual from an ideographic point of view. Consistent the results of this review, Connell [51] found that, for mental health patients, a sense of control was linked to feelings of safety. The level of desired dependence or independence varied according to each patient's current circumstances and differed over time.
Undrill [52] stated that psychiatric risks should be perceived as manifestations of suffering. Thus, maintaining high-quality core activities during care and acknowledging suicidal patients' suffering through trust and therapeutic closeness should be the primary methods of addressing patients' suicide risk and improving their safety. In accordance with Undrill's [52] findings, our review indicates that ensuring patient safety entails addressing patients' therapeutic needs and psychological safety in addition to their physical safety. Although integrating relational and technical patient safety measures into psychiatric care is challenging [53, 54], safety is dependent on this integration. The link between feeling safe and being safe is vital for suicidal patients; suicidal patients' physical safety cannot be ensured if they do not feel safe. A system that is designed to physically prevent patients from committing suicide but that neglects their need for a connection with health care professionals may not be successful, as patients may exhibit increased suicidality despite the implementation of procedures to prevent this outcome. Furthermore, patients may not only feel unsafe, but they may also be unsafe because of an increased suicide risk imposed by the complex dynamics between emotionally vulnerable patients and their health care professionals. A broader perspective regarding patient safety that integrates therapeutic needs, psychological safety and physical safety is therefore needed.
Limitations
There were a few limitations to this review. There is a risk of missed studies due to a lack of common nomenclature. To address this limitation, the search terms and strategy were designed to increase the sensitivity to relevant literature. Furthermore, the systematic search included only published peer-reviewed studies, resulting in the exclusion of possibly valuable grey literature and unpublished papers. Although there is a risk of reviewer bias, efforts were made to minimize this bias by applying systematic search methods and by following the PRISMA guidelines for systematic reviews.
The review was limited to studies regarding psychiatric in-patient care. Studies examining the experiences of suicidal patients when receiving emergency care and outpatient treatment were excluded, as were studies regarding the experiences of patients without access to psychiatric care. These types of studies should be included in future reviews that aim to explore patient pathways and continuity of care, as poor continuity of psychiatric care has been associated with preventable suicides [50].
Implications for research and practice
The literature included a diverse group of patients characterized by suicidal behaviour. These different patient groups may present distinct experiences, thus limiting the general understanding of suicidal patients as a group. To account for the diversity of patients in suicidal crises, more studies involving the elderly, youths, low-income countries and non-Western health care settings are necessary. There is also a need to explore the experiences of suicidal patients in different diagnostic groups, such as suicidal in-patients with/without psychotic symptoms and patients with/without chronic suicidality or borderline personality disorder. The similarities and differences between the experiences of suicidal patients and non-suicidal patients must be elucidated to identify the generic versus group-specific characteristics that determine patient safety in psychiatric care. Additionally, patients may have different needs during different stages of their suicidal crises. For example, Rise et al. [55] observed that patients indicated different safety-related needs depending on their symptoms. However, this distinction was not addressed in the studies included in our review and represents a direction for further research.
We recommend the following changes regarding in-patient care practices for suicidal patients based on the results of our systematic review:
Patient experiences should be considered an integral part of suicidal patients' safety to guide clinical practice and the design of patient safety measures.

Suicidal patients' need for connection with health care personnel indicate that the relational component of patient safety is considered the most vital aspect of care and should thus be integrated into measures such as constant observation, suicide risk assessments, clinical supervision, ward therapeutic environments and encounters with health care personnel groups.

Suicidal patients' need for protection highlights the importance of constant observation in suicidal crises and the need for skilled professionals in close proximity to patients.

Suicidal patients' need for control emphasizes the need for therapeutic interventions that increases the patient's insight and problem-solving skills as well as shared decision making regarding treatment plans, crisis plans, support systems and post-discharge follow-up activities.
Conclusion
Our review addresses the importance of having a broader view of safety for suicidal patients rather than merely understanding safety in technical terms. When considering suicidal patients' experiences, safety appears to be related to more than the absence of suicide risk and the need for physical protection. Safety for the suicidal patient is highly dependent on patients' perceptions of their connections with health care professionals, the fulfilment of their needs during care and their psychological safety. To be safe, patients must feel safe through their connections with health care professionals; they must be protected against their suicidal impulses and they must have a sense of control over their lives. These components should serve as the basis of future efforts designed to understand the ontology of safety for suicidal patients during in-patient psychiatric care.
Declarations
Acknowledgements
We thank all the psychologists, doctors, nurses and patients in the Division of Psychiatry at Stavanger University Hospital who provided their reflections during the manuscript preparation.
Funding
The Western Norway Regional Health Authority funded this project under grant agreement no. 911846.
Availability of data and materials
All data generated or analysed during this study are included in this article. The additional files include supplementary information. The protocol and a matrix of the data analysis of the excluded studies are available from the corresponding author upon reasonable request.
Authors' contributions
All three authors (SHB, KR and KAA) devised the search strategy and eligibility criteria. SHB conducted the database searches and the primary exclusion of studies. SHB and KR performed the eligibility assessments of the full-text articles. SHB completed the synthesis of the results, and KR and SHB conducted the quality appraisal. All three authors (SHB, KR and KAA) validated the results synthesis and quality appraisal. SHB drafted the manuscript, and KR and KAA provided critical revision of intellectual content. All authors approved the final manuscript.
Authors' information
SHB is a Ph.D. scholar in risk management and societal safety at the University of Stavanger and a psychologist at Stavanger University Hospital. KR has a Ph.D. and is a researcher in Psychiatric Nursing at Stavanger University Hospital. KAA is a professor and head of the research group "Quality and safety in health care systems" in the Department of Health Studies at the University of Stavanger.
Competing interests
The authors declare that they have no competing interests.
Consent for publication
Not applicable.
Ethics approval and consent to participate
Not applicable.
Open AccessThis article is distributed under the terms of the Creative Commons Attribution 4.0 International License (http://creativecommons.org/licenses/by/4.0/), which permits unrestricted use, distribution, and reproduction in any medium, provided you give appropriate credit to the original author(s) and the source, provide a link to the Creative Commons license, and indicate if changes were made. The Creative Commons Public Domain Dedication waiver (http://creativecommons.org/publicdomain/zero/1.0/) applies to the data made available in this article, unless otherwise stated.
Authors' Affiliations
(1)
Division of Psychiatry, Stavanger University Hospital, Stavanger, Norway
(2)
Department of Health Studies, University of Stavanger, Stavanger, Norway