Research article
Open Access
Open Peer Review
This article has Open Peer Review reports available.
Sustainability in Health care by Allocating Resources Effectively (SHARE) 6: investigating methods to identify, prioritise, implement and evaluate disinvestment projects in a local healthcare setting
BMC Health Services Research
BMC series – open, inclusive and trusted
2017
17:370
Received: 10 March 2016
Accepted: 26 April 2017
Published: 25 May 2017
Abstract
Background
This is the sixth in a series of papers reporting Sustainability in Health care by Allocating Resources Effectively (SHARE) in a local healthcare setting. The SHARE program was established to investigate a systematic, integrated, evidence-based approach to disinvestment within a large Australian health service. This paper describes the methods employed in undertaking pilot disinvestment projects. It draws a number of lessons regarding the strengths and weaknesses of these methods; particularly regarding the crucial first step of identifying targets for disinvestment.
Methods
Literature reviews, survey, interviews, consultation and workshops were used to capture and process the relevant information. A theoretical framework was adapted for evaluation and explication of disinvestment projects, including a taxonomy for the determinants of effectiveness, process of change and outcome measures. Implementation, evaluation and costing plans were developed.
Results
Four literature reviews were completed, surveys were received from 15 external experts, 65 interviews were conducted, 18 senior decision-makers attended a data gathering workshop, 22 experts and local informants were consulted, and four decision-making workshops were undertaken. Mechanisms to identify disinvestment targets and criteria for prioritisation and decision-making were investigated. A catalogue containing 184 evidence-based opportunities for disinvestment and an algorithm to identify disinvestment projects were developed. An Expression of Interest process identified two potential disinvestment projects. Seventeen additional projects were proposed through a non-systematic nomination process. Four of the 19 proposals were selected as pilot projects but only one reached the implementation stage. Factors with potential influence on the outcomes of disinvestment projects are discussed and barriers and enablers in the pilot projects are summarised.
Conclusion
This study provides an in-depth insight into the experience of disinvestment in one local healthcare service. To our knowledge, this is the first paper to report the process of disinvestment from identification, through prioritisation and decision-making, to implementation and evaluation, and finally explication of the processes and outcomes.
Keywords
DisinvestmentDecommissionDe-adoptDe-listDe-implementHealth technologyTCPResource allocationDecision-makingImplementation
About SHARE
This is the sixth in a series of papers reporting Sustainability in Health care by Allocating Resources Effectively (SHARE). The SHARE Program is an investigation of concepts, opportunities, methods and implications for evidence-based investment and disinvestment in health technologies and clinical practices in a local healthcare setting. The papers in this series are targeted at clinicians, managers, policy makers, health service researchers and implementation scientists working in this context. This paper reports the exploration of methods to identify health technologies and clinical practices suitable for disinvestment; establish prioritisation and decision-making processes; and develop, implement and evaluate evidence-based disinvestment projects.
Background
The need for disinvestment has emerged in response to increasing costs and a growing awareness of ineffective practices and systemic waste in healthcare services. Although there is no clear single definition, disinvestment is generally understood to be removal, reduction or restriction of health technologies and clinical practices (TCPs) that are unsafe or of little benefit, seeking to improve patient outcomes and use available resources more efficiently [1].
Following successful implementation of a rigorous evidence-based program for introduction of new TCPs [2], leaders at Monash Health (previously Southern Health), a large health service network in Melbourne Australia, sought to establish a similar program for disinvestment. However, there is a lack of information to guide local healthcare services regarding an organisational approach to disinvestment [3–12].
The 'Sustainability in Health care by Allocating Resources Effectively' (SHARE) Program was established to investigate an organisation-wide, systematic, transparent, integrated, evidence-based approach to disinvestment. The SHARE Program was funded as a 3-year demonstration project by the Victorian Department of Human Services (DHS) and Monash Health, and was undertaken by the Centre for Clinical Effectiveness (CCE), an in-house resource to facilitate Evidence Based Practice (EBP). An overview of the SHARE Program, a guide to the SHARE publications and further details about Monash Health and CCE are provided in the first paper in this series [13].
Following preliminary investigations to understand the concepts related to disinvestment, identify current decision-making practices at Monash Health, learn from local experiences of disinvestment and consider the implications of the proposed changes, a plan for the SHARE Program was created [
14
]. This included aims and objectives, principles to underpin the program, preconditions for success and sustainability, and implementation and evaluation plans. The program components and the relationships between them are outlined in Fig.
1
.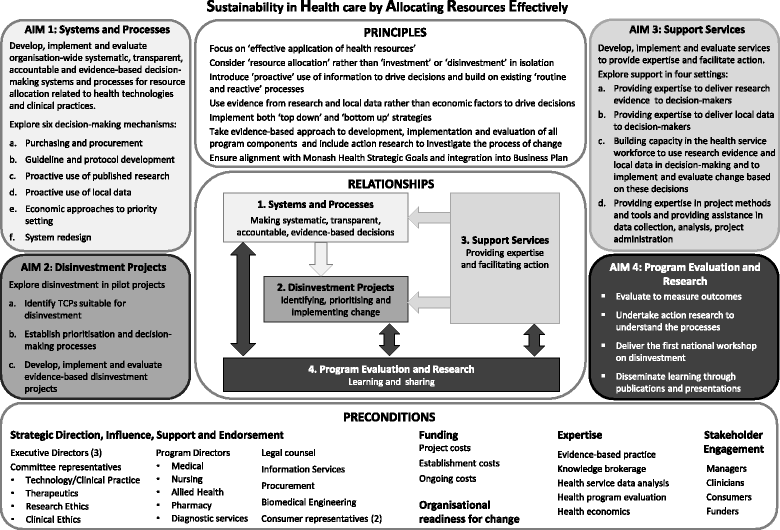 The first aim of the SHARE Program was to explore systems and processes for decision-making that could proactively and systematically identify opportunities for disinvestment. The second aim was to investigate pilot disinvestment projects to gain detailed insight into the change processes involved, assess the resources required to deliver effective projects, provide practical guidance for future projects and, if successful, be used as positive examples to promote subsequent disinvestment activities.
The preliminary work also identified that if the first two aims were to be achieved, services to support the proposed activities and build staff capacity would be required [14]. Four support services were proposed: an Evidence Service, Data Service, Capacity Building Service and Project Support Service. Piloting of these services became the third aim of the SHARE Program [15, 16].
The need to investigate methods to identify and prioritise potential target TCPs and undertake projects to disinvest them is noted in the literature [5, 9–11, 17–24]. It is also acknowledged that there is little information about implementation of disinvestment decisions, a lack of understanding about the factors that influence resource allocation processes, and under-reporting of the perspectives and experiences of healthcare staff undertaking disinvestment [11, 18, 21–23]. It has been proposed that in-depth research using longitudinal approaches from inception to implementation of disinvestment decisions at the health service level are needed to fill these gaps and contribute to both the theory and practice of disinvestment [18–21]. The fourth aim of the SHARE Program sought to address this.
Aims
The aim of this aspect of the SHARE Program was to undertake disinvestment pilot projects. This would be achieved via three objectives: identifying potential disinvestment opportunities; establishing prioritisation and decision-making processes; and developing, implementing and evaluating disinvestment projects.
The aim of this paper is to describe, explore and explain the processes and outcomes of undertaking these objectives and the factors that influenced them.
Research questions
What methods are available to identify potential disinvestment opportunities in a local health service?
What methods are available for prioritisation and decision-making to initiate disinvestment projects in a local health service?
What methods are available to develop, implement and evaluate disinvestment projects in a local health service?
What were the processes and outcomes of application of these methods at Monash Health?
What factors influenced the decisions, processes and outcomes?
Methods
Data collection
Mixed methods were used to capture frameworks, methods and tools, and stakeholder perspectives and experiences. These included literature reviews, a survey, interviews, workshops, consultations, and document analysis. Participant validation for factual accuracy was undertaken following interviews and workshops. An overview is provided in Fig. 2 and full details of methods and sources are reported in Additional file 1: Tables A–D.
Data analysis and synthesis
Outcomes of consultations and findings from initial interviews with small numbers of participants were documented and collated using MS Word or Excel. Workshop and subsequent interview findings were collated in MS Word, Excel and/or Nvivo [34] and analysed thematically by either content analysis [35] to identify emergent themes, or framework analysis [36] when categories had been specified a priori. Details of individual project protocols are provided in Additional file 1: Tables A–D.
Using the principles of evidence-based change, the SHARE team worked with stakeholders and external experts to synthesise the findings from the literature and local research into discussion papers and workshop presentations.
Deliberative process
Decisions were made by the SHARE Steering Committee composed of executive directors, committee chairs, clinical program directors, legal counsel, support service managers and consumer representatives (Additional file 1: Table E). Decision-making workshops were held at scheduled committee meetings. Discussion papers and background documents were provided beforehand, formal presentations introduced the workshops, and topics for discussion and decisions required were listed on the agenda. Discussion was informal within the structure of the agenda and decisions were based on consensus.
Delivery of disinvestment projects
Investigation and selection of proposals
The SHARE team and Monash Health data analysts worked with proposers and the staff members responsible for practice in the nominated areas, usually department heads or committee chairs, to identify relevant research evidence and local data. Findings were presented to Steering Committee members for decision-making.
Implementation
Based on the SEAchange model of evidence-based change, planned implementation activities included engaging all stakeholders, identifying what is already known about practice change in the topic area from the literature and local knowledge, undertaking an analysis of local barriers and enablers, developing an implementation plan using strategies to minimise barriers and build on enablers, piloting and revising as required, and implementing in full.
A Capacity Building Service was developed to provide training to the pilot project teams in implementation methods and a Project Support Service was established to provide assistance in project management, administration, ascertainment of barriers and enablers, and development of project plans.
Evaluation
An Evaluation Framework and Plan was developed for the overall SHARE Program and included evaluation domains, audience, scope, evaluation questions, outcomes hierarchy, sources of data, methods of collection and analysis, reporting and timelines [37].
Individual evaluation plans for the pilot projects were developed based on the project objectives and an economic evaluation was developed in consultation with the SHARE health economist. Planned activities based on the SEAchange model included evaluation of process (Was the intervention implemented as planned?), impact (Did this achieve a change in practice?) and outcome (Did the practice change address the original problem?). These were not all undertaken due to reduced funding in the final year of the program.
Training in evaluation methods was provided to the pilot project teams through the Capacity Building Service and assistance in data collection and analysis was provided through the Project Support Service.
Explication of processes and outcomes
Factors that influenced outcomes of the piloting process were identified using a framework for evaluation and explication of evidence-based innovations [
13
]. Based on findings from the literature and surveys and interviews with Monash Health staff, the framework and taxonomy were adapted specifically for use in the context of disinvestment (Figs.
3a
and
4
). Details of barriers and enablers, observable characteristics of the determinants of effectiveness, perceptions of participants and adopters, the process of change, findings from the action research process and other project team reflections were documented in minutes, reports, spreadsheets and templates for this purpose (Fig.
3b
).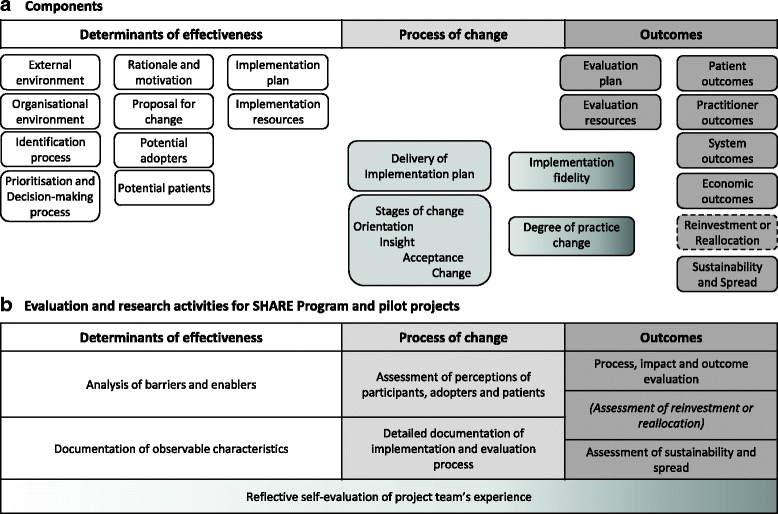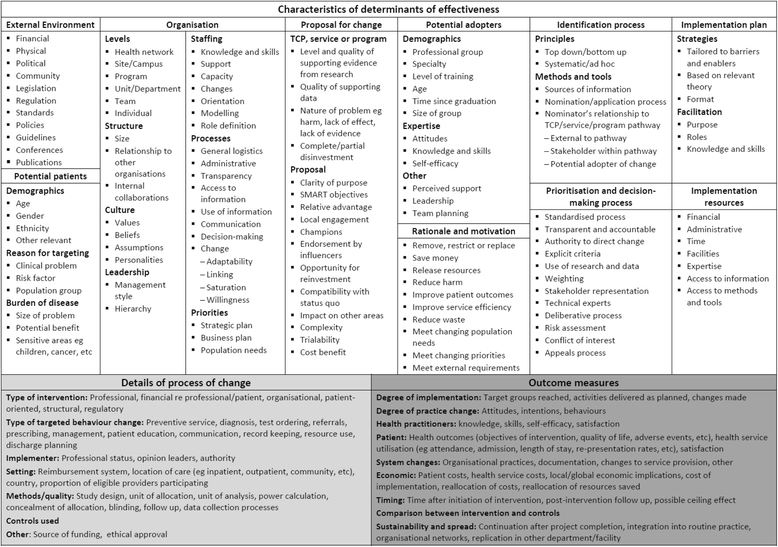 Results and discussion
Some of the planned implementation and evaluation activities were not completed due to reduction of funding in the final year by the program funder and changes in requirements for the pilot project by the project funder; details and impact are discussed below.
Results of the literature reviews and the response rates and representativeness of participants in the survey, interviews and workshops are included in Additional file 1: Tables A–D. Surveys were received from 15 external experts, 65 individuals participated in interviews, 18 senior decision-makers attended a data gathering workshop, 22 experts and local informants were consulted and the members of the SHARE Steering Committee participated in four decision-making workshops.
Data collected from these activities informed a range of research questions. Findings related to the research questions in this paper are presented and discussed below; findings related to topics not addressed here are reported in other SHARE publications [14–16, 38–40].
Although Monash Health staff were not aware of the term 'disinvestment', they were familiar with the concept of removal, reduction or restriction of current practices. Surveys and interviews with a range of decision-makers and project staff who had undertaken these and other resource allocation activities provided details of strengths, weaknesses, barriers and enablers in these processes. These have been combined into positive and negative influences to remove duplication; they are collated in Table
1
using the determinants of effectiveness for disinvestment projects (Fig.
3
) and discussed within the research questions below.
Table 1
Factors influencing resource allocation at Monash Health
Positive

Negative

External environment

▪ Legislation, regulations, national and international standards, and professional standards must be followed. This provides clarity and certainty for some decisions

▪ International bodies and national agencies of other countries provide evidence-based recommendations for use of health technologies, clinical practices, models of care, etc. Systematic reviews and Health Technology Assessments are also available.

▪ The Australian government provides evidence-based recommendations for use of medical and surgical procedures and drugs

▪ Monitoring, evaluation and reporting of outcomes was required for government funded projects

▪ Department of Treasury is interested in supporting disinvestment initiatives but requires details of savings. If savings or reinvestments can be quantified the department may provide more funding

▪ Some decision-makers are unaware of mandatory requirements

▪ Decision-makers are frequently unaware of evidence-based resources.

▪ Due to lack of time, knowledge and skills decision-makers do not actively seek these resources when making decisions and do not differentiate between high and low quality resources.

▪ Not all medical and surgical procedures and drugs are covered by national policies; nursing and allied health practices, models of care and clinical consumables are not covered

▪ Cost-effectiveness data is often based on modelling which is perceived not to reflect reality

▪ It is hard to measure savings; savings are rarely realised because they are absorbed and used to treat more patients

Organisational environment (Monash Health)

▪ Enthusiastic and dedicated staff; staff commitment to quality improvement

▪ Organisational support from the Executive Management Team (EMT) and Directors of Nursing

▪ The Board, EMT and Senior Managers have expressed 'patient-centred care' as a priority.

▪ Involvement of people who are outside of, or uninterested in, the politics of the organisation

▪ Transparency and accountability in decision-making was highly valued and improved transparency and accountability at Monash Health was desired

▪ At site level there is good 'buy-in' for change and people are keen to make things work

▪ Organisational culture is difficult to change

▪ Organisational politics gets in the way

▪ Considerable pressures on the health service to reduce costs.

▪ Lack of processes for project development, implementation, responsibility and accountability

▪ Lack of transparency in all aspects

▪ Lack of transparency and accountability in decision-making reduces confidence; inadequate transparency and accountability was one of the strongest messages

▪ No systematic processes to link projects across the organisation

Identification process

▪ Projects were identified reactively based on

 - Government or externally mandated change such as new legislation, regulation or standards; national or state initiatives; and product alerts and recalls.

 - Clinician or management initiatives arising from awareness of successful projects elsewhere, conference presentations, journals and other publications, and drug and equipment manufacturer promotions.

 - Problem solving driven by critical incidents, staff or consumer feedback, changing population needs, changing demand for services and budget shortfalls.

▪ Monash Health had well-documented processes for purchasing and procurement and guideline and protocol development and high level expertise in evidence synthesis and utilisation, data analysis and utilisation, and system redesign

▪ General perceptions that

 - financial drivers stronger than clinical drivers, 'Sound practice is not always affordable practice'

 - impetus for change was ad hoc, there was no systematic or proactive approach

 - internal bureaucracy and red tape stifled ideas

▪ People by-pass the system and just make changes, usually not deliberate but due to lack of awareness of processes

▪ Some applications for change are driven by pharmaceutical or equipment manufacturers

▪ No examples of using purchasing and procurement, guideline and protocol development, evidence from research or local data, health economic approaches or system redesign to identify potential opportunities for disinvestment were identified

Prioritisation and decision-making process

▪ Using research evidence and local data in decision making was considered to be important.

▪ All respondents reported using research evidence and data in decision-making to some extent.

▪ Many examples of cross-unit/department consultation and collaboration for policy and protocol development and implementation.

▪ Conflict of Interest was required as a standing item on the agendas of relevant committees. Most committees had a process for conflict of interest for committee members, and some of those with an application process had a similar procedure for applicants.

▪ Only one committee and one individual used explicit, documented decision-making criteria

▪ Only one committee required explicit inclusion of research and local data and considered the quality and applicability of this evidence. Only one of the ten projects appraised the evidence used. The other committees had no process to seek evidence from research. When evidence from research and data was used it was not usually appraised for quality or applicability.

▪ Barriers to using research evidence include no uninterrupted blocks of time, slow computers, lack of skills in finding and analysing evidence

▪ Appropriate local data was frequently reported to be lacking, unavailable and 'manipulated'

▪ Decision-making 'in isolation', 'fragmentation' and a 'silo mentality' were reported in relation to decisions made without consideration of the areas they would impact upon or consultation with relevant stakeholders.

Rationale and motivation

▪ Reasons for previous 'disinvestment-type' projects to remove, restrict or replace current practices include reducing patient harm, reducing medication error, reducing unnecessary tests, improving communication, standardising care, saving money and saving time. Most projects had more than one of these objectives

▪ Perceived distinction between 'what the hospital is concerned about (finances, organisational capacity and risk management) and what the clinician is concerned about (patients)'.

Proposal for change

▪ When the benefits of the proposed practice change are clear and observable

▪ When there is clarity, relevance, credibility and reliablity of research findings

▪ Availability of quality and timely local data

▪ Sustainability more likely if a range of staff involved, 'bottom-up' approaches to change used and monitoring of outcomes undertaken

▪ Lack of baseline data meant that potential adopters were unable to see the benefit or relevance to their situation resulting in less 'buy in' and poor uptake.

Potential adopters

▪ Having the appropriate profession engaging others in change process, for example nurses should be implementing projects with nurses, not pharmacists

▪ Flexible and adaptable staff

▪ Resistance to change

▪ Staff cynicism about the importance of changes and relevance to them

▪ Some clinicians insist on autonomy in their areas of expertise

Potential patients

▪ Many respondents supported increased consumer participation and were planning to act upon this

▪ Only one committee included consumer representation in decision-making.

▪ Several respondents thought that consumer representation on their committees would be inappropriate or that consumers had insufficient technical understanding to participate.

Implementation plan

▪ Decisions made at program level that involve multiple wards, departments or sites are usually implemented by multidisciplinary teams

▪ Allowing wards to nominate themselves for participation in projects

▪ 'Bottom up' approach to develop individual implementation plan in each ward

▪ Those with project 'champions' unanimously considered champions important to the success of the project.

▪ Lots of preparation including training and communication with all stakeholders

▪ 'Bottom up' training to gain staff 'buy in' combined with 'top down' supportive strategy

▪ Training or education included passive methods using posters and memos, interactive learning on new equipment and participatory approaches involving staff in design and implementation.

▪ Things take a long time to implement, to the point that they 'fall off the agenda'

▪ Variability in current practice and lack of standardisation increases number of practices to change

▪ Large size, nature and diversity of the organisation increases complexity of implementation across departments with different needsLack of effective implementation pathways

▪ Lack of infrastructure, technical support and resources

▪ High staff turnover in the organisation, particularly agency nurses and junior staff, increases difficulty in communication and implementation

▪ Organisational culture is difficult to change

▪ Organisational politics

▪ High staff turnover in projects diminishes organisational knowledge and expertise and increases training requirements

▪ Competing priorities

▪ Lack of time, undertaking projects while continuing normal clinical duties

▪ One project had no implementation plan

▪ Education and training is not well provided for part-time and night staff

Evaluation plan

▪ Evaluation and monitoring were considered important and had broad support

▪ Routine clinical audits and monitoring of adverse events undertaken for hospital accreditation purposes provided indirect evaluation of decisions in some situations.

▪ No requirements for evaluation of outcomes of decisions or projects.

▪ Most committees had no planned evaluation of outcomes of decisions or implementation projects.

▪ Quality and Risk Managers are not included at the beginning to help with collection of baseline data and evaluation design

Implementation and evaluation resources

▪ Finding others who have done the same work for support, advice and information

▪ Establishing Working Parties and Steering Committees for support, endorsement, troubleshooting

▪ Project leader whose primary role is 'at the coal face'

▪ CCE was establishing an in-house Evaluation Service at the time of these interviews

▪ Use of pre-existing, pre-tested tools from other organisations eg audit tools

▪ Provision of extra staff

▪ Availability of extra funds enhanced implementation and evaluation, eg introduction of the National Inpatients Medication Chart had external funding specifically for implementation and evaluation

▪ Some clinical pathways involve no additional costs

▪ Some projects were provided with adequate resources for implementation and evaluation

▪ Some wards had additional staffing for education support and clinical nurse support. These were invaluable resources for practice change, protocol development and implementation.

▪ Some projects had external funding from DHS, universities, etc. for staff or infrastructure costs

▪ CCE ran training programs in finding and using evidence, implementation and evaluation

▪ Six of 10 projects had training for project staff in change management, leadership or IT skills.

▪ Unrealistic project timelines

▪ Lack of knowledge, skills and confidence in project management, change management, evaluation methods and tools, and use of information technology. These barriers were exacerbated when interventions were complex and required high levels of training

▪ Lack of/inadequate project management and communication resulted in multiple people making inconsistent changes

▪ Some project staff felt isolated and would have liked support from others who had done the same or similar work

▪ It was not always clear who was responsible for project management

▪ Staffing issues, including leave, mean that a lot of projects are on hold

▪ High staff turnover in projects diminishes organisational knowledge and expertise and increases training requirements

▪ No specified evaluators with appropriate training or expertise had been utilised by the respondents

▪ A lack of data was seen to contribute to the current state of 'little or no process of evaluation'.

▪ Lack of/inadequate funding, lack of information about available funding

▪ Funding for new equipment frequently did not include funding for training staff to use it or the consumables required.

▪ Many projects were to be carried out 'within existing resources'. Respondents noted that they either did unpaid overtime or aspects of the project were not undertaken.

▪ Staff dissatisfaction with the expectation of their superiors that they will do more work within existing resources
The investigation of potential methods for identification, prioritisation and decision-making, and implementation and evaluation of disinvestment projects are summarised in Fig. 2. Multiple projects are reported in this paper. To avoid repetition, the Results and discussion sections are combined for each research question.
Conclusion
Local barriers were responsible for the limited success in applying the novel methods in this project. Further exploration of proactive methods to identify suitable disinvestment targets, systematic prompts and triggers to initiate disinvestment decisions, and strategies for project development, implementation and evaluation is warranted. Detailed documentation of the processes undertaken and the factors influencing them provide insight into elements to build upon and others to be avoided in future investigation of disinvestment in the local healthcare setting.
Abbreviations
A4R:

Accountability for Reasonableness
CCE:

Centre for Clinical Effectiveness
CGEA:

Generalised Cost-Effectiveness Analysis
EOI:

Expression of Interest
EVIDEM:

Evidence and Value: Impact on DEcision Making
HsW:

Health Sector Wide
MCDA:

Multi-criteria decision analysis
MEAMF:

Medical Equipment Asset Management Framework
NICE:

National Institute of Health and Clinical Excellence
PBMA:

Program Budgeting and Marginal Analysis
QALY:

Quality Adjusted Life Year
RCT:

Randomised controlled trial
SHARE:

Sustainability in Health care by Allocating Resources Effectively
STEPPP:

Systematic Tool for Evaluating Pharmaceutical Products for Public Funding Decisions
TCP:

Technology or clinical practice
TCPC:

Technology/Clinical Practice Committee
VPACT:

Victorian Policy Advisory Committee on Technology
Declarations
Acknowledgements
The authors would like to acknowledge the contribution of others. Members of the SHARE Steering Committee for direction and guidance. Professor Sally Green, Professorial Fellow, School of Public Health and Preventive Medicine, Monash University for review of the manuscript and co-supervision of CH's PhD. Members of the SHARE team who are not named authors and CCE staff members not on the SHARE team who provided help and support. Monash Health staff who gave their time generously to share their thoughts and experiences.
Funding
The SHARE Program was funded by Monash Health and the Victorian Department of Human Services. No conditions related to the project or subsequent publications were imposed.
Availability of data and materials
Many of the datasets supporting the conclusions of the articles in the SHARE series are included within the articles and/or the accompanying additional files. Some datasets provide information for more than one article and are only provided once; where they are not included within an article and/or the accompanying additional file, the relevant citations to the articles in which they are provided are included. Datasets have not been made available where it is impossible to de-identify individuals due to the nature of survey or interview responses or where the data is published in confidential internal reports.
Authors' contributions
CH, KA, VB, TD and CW contributed to design and implementation of the study. RK and WR provided direction and decisions. DM provided advice on health economics. CH drafted the initial manuscript, the other authors provided feedback. All authors read and approved the final manuscript.
Authors' information
CH was the Director of the Centre for Clinical Effectiveness and the SHARE Program Director. CH completed the SHARE publications as part of an unfunded PhD. KA was the SHARE Project Manager. VB, TD and CW were SHARE Project Officers. RK was Director of Medicine Program, member of the SHARE Steering Committee and co-supervisor of CH's PhD. WR was Executive Director of Medical Services and Chair of SHARE Steering Committee Chair. DM was consultant health economist.
Competing interests
The authors declare that they have no competing interests.
Consent for publication
Not applicable.
Ethics approval and consent to participate
The Monash Health Human Research and Ethics Committee (HREC) approved the SHARE program as a Quality Assurance activity. Further ethical review was not required as the program met the following criteria [162]:
 ▪ "The data being collected and analysed is coincidental to standard operating procedures with standard equipment and/or protocols;
 ▪ The data is being collected and analysed expressly for the purpose of maintaining standards or identifying areas for improvement in the environment from which the data was obtained;
 ▪ The data being collected and analysed is not linked to individuals; and
 ▪ None of the triggers for consideration of ethical review are present." [162]
Participation was based on the 'opt-out approach' [162]. "The opt-out approach is a method used in the recruitment of participants into an activity where information is provided to the potential participant regarding the activity and their involvement and where their participation is presumed unless they take action to decline to participate." [162] Consent to participate was approved by the HREC based on the following criteria:
 ▪ Health care providers, managers, consumer representatives, and officers within government health departments will be informed about the project and the processes and invited to participate.
 ▪ Participation in interviews, workshops and/or surveys will be considered to be implied consent.
These conditions were met.
Publisher's Note
Springer Nature remains neutral with regard to jurisdictional claims in published maps and institutional affiliations.
Open AccessThis article is distributed under the terms of the Creative Commons Attribution 4.0 International License (http://creativecommons.org/licenses/by/4.0/), which permits unrestricted use, distribution, and reproduction in any medium, provided you give appropriate credit to the original author(s) and the source, provide a link to the Creative Commons license, and indicate if changes were made. The Creative Commons Public Domain Dedication waiver (http://creativecommons.org/publicdomain/zero/1.0/) applies to the data made available in this article, unless otherwise stated.
Authors' Affiliations
(1)
School of Public Health and Preventive Medicine, Monash University, Melbourne, Australia
(2)
Centre for Clinical Effectiveness, Monash Health, Melbourne, Australia
(3)
Medicine Program, Monash Health, Melbourne, Australia
(4)
Medical Services and Quality, Monash Health, Melbourne, Australia
(5)
Centre for Health Economics, Monash University, Melbourne, Australia