Research article

Open Access

Open Peer Review
This article has Open Peer Review reports available.
A cost minimisation analysis in teledermatology: model-based approach
BMC Health Services Research
2010
10:251
Received: 4 February 2009
Accepted: 25 August 2010
Published: 25 August 2010
Abstract
Background
Although store-and-forward teledermatology is increasingly becoming popular, evidence on its effects on efficiency and costs is lacking. The aim of this study, performed in addition to a clustered randomised trial, was to investigate to what extent and under which conditions store-and-forward teledermatology can reduce costs from a societal perspective.
Methods
A cost minimisation study design (a model based approach) was applied to compare teledermatology and conventional process costs per dermatology patient care episode. Regarding the societal perspective, total mean costs of investment, general practitioner, dermatologists, out-of-pocket expenses and employer costs were calculated. Uncertainty analysis was performed using Monte Carlo simulation with 31 distributions in the used cost model. Scenario analysis was performed using one-way and two-way sensitivity analyses with the following variables: the patient travel distance to physician and dermatologist, the duration of teleconsultation activities, and the proportion of preventable consultations.
Results
Total mean costs of teledermatology process were €387 (95%CI, 281 to 502.5), while the total mean costs of conventional process costs were €354.0 (95%CI, 228.0 to 484.0). The total mean difference between the processes was €32.5 (95%CI, -29.0 to 74.7). Savings by teledermatology can be achieved if the distance to a dermatologist is larger (> = 75 km) or when more consultations (> = 37%) can be prevented due to teledermatology.
Conclusions
Teledermatology, when applied to all dermatology referrals, has a probability of 0.11 of being cost saving to society.
In order to achieve cost savings by teledermatology, teledermatology should be applied in only those cases with a reasonable probability that a live consultation can be prevented.
Trail Registration
This study is performed partially based on PERFECT D Trial (Current Controlled Trials No.ISRCTN57478950).
Keywords
General Practitioner
Scenario Analysis
Conventional Process
Conventional Care
Cost Minimisation Analysis
Background
Teledermatology can be defined as the use of imaging and telecommunication technologies to provide skin services by a dermatologist to another health professional or a patient [1]. Teledermatology can be useful to increase access to care in rural and remote areas [2], but can also potentially decrease the need for outpatient hospital consultations and, as a consequence, reduce societal costs of skin treatment.
Based on logistics and technical equipment, two types of teledermatology can be distinguished: real-time and store-and-forward (SAF). In real-time teledermatology synchronous communication is established using videoconferencing equipment. The SAF variant is less demanding due to its asynchronous communication by e-mail or a web-based application and therefore perhaps less costly. Hence, the popularity of SAF teledermatology is increasing, even in densely populated countries with small distances. Still, evidence of decreasing numbers of outpatient hospital referrals and cost savings due to teledermatology is currently lacking [1, 3]. In particular, economic evaluations of SAF teledermatology services in comparison to conventional dermatological care are lacking [1, 4].
We conducted a clustered randomised trial (PERFECT D: Primary care Electronic Referrals: Focus on Efficient Consultation using Telemedicine in Dermatology, trial registration: Current Controlled Trials No: ISRCTN57478950) to assess whether teledermatology, used as an electronic SAF referral system, could decrease the number of outpatient hospital referrals by the general practitioner (GP) [5]. In our teledermatology setting, the GP could ask the dermatologist advice on how to treat their dermatological patients. The main objective of the economic evaluation study described in this paper was to investigate to what extent and under which conditions SAF teledermatology can reduce the costs from a societal perspective.
Results
Total costs of teledermatological and conventional processes
Mean costs of the teledermatological process per care episode were €387 (95%CI, 281 to 502.5) and mean conventional process costs were €354.0 (95%CI, 228.0 to 484.0), a total mean difference of €32.5 (95%CI, -29 to 74.7) (Table
2
). Monte Carlo simulation showed that the conventional process was less expensive than the teledermatology process in 89% of all simulations (Figure
2
).
Table 2
Mean costs of teledermatology and conventional process by type of costs, per episode
Teledermatology process, €

Conventional process, €

Incremental costs due to teledermatology €

Total costs*

Mean total (95% CI)

387.0

(281.0 to 502.5)

354.0

(228.0 to 484.0)

32.5

(-29.0 to 74.7)

Investment costs

Mean total (95% CI)

1.6 (1.6 to 2.1)

0

1.6 (1.6 to 2.1)

Digital camera costs

0.8

0

Website costs

0.16

0

Training costs

0.6

0

GP costs

Mean total (95% CI)

85.5

(64.8 to 111)

21.3

(13.0 to 30.1)

64.2

(46 to 88.3)

Costs of diagnosis and treatment

18.4

0

Costs first visit

45.6

21.3

Costs follow up visit

17.6

0

Dermatologist costs

Mean total (95% CI)

241.0

(155.4 to 338.9)

269.1

(173.8 to 363.3)

-28.1

(-90.0 to 15.6)

Costs of diagnosis and treatment

68.9

87.3

Costs first visit

42.9

54.4

Costs follow-up visit

48.3

60.4

Teleconsultation costs

47.5

0

Out-of-pocket costs

Mean total (95% CI)

12.4

(5.4 to 19.6)

16.3

(8.1 to 24.5)

-4.1

(-8.1 to - 1.85)

Travel costs patient

11.5

15.2

Travel costs accompanying person

0.8

1.1

Employer costs

Mean total (95% CI)

46.2

(18.4 to 86.1)

47.3

(18.0 to 83.1)

-1.1

(-14.3 to 7.6)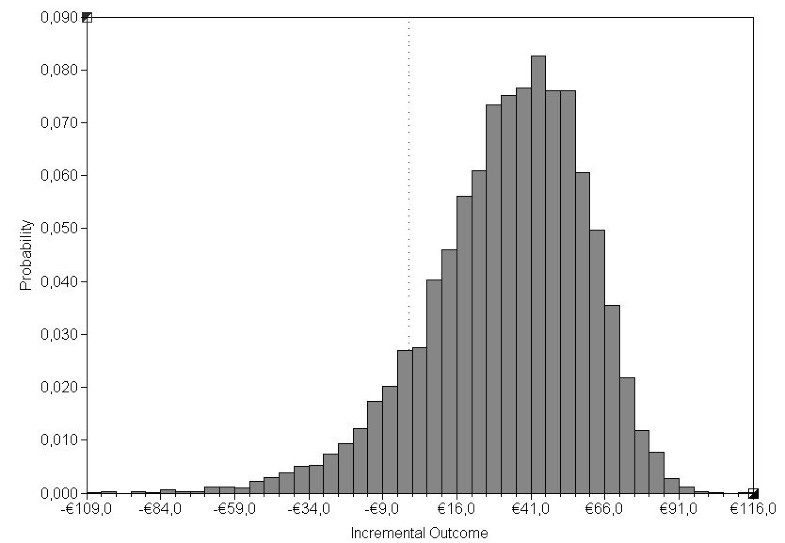 Distinct cost components
Mean investment costs were €1.6 per episode and the major part of these costs were the costs of the digital camera. Largest differences in costs were found for the costs of the GP and out-of-pocket costs (Table 2). The GP costs amounted to on average €21.3 euros in the conventional process and €85.5 in the teledermatological process. This difference can be explained by the increased first consultation costs of teledermatology GPs which amounted to €45.6 compared to €21.3 for conventional GPs as the consultations were longer. Furthermore, during this GP consultations in teledermatology process, also costs of diagnostics and treatment are present and there is a follow-up consultation. Mean out-of-pocket costs amounted to €16.3 in the conventional process and €12.4 in the teledermatological process. Prevented outpatient hospital consultations resulted in lower travel costs which were on average €11.5 compared to €15.2 in the conventional process. Dermatologists' costs remained almost the same. The reduction in live consultation lowered the visit costs in the teledermatology process but that was compensated for by the costs of teleconsultation by the dermatologist. There was almost no difference in employer costs, with teledermatology employer costs of €46.2 and €47.3 in the conventional process.
Scenario analysis
The scenario-analysis showed that the teledermatology and conventional costs would have been similar (€353.3; see Figure
3
), if 37% of referrals by the GPs would have been prevented. Increasing the proportion of preventable consultations decreased the costs of teledermatology care. Observing a proportion of prevented referrals of 37% or higher however, is not that likely (less than 5.5 per 100 simulations).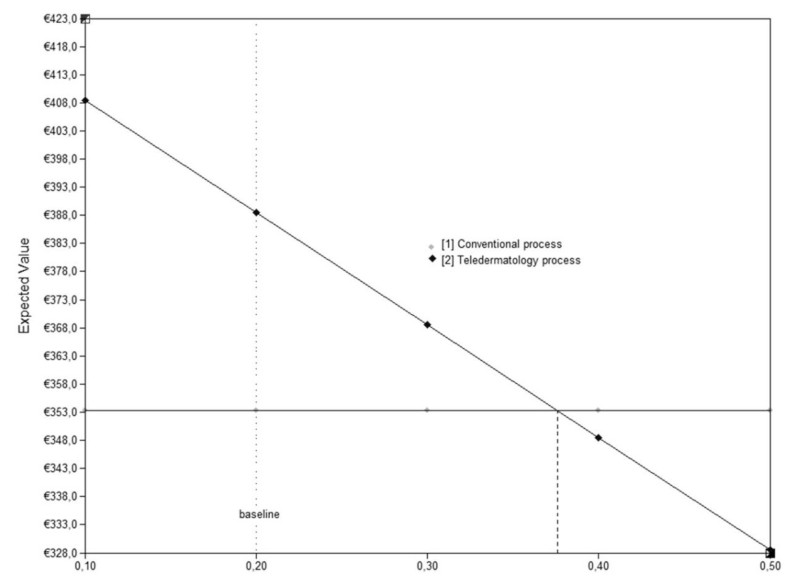 Extending average patient travel distance to GP (up to 60 km) had a limited impact on the difference in costs, but for the distance to the hospital (up to 200 km) a break even point at 75.1 km was noted. If a dermatologist is this far, which is not very likely in the Netherlands, total costs of both teledermatological and conventional process reach €465.7 (Figure
4
and
5
).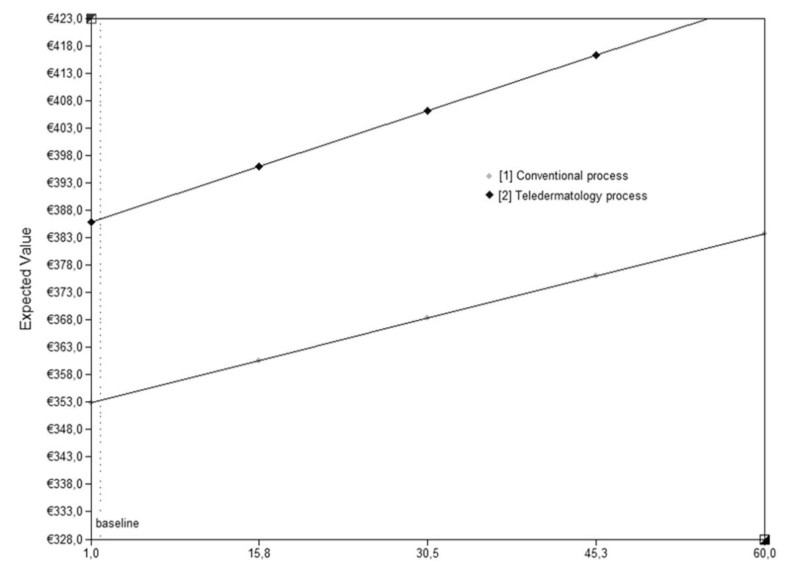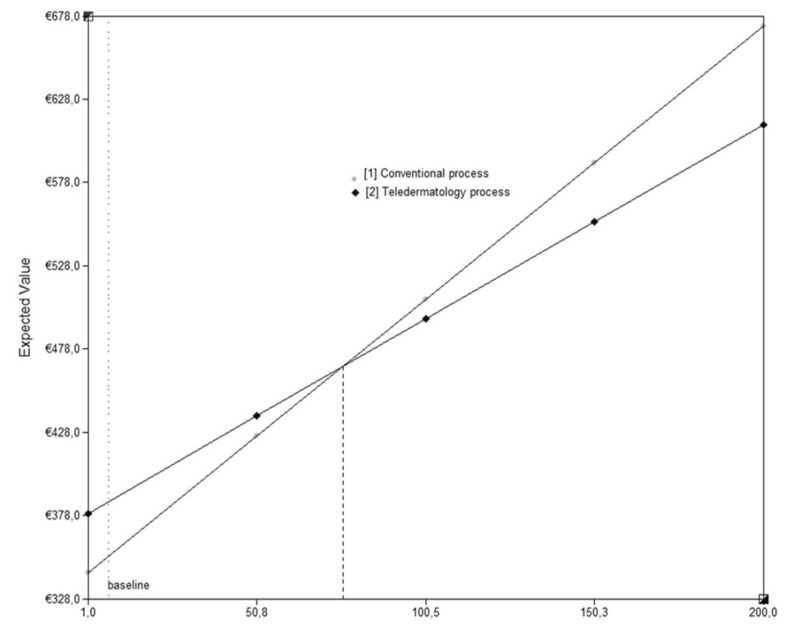 Variation in duration of GP teleconsultation regarding completion of the website forms revealed that teledermatology is more expensive if the duration of completing the website forms increases. Change in teleconsultation activities by a dermatologist resulted in the same costs for the two processes at 2.1 minutes. Values up to 2.1 minutes for website completion were observed in less 1.4 per 100 simulations.
Discussion
Based on our cost model, the economic evaluation showed that the teledermatological process was 33 euro more expensive than the conventional process.
In the Netherlands, as in many other countries, a dermatological consultation is more expensive than a GP consultation. Therefore, shifting the care from a dermatologist to a GP practice would be preferred from an economical point of view. However, when using teledermatology a GP is required to perform extra activities such as obtaining the images and completing the website forms which increases the time of a GP consultation. If a teledermatologist can advise a GP on how to diagnose and/or treat the patient, the costs of diagnostics and treatment are made in the GP practice instead of the dermatologist office. For these reasons, the GP costs of the teledermatology process were higher compared to GP costs in the conventional process. Furthermore, although teledermatology can prevent a fifth of all dermatology referrals [5], this did not result in cheaper total care of dermatology patients as a dermatologist had to review all the patients through teledermatology to finally also see 80% of the patients live.
An important condition for applying cost minimisation analysis (CMA) design is that there is no difference in health outcomes between the two types of care provided [7]. Pak et al. [6] assessed the clinical course of randomly assigned patients to teledermatology or conventional care. As this first large randomized trial confirmed our assumption for equal outcomes between the groups after a certain period, we believe that CMA was an appropriate study approach for the present economic evaluation.
We performed a CMA based on a costs model where a majority of the unit costs were derived from a standard value or were estimated from various resources. In order to verify the robustness of our findings for reasonable alternative parameter estimates, we performed a Monte Carlo simulation. This uncertainty analysis showed that the teledermatological process was more expensive with 89% certainty. One should be aware however, that this percentage is partly based on assumed triangular and beta distributions in the model. Although making such assumptions is common practice, it may lead to over- and underestimations, depending on how well the assumptions meet reality. The model-based approach to assess the costs of teledermatology contains several non-empirical parameter estimates based on expert opinion. Also, data on for example the GP time needed to complete the website were gathered in a convenience subsample of GPs.
Although these estimates may demonstrate face-validity, we accepted broad parameter ranges to account for related uncertainty. Given the limited use of observational data in the present model, the conclusions should be considered as tentative. The results on the relative impact of different parameter estimates may be helpful in designing future studies on the subject.
The proportion of preventable consultations (20%) that resulted from our trial is too low to show a positive cost effect of teledermatology compared to conventional care. When increasing the proportion of preventable consultations up to 40%, teledermatology was more likely to be cheaper than conventional care. In this study we used the dermatologists opinion about preventability of a consultation but in reality it is the GP who decides to refer a patient for consultation. Although we do not have data about the GPs opinion on preventable consultations some studies showed that using teledermatologic consultation in a GP practice with a special interest in dermatology, such as in the United Kingdom [13] might result in a higher proportion of preventable office visits. In our trial, all patients referred to a dermatologist were included. However, the results implicated that the proportion of preventable consultations varied by disease group. Teledermatology appeared to be less suitable for nevi, but very suitable for eczema patients. Regarding this finding, we believe that costs saving due to teledermatology can be reached when teledermatology would be applied in selected groups of patients. However, in order to assess the exact savings for the special groups, a disease-specific trial is necessary and the cost model needs to be adjusted (e.g., costs of diagnosis and treatment).
Extending patient travel distances to a hospital had an impact on the cost difference between the teledermatology and conventional care process. If the distance to a dermatologist is reaching 75 km, teledermatology becomes a cheaper option. For this reason, our study results might be interesting for countries with larger travel distances as in their cases teledermatology might be a cheaper option. However, an adjustment in the cost model would be necessary to assess this assumption (e.g., different care models in different countries, different costs of dermatologists and GPs, different diagnosis and treatment costs).
Scenario analysis showed that the needed time for a teledermatology GP to complete the teleconsultation forms is not important in order to reach savings by teledermatology. In our model, this activity took around three minutes and was almost a third of all teleconsultation activities [10]. Savings due to teledermatology might be reached if the time needed to complete teleconsultation activities by a dermatologist would be reduced to two minutes instead of eight minutes. This duration is however out of range from our observations in the trial, so we consider it unlikely that this scenario would occur.
In this economic evaluation, the costs were calculated per care episode which started with the inclusion of the patient in the trial. The costs before inclusion were not taken into account. It is possible that in some cases a GP tried out a treatment which did not work, and then decided to refer the patient to a dermatologist. In real life GPs would be able to use teledermatology earlier in the care episode than what was prescribed in the context of our trial. Teledermatology potentially lowers the threshold to consult a dermatologist. This can have a different impact on costs than what is demonstrated by this study. The GPs could overuse the service and therefore increase the total societal costs, but it is also possible that there would be less inappropriate treatments in GP practice which would finally lower the societal costs.
Up to our knowledge only one economic evaluation regarding store-and-forward teledermatology based on RCT results has been performed. This study by Whited et al.[14] showed that teledermatology was not cost saving for the healthcare system compared to the conventional care. The researchers indicated that cost savings would be more likely if the societal costs would be considered when teledermatology prevents a third of live consultations. Based on our study results considering societal perspective, we agree with this hypothesis by Whited et al.[14] especially when considering Dutch travel distances. In the past years, several economic evaluations have been performed, especially regarding real-time teledermatology [15–19]. Loane et al. [15] showed a positive effect on costs of real time teledermatology in New Zeeland. In their economic evaluation Armstrong et al.[19] also showed a positive effect on costs by using teledermatology but this study was performed from a healthcare providers' perspective in the United States.
Because of existing differences between the countries in fees, distances and health care systems, our study findings should be generalised with caution. Comparisons with other economic evaluations and their findings should be considered carefully for the same reasons.
Conclusions
Economic evaluation presented in this paper shows that the chance on societal savings due to the use of teledermatology is relatively small when teledermatology is applied to all dermatology referrals. However, our study shows that savings for the society can be accomplished when teledermatology is applied in countries with larger distances to dermatologists or to specific patient groups where a larger proportion can be treated in a GP practice without the need for a live dermatological consultation.
Declarations
Acknowledgements
This study was financially supported by ZonMw (Dutch Organisation for Health Re Funding/Support: This study was financially supported by ZonMw (Dutch Organisation for Health Research and Development), through the Health Care Efficiency Research programme.
Role of the Sponsors: The sponsors had no role in the design and conduct of the study; in the collection, analysis, and interpretation of data; or in the preparation, review, or approval of the manuscript.
Authors' Affiliations
(1)
Department of Medical Informatics, Academic Medical Center-University of Amsterdam, Amsterdam, The Netherlands
(2)
Department of Clinical Epidemiology, Biostatistics and Bioinformatics, Academic Medical Center-University of Amsterdam, Amsterdam, The Netherlands
(3)
Department of Facilities Management, University Medical Center Utrecht, Utrecht, The Netherlands
(4)
Department of General Practice, Academic Medical Center-University of Amsterdam, Amsterdam, The Netherlands
Copyright
© Eminović et al; licensee BioMed Central Ltd. 2010
This article is published under license to BioMed Central Ltd. This is an Open Access article distributed under the terms of the Creative Commons Attribution License (http://creativecommons.org/licenses/by/2.0), which permits unrestricted use, distribution, and reproduction in any medium, provided the original work is properly cited.