Research article
Open Access
Open Peer Review
This article has Open Peer Review reports available.
Evidence for integrating eye health into primary health care in Africa: a health systems strengthening approach
BMC Health Services Research
2013
13:102
Received: 17 August 2012
Accepted: 2 March 2013
Published: 18 March 2013
Abstract
Background
The impact of unmet eye care needs in sub-Saharan Africa is compounded by barriers to accessing eye care, limited engagement with communities, a shortage of appropriately skilled health personnel, and inadequate support from health systems. The renewed focus on primary health care has led to support for greater integration of eye health into national health systems. The aim of this paper is to demonstrate available evidence of integration of eye health into primary health care in sub-Saharan Africa from a health systems strengthening perspective.
Methods
A scoping review method was used to gather and assess information from published literature, reviews, WHO policy documents and examples of eye and health care interventions in sub-Saharan Africa. Findings were compiled using a health systems strengthening framework.
Results
Limited information is available about eye health from a health systems strengthening approach. Particular components of the health systems framework lacking evidence are service delivery, equipment and supplies, financing, leadership and governance. There is some information to support interventions to strengthen human resources at all levels, partnerships and community participation; but little evidence showing their successful application to improve quality of care and access to comprehensive eye health services at the primary health level, and referral to other levels for specialist eye care.
Conclusion
Evidence of integration of eye health into primary health care is currently weak, particularly when applying a health systems framework. A realignment of eye health in the primary health care agenda will require context specific planning and a holistic approach, with careful attention to each of the health system components and to the public health system as a whole. Documentation and evaluation of existing projects are required, as are pilot projects of systematic approaches to interventions and application of best practices. Multi-national research may provide guidance about how to scale up eye health interventions that are integrated into primary health systems.
Keywords
Quality careSub-Saharan AfricaHealth systems strengtheningIntegrationPrimary health carePublic healthEye healthVision impairment and blindnessPrimary eye careDeveloping countries
Background
Globally about 285 million people are vision impaired [1]. Up to 80% are vision impaired due to treatable or preventable causes [2, 3]. Over 90% live in low and middle income countries, and proportionately more in Africa [4]. While the main causes of avoidable blindness and visual impairment may be similar, there is considerable variation in eye care needs, services and numbers and cadres of eye care personnel [5, 6] available across Africa, and even in regions within countries [7, 8]. In many places there are few health personnel with appropriate competencies; productivity is low, and distribution of resources uneven. In general, the most remote and poorest areas of low-income countries have least access to eye care [3, 6, 9–16].
In sub-Saharan Africa, health care is available through the public health service. It consists of primary, secondary and tertiary levels, which in most instances focus on providing curative care. The role of the private sector is increasing, mainly in urban settings [17]. Many informal private providers however provide services and medication across Africa [18]. Traditional medicine is widely used in many settings [16, 19–26]. Primary health care however proposed an approach that enabled a full range of health care, with prevention equally important as cure, from households to hospitals [27]. After 30 years, the importance of this approach is emerging again [28, 29].
Generally only tertiary and some secondary services have specialist eye care services and equipment required to reliably diagnose and manage the major causes of vision impairment [30]. These conditions, which include cataract, refractive error, diabetic retinopathy and glaucoma, usually have a gradual onset. People may not experience or notice symptoms. Alternatively they may use traditional medicine, [16, 19–26] self-medicate [18] or develop coping strategies. This may delay presentation to eye care services [31], leading to complications and even irreversible visual loss. A person with these conditions could benefit from earlier identification, counseling and referral [11].
Delays in presentation of other sight threatening conditions, such as injuries, are often due to lack of finances and or ignorance at the community level that interventions are available. This can be compounded by the poor knowledge within the health care sector of appropriate management and the availability of specialist eye care services [16]. Questions about access are also relevant to other commonly occurring ocular conditions, for example allergic conjunctivitis and presbyopia. These conditions do not have sequelae likely to be sight threatening, yet they affect quality of life [32, 33]. These issues generate questions about how to facilitate equitable access to eye care at the most appropriate levels [13, 16, 34].
The WHO considered integration as a key element of primary health care in 1978; [27] Integration remains a cornerstone of initiatives to revitalize primary health care [29]. The WHO defined it as "The management and delivery of health services so that clients receive a continuum of preventive and curative services, according to their needs over time and across different levels of the health system." There is however no consensus in the peer-reviewed literature on a common definition of integration [35–37]. This may be one of the reasons contributing to the dearth of evidence about the effectiveness of this approach [35, 38].
In 1984, the World Health Organization (WHO) recommended a primary health care approach to address issues of access to eye care. This included appropriate management of eye conditions at the primary care level with cascading levels of referral for more complex conditions [39]. From 1999 the VISION 2020 Initiative [40, 41], has become the dominant framework guiding eye care [42]. VISION 2020 focuses on priority blinding conditions with the goal of the elimination of avoidable blindness and visual impairment by the year 2020. Primary eye care as an integral part of primary health care was recommended as a key strategy that included "promotion of eye health and/or the provision of basic preventive and curative treatment for common eye disorders". The role of a primary eye care provider was outlined as the Identification of those blind and vision impaired; assessment and diagnosis for referral; advice about referral and encouragement to attend; follow up: help with rehabilitation, "give advice on any treatment and make sure spectacles are available" [40]. Considerable variance exists in what constitutes "assessment and diagnosis for referral" and "appropriate management of eye conditions at a primary care level". This may be one of the reasons for the concerns in matching expectations of eye care provision at the primary level with the skills and capacities of providers [14, 43, 44]. The concept of integration of eye health into primary health care thus enjoys an enabling policy environment, but there is little information about the implementation of these policies.
The World Health Assembly noted in 2009 that significant progress had been made: vision loss due to Vitamin A deficiency [45], trachoma [46] and onchoceriasis [47] had decreased. A review in 2010 however found little published evidence of successful models of primary eye care [30]. A review, thirteen years earlier, [48] had reported only anecdotal evidence of a few small well supported "mission-based" programs that seemed to be more successful than large "government supported" programs.
The call for a revitalized primary health care system, [28] later including eye health in primary health care [49] has been challenged by the often fragile, fragmented and under-resourced systems [50]. The viability of the primary health care systems varies between countries and even between different areas in a country [51]. It has been recommended that health systems should be strengthened to enable most interventions to be delivered in an integrated way, where feasible [37]. Many countries have thus adopted policies using priority health interventions as an entry point to strengthen health systems (health systems strengthening: HSS), based on a primary health care approach [52–54]. The importance of a health systems strengthening approach has been recognized in the eye health literature [55–57].
Although there is broad consensus about its importance, there is also no common definition of health systems strengthening [58]. The WHO defines it by six building blocks that make up the health system but recognizes that these are interdependent [53]. A complexity perspective is thus used to view the interconnectedness and continuous interaction of the components of health systems, and the non-linear effects of the system's dynamic adjustment [59–61].
Figure
1
shows the relationship of eye health to health systems and HSS strategies. It depicts areas of overlap between the three pillars of the Vision 2020 initiative, [
62
] the six WHO health systems building blocks, [
53
] and the nine key areas of the framework for implementation of the WHO Ouagadougou Declaration on primary health care and health systems [
63
]. Additional file
1
provides details of, and shows the overlaps between, the three VISION 2020 pillars, the six WHO Health systems building blocks, and the nine elements of the WHO primary heath care approach for strengthening health systems in the African Region (Ouagadougou Declaration on Primary Health Care and Health Systems).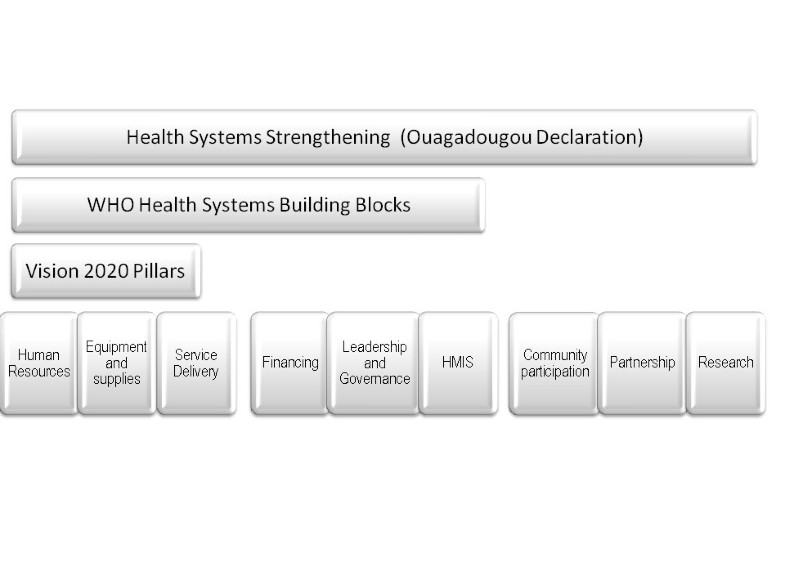 The WHO recommended that international experience be reviewed, lessons learnt and best practices in implementing policies, plans and programs be shared [49]. This paper uses a HSS framework and attempts to describe the scope and breadth of information and evidence available about how eye health has been implemented in primary health care systems.
Methods
Eye heath interventions occur within complex health systems and are largely context dependent [64]. We therefore used a scoping review because this method provides an opportunity to survey the whole profile of information available for this topic. Further a scoping review method can provide greater clarity about an area such as this, where limited evidence exists, and identify gaps in the evidence [65, 66]. The use of a scoping review is new to eye care, but has been used to address questions related to health systems [67, 68]. Although scoping reviews on this large scale have a limited utility value for planners / stakeholders at a country level, this paper aimed to identify any existing evidence for pragmatic guidance for planners and policy makers on the implementation of eye health interventions within a primary health care system [65, 68].
Scoping reviews, though broad in nature, are intended to guide more focused lines of investigation [65]. Information gathering and analysis was thus theory based and guided using a HSS perspective and WHO frameworks that underlie much of the policy in Africa [53, 62, 63, 69, 70].
The scoping review [66] included identifying the research question, identifying relevant studies, study selection, and collating, summarizing and reporting the results. The multidimensional approach that characterizes a scoping review was used to collect different types of information from multiple sources [65, 66]. Structured searches of PubMed, the Cochrane library, Health Systems Evidence (McMaster Health Forum) and the WHO site were supplemented by gathering data iteratively, using more informal approaches such as 'snowballing' [71]. The review covered 1983 to February 2013.
This paper delineates the provision of eye health as part of the primary health system as:
 occurring from home through to the community and the frontline health facility;

 provided by the health workforce who would include home carers, family members, community health workers, front line health facility based workers;

 in the public/ private, traditional/formal/informal sector;

 and consisting of mainly promotive and preventive services, and of some curative services within a clearly defined scope of practice.
We attempted to identify relevant theory and information regardless of study design, and included both quantitative and qualitative data to obtain a broad overview, but with sufficient depth if possible to facilitate policy lessons. Scoping studies do not discriminate between studies based on methodological criteria [66]. Systematic reviews were however prioritised for inclusion, especially where these contained information from low- and middle-income countries, as were articles pertaining to eye health in Africa.
An iterative process followed to synthesise the information: emerging priorities in eye health in Africa were identified from published information. This was augmented information from review articles and with anecdotes from the authors' experiences in various African countries. The articles were categorized into the nine priority areas of the framework recommended for the implementation of HSS and primary health care in Africa: human resources for health, health technologies and equipment and supplies, health services delivery, health financing, leadership and governance for health, partnerships for health development, community ownership and participation, health information systems, and research for health [63].
The results are presented as per the HSS framework categories, [52] as a synthesis from the iterative process of analysis.
Results
None of the papers identified described eye health interventions that were largely provided by routine primary health care systems, or described as an entry point to strengthen health systems in Africa. Four papers described the importance of health systems strengthening with regards to eye health [
55
–
57
,
72
,
73
]. Table
1
shows that most of the 173 papers included in this review, 43 of which are reviews, contain information from sub-Saharan Africa (76) or from low- and middle-income countries (47).
Table 1
Number of papers related to eye health, health systems and integration and reviews
| | Sub-Saharan Africa | Low- and middle- income countries | High-income country or not specified |
| --- | --- | --- | --- |
| Eye health related | 65 | 8 | 8 |
| Systematic review | | 22 | 10 |
| Review | 2 | 9 | |
| Not eye health related | 9 | 8 | 6 |
| Health systems | | | 18 |
| Integration | | | 8 |
Discussion
Even though health system strengthening (HSS) is considered an international priority, [171] there is little evidence of its successful application [58, 172], or of how 'everyone' can contribute [53]. For example it is recommended that health personnel should identify ways to collaborate with peers, advocate for change and engage with the health system [56, 57]. There is however insufficient evidence about how health care providers, as active agents of change within a complex health system, can influence health systems. There is some indication that strategies that provide support for quality and performance improvement and change the accountability of individual informal private providers in low- and middle-income countries, are more likely to be successful than those that depend on training [18].
Furthermore, evidence is lacking about the delivery of comprehensive eye health services or of the effectiveness of eye care service provision within either vertical or horizontal approaches [14, 30, 58, 74–76, 99, 100] or the procurement, management and maintenance systems for equipment and supplies. This may be due to a lack of documentation, sufficient research, application of available research for planning [173], or to the genuine lack of effective eye care interventions at primary level.
There is some evidence however about what does not work, particularly regarding human resources, service delivery, and equipment. This appears to be related to a wide array of factors including inadequate content and quality of training and support, the inability of lesser trained and equipped eye health providers to detect and refer problems accurately or sufficiently early and difficulty in restricting primary health care providers to appropriately manage only simple, uncomplicated cases [30, 49]. For example improving and /or adding eye health training into the training of primary health care providers, may thus be insufficient and may even have negative consequences if this is perceived as an 'extra' duty. Eye health has to be perceived as part of overall health. Further concurrent strengthening of the overall primary health care system of supervision and support and of the other blocks of the health system is required [HF].
The weaknesses within the eye health system blocks and lack of evidence of how to most effectively strengthen these blocks, thus emerge as challenges to making recommendations about how these can best contribute to HSS and integration. Information that is available, for example from Community Directed Interventions for onchocerciasis [124, 162, 174, 175], is invaluable. The health system, however does not function as isolated blocks, these are interdependent and interact with each other. Strengthening only a single block is thus unlikely to be successful. A holistic approach to HSS is required and all the components need to be addressed to maximize outcomes [70]. The sustainability of eye care gains will thus depend on how eye health can contribute to the strengthening of the overall structure and performance of the national health system [HF].
Strengths and limitations of this review
Most of the published work about eye health originates from eastern and southern Africa and there is a pronounced lack of information from central and western Africa. Although this review found many articles about eye health in Africa, few specifically addressed health systems and integration. Many of the systematic reviews contained information from higher-income countries and from fields such as maternal and child health and HIV, rather than eye health. Many health systems challenges to the provision of quality eye care in sub-Saharan Africa are similar to those faced by other parts of health care, in many other low and medium income countries. These include providing adequate resources and support, equitable access to eye care services and sufficient appropriately skilled health personnel [2, 4, 13, 33, 34, 176–184]. Community Directed Interventions for onchocerciasis [124, 162, 174, 175], and trachoma programs have overcome many of these challenges and we can learn from their strengths, the extent to which these work and how and in the circumstances in which these work [185, 186]. Also from evidence from other countries and other fields: for example how nurses in high-income countries provide safe and effective eye care [187–193].
The information gathering and analysis process for this paper was guided by a scoping review method using a HSS framework [66]. Searches of three databases were undertaken in an attempt at comprehensiveness as well as consultation with an expert group, the focus being on examples of integration of eye health into primary health care. This review included a broad range of study designs, systematic reviews and also relevant theoretical and qualitative work. In addition, integration of information and reporting was theory based to enhance it utility [185]. This enabled us to capitalize on the strengths of a scoping review method: "to extract the essence of a diverse body of evidence and give meaning and significance to a topic that is both developmental and intellectually creative" (p1398) [65]. Consequently, the information can assist the eye care community and policy makers to consider the complexities and challenges of integration of eye health into primary health care in Africa and the contribution eye health can make to HSS.
One of the limitations of scoping reviews is that these do not formally assess the quality of evidence; consequently, it is not possible to determine the robustness or generalisability of the findings. Also 'synthesis', i.e. the relative weight of evidence in favour of the effectiveness of a particular intervention is not addressed. Further these provide a narrative or descriptive account of available information, thus are open to different interpretations by readers [65, 66]. There is however limited information to guide the review of complex interventions: about the best approach to the synthesis of data and issues such as the standardization of study selection, and techniques for the quality assessment of less conventional study designs [185].
This paper had a very broad remit – dictated by the holistic approach that is proposed by the HSS perspective. By virtue of the information available, it concentrated on particular aspects of each of the HSS components; a detailed account of context and process of all implementations were necessarily curtailed by the breadth of the topic. Also the linkages and interrelated nature of the components, and the complexity of primary health care as a multi-dimensional system, were less apparent [70, 170]. That said, this review gathered together evidence from a variety of sources. These may otherwise have remained dispersed. The findings indicated the scope to focus this search to uncover further evidence about specific topics and to discover what works and where. In addition it also identified the additional research required to assist policy makers and planners in determining how best to integrate eye care into primary health care systems.
Conclusion
Given the vast differences in context [58, 170, 186] between countries in sub-Saharan Africa and between regions in any country, any generic recommendations should be made with caution. There is however sufficient information to indicate that it is unreasonable to expect that quality eye care could be available at the primary level, after only a single episode of perfunctory training. This is particularly true when this training occurs with little consideration of the state of the health system and support for implementation, such as referral systems, supervision, equipment and supplies and with minimal appreciation of community expectations. These shortcomings, it should be noted, are by no means unique to the eye health component of PHC and can be generalised to overall weaknesses in the health system. Operational research and knowledge translation and advocacy to stakeholders may be required to facilitate the shift away from the concept that a primary eye care approach is simple and all that is required is a single ready-made manual [194].
The reality of fragile health systems in many countries [50] and a lack of evidence about the effectiveness of an integrated approach to primary health care [38] may dictate an incremental approach to initiating or integrating eye health interventions into the primary health care system [195].
Suggestions for areas of further research about best practice for integration of eye care into primary health care systems from a HSS standpoint include:
At the present time, there is very little evidence to guide the integration of eye care into the primary health care system, particularly when applying a HSS approach. Evidence that exists is at times contradictory, particularly when considering the HSS components of human resources, equipment and supplies, and service delivery. There is strong evidence of importance of partnerships and the participation of the community that are applicable to the integration of eye care into primary health care. While there is evidence from other fields of health care on the importance of other HSS components (financing, information, leadership and governance and research) there is scant evidence regarding eye care.
A series of regional meetings held between 2006 and 2010 in eastern, western, central and southern Africa enabled representatives from 36 of the 46 countries of Sub-Saharan Africa to share their experiences of primary eye care. During these meetings a definition of primary eye care was crafted and refined by the International Agency of the Prevention of Blindness Primary Eye Care Working Group. This definition has also been endorsed by the WHO's regional office for Africa.
Primary care for eye health is an integrated, participatory and inclusive approach to the eye health component of primary health care consisting of promotive, preventive, curative and rehabilitative services. It is delivered by the health workforce (formal and informal) in conjunction with community members, up to and including services at the front-line health facilities.
A common definition may promote a shared concept of this complex area, and assist in facilitating communication, shared activities and research. Available information and evidence could provide a roadmap guide to the design of eye health interventions integrated into primary health — to provide access to quality eye care services at the primary level. A realignment of eye health in the primary health care agenda will require a holistic approach, with careful attention to each of the health system components and to the public health system as a whole [70].
Authors' information
The authors are members of or contributors to the International Agency for the Prevention of Avoidable Blindness Primary Eye Care Working Group.
Authors' Affiliations
(1)
Eye health consultant, Pretoria, South Africa
(2)
Eye health and health systems consultant, Calabar, Nigeria
(3)
MSc Community Eye, International Agency for the Prevention of Blindness, Cape Town, South Africa
(4)
MSc (Community Eye Health), Operation Eyesight, Accra, Ghana
(5)
MSc (Medical Education), RGN/KRN, Nairobi, Kenya
(6)
DipEd, Sightsavers, Dar Es Salam, Tanzania
(7)
MSc(Development Management), Sightsavers, Accra, Ghana
(8)
Rwanda International Institute of Ophthalmology, Kigali, Rwanda
(9)
The Fred Hollows Foundation, Sydney, Australia
(10)
KCCO International, Cape Town, South Africa
Copyright
© du Toit et al.; licensee BioMed Central Ltd. 2013
This article is published under license to BioMed Central Ltd. This is an Open Access article distributed under the terms of the Creative Commons Attribution License (http://creativecommons.org/licenses/by/2.0), which permits unrestricted use, distribution, and reproduction in any medium, provided the original work is properly cited.