Research article

Open Access

Open Peer Review
This article has Open Peer Review reports available.
Single item measures of self-rated mental health: a scoping review
BMC Health Services Research
2014
14:398
Received: 17 March 2014
Accepted: 9 September 2014
Published: 17 September 2014
Abstract
Background
A single-item measure of self-rated mental health (SRMH) is being used increasingly in health research and population health surveys. The item asks respondents to rate their mental health on a five-point scale from excellent to poor. This scoping study presents the first known review of the SRMH literature.
Methods
Electronic databases of Medline, CINAHL, PsycINFO, EMBASE and Cochrane Reviews were searched using keywords. The databases were also searched using the titles of surveys known to include the SRMH single item. The search was supplemented by manually searching the bibliographic sections of the included studies. Two independent reviewers coded articles for inclusion or exclusion based on whether articles included SRMH. Each study was coded by theme and data were extracted about study design, sample, variables, and results.
Results
Fifty-seven studies included SRMH. SRMH correlated moderately with the following mental health scales: Kessler Psychological Distress Scale, Patient Health Questionnaire, mental health subscales of the Short-Form Health Status Survey, Behaviour and Symptom Identification Scale, and World Mental Health Clinical Diagnostic Interview Schedule. However, responses to this item may differ across racial and ethnic groups. Poor SRMH was associated with poor self-rated health, physical health problems, increased health service utilization and less likelihood of being satisfied with mental health services. Poor or fair SRMH was also associated with social determinants of health, such as low socioeconomic position, weak social connections and neighbourhood stressors. Synthesis of this literature provides important information about the relationships SRMH has with other variables.
Conclusions
SRMH is associated with multi-item measures of mental health, self-rated health, health problems, service utilization, and service satisfaction. Given these relationships and its use in epidemiologic surveys, SRMH should continue to be assessed as a population health measure. More studies need to examine relationships between SRMH and clinical mental illnesses. Longitudinal analyses should look at whether SRMH is predictive of future mental health problems.
Keywords
Self rated mental health
Single item
Review
Measurement
Background
Short scales to measure physical and mental health of populations are increasingly used in epidemiologic surveys [1] to reduce respondent burden and simplify administration and translation while providing efficient global health indicators. The use of single-item measures is also on the rise. This includes the measure of self-rated mental health (SRMH): "In general, would you say your mental health is: Excellent, Very Good, Good, Fair or Poor?"
The early use of the single SRMH item includes studies conducted in 1970s with college students in relation to personality traits and help-seeking for mental health [2, 3]. In 1981 it was used as part of the National Institute of Health Diagnostic Interview Schedule, which was developed using criteria from the Diagnostic and Statistical Manual of Mental Disorders-III [4]. A single SRMH item was later included in the World Mental Health Composite International Diagnostic Interview [5]. More recently, the SRMH item has been used as a stand-alone indicator of mental health in small and large scale studies. Examples of the national epidemiologic surveys with SRMH as a stand-alone item are the Canadian Community Health Survey and Medical Expenditure Panel Survey [6, 7]. Researchers report significant relationships between SRMH and mental disorders [8], need for care [9], utilization patterns [10] and adherence to treatment plans [11]. Others have examined its relationship with validated clinical measures for diagnosis of mental health conditions [8, 12]. In some instances the SRMH item is used as a construct to validate another mental health measure [13, 14].
A similar single item of self-rated health (SRH) has been used world-wide since the 1950s [15]. SRH asks individuals to rate their health on a 5-point scale ranging from excellent to poor, as in the SRMH. SRH is a strong predictor of mortality [16], health care utilization [17, 18], and morbidity [19]. The parallel wording structure of both items implies that SRMH could potentially measure aspects of mental health as robustly as the physical health indications provided by SRH. Though SRMH is increasingly being used as an indicator of population mental health and as a measure to assess risk for adverse mental health outcomes, less is known about the performance of this item.
Understanding SRMH is important to be able to evaluate previous studies using the item, for application of SRMH as a health indicator, and to provide a basis for future work. Since to our knowledge there are no reviews of SRMH, we initiated a traditional systematic review but the heterogeneity of the published studies using SRMH item didn't allow us to proceed. Thus, we conducted a scoping study of published studies that have either used or analyzed SRMH. The methodology was informed by the scoping review framework developed by Arksey and O'Malley in 2005 [20]. A scoping review or study is conducted to explore and summarize empirical knowledge in a diverse or heterogeneous area of research. Its primary objective is to produce a descriptive overview of research findings. Thus, the goal of this review was to gain a better understanding of how single item SRMH is used in research and how it correlates with other measures and health outcomes in order to inform the use of this measure in population and public health, health systems improvement, and research.
Results
The literature search found 1271 unique abstracts, 130 of which qualified for full-text review. Thirty-seven articles qualified for inclusion and seventeen new additions were found by searching databases by scales known to contain the SRMH item. Three more articles were found by searching reference sections, for a total of 57 relevant articles. Figure
1
describes the literature review and search process. Please see Additional file
1
for the 57 identified studies.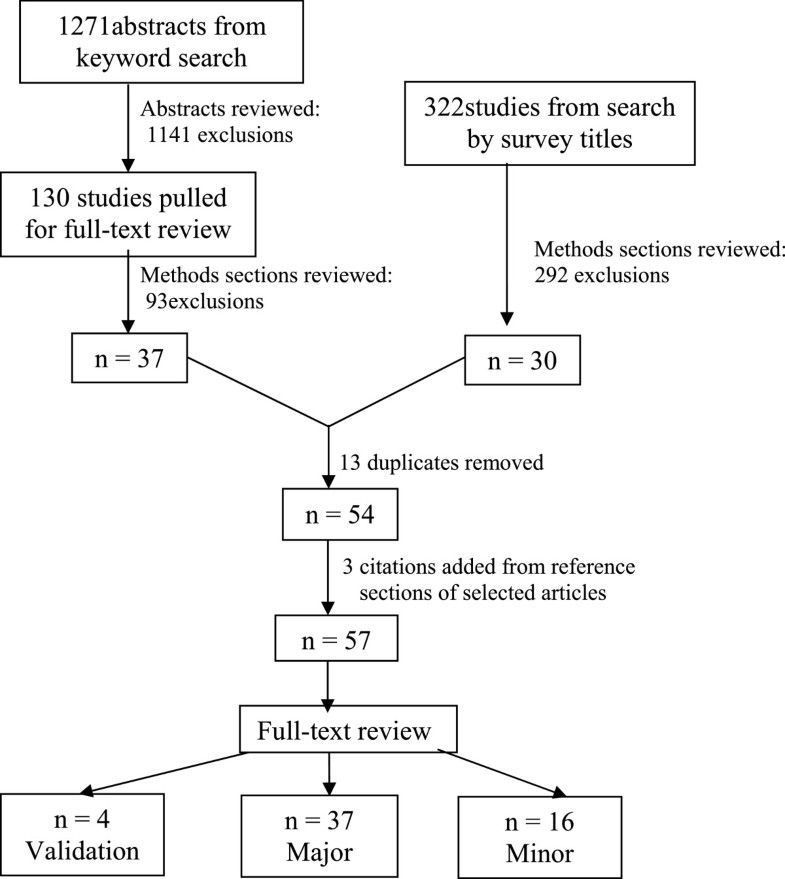 Discussion
Our scoping review of the literature found 57 studies providing information on the performance of SRMH in diverse contexts. SRMH correlated moderately with mental health scales, but there are ethnic differences in responses to the item. Poor SRMH was associated with poor SRH, physical health problems, increased health service utilization, and a lower likelihood of being satisfied with mental health services. Some studies found age and gender disparities in SRMH but others did not. While few studies conducted formal validations of SRMH, its use in the literature gives us important information about its relationship with other variables.
This study is the first review of SRMH literature. Given the increasing use of this item in the recent years, it is important to understand the scientific contributions made by this item and the strengths and weaknesses in its use. We optimized the number of articles we found by using a broad, structured search strategy. However, a limitation of our research is that SRMH terminology is not yet standardized, and some studies may not have been captured by the selected keywords. We tried to minimize this limitation by conducting a second search of surveys known to include SRMH. A limitation of the SRMH research literature is that heterogeneity precludes meta-analyses. The review focused on single item SRMH, analogous to the single item SRH. Thus, studies that measure other aspects of mental health by using other single items were excluded.
The moderate correlations between SRMH and mental health scales indicate these measures are related but not interchangeable. SRMH may be measuring factors outside the scope of mental health scales, but based on current literature it is unclear what these other factors are. Given the similar wording and correlation between SRMH and SRH, we may be able to look toward SRH literature for hypotheses. When SRH was first studied, researchers found moderate correlations between SRH and current health status. When longitudinal studies were conducted, SRH was shown to be an equal or stronger predictor of mortality, morbidity, and utilization than many commonly used measures. Similarly, SRMH may be capturing developing mental health problems, in addition to existing disorders. Studies included in this scoping review have shown relationships between SRMH and health service utilization. Hoff et al. (1997) have demonstrated that SRMH can predict the risk of future depression. More investigation is needed to fully understand these relationships. While single items have the advantage of simplicity and ease of administration, they cannot capture complexities assessed using multi-item scales, and like other instruments may result in false positives and negatives. However, they can provide important information. The use of SRMH in epidemiologic and health surveys and the relationships identified in this review indicate that SRMH could become a robust population mental health measure. It has potential to provide estimates of the mental health of populations, be used to assess change over time in response to changes in policy and practice. SRMH may also hold value as a screener to identify individuals and populations at risk for future mental health problems, but research is limited thus far.
Conclusions
SRMH is seeing increased use in research and in population health surveys. This scoping review points to a number of relationships between SRMH and mental, physical, social, and utilization variables. SRMH may also be predictive of mental morbidity. However, more work needs to be done before these relationships can be firmly established. Future research should continue to further define the relationship between SRMH and measures of mental health or specific disorders. More longitudinal research is needed to determine whether SRMH is predictive of future mental health conditions. Studies should also look at how SRMH varies by sociodemographic characteristics (sex, ethnicity, age, socioeconomic status). In addition, more information is needed about how different population subgroups respond to this item, particularly if it is to be used to assess disparities. Finally, qualitative analysis could be useful in understanding individual response mechanisms behind this item.
Declarations
Acknowledgements
This research was funded in part by the Project for an Ontario Women's Health Evidence-Based Report (POWER Study) which received funding from Echo: Improving Women's Health in Ontario, an agency of the Ontario Ministry of Health and Long-Term Care. The opinions, results and conclusions reported in this paper are those of the authors and are independent from the funding source. No endorsement by the Ontario Ministry of Health and Long-Term Care is intended or should be inferred.
Authors' Affiliations
(1)
School of Health Policy and Management, Faculty of Health, York University, Ontario, Canada
(2)
OPTIMUS | SBR, Toronto, Canada
(3)
Women's Health Program at University Health Network, University of Toronto, Toronto, Canada
(4)
School of Heath Policy and Management, Critical Disability Studies, Faculty of Health, York University, Ontario, Canada
(5)
Lawrence S. Bloomberg Faculty of Nursing; Institute of Health Policy, Management and Evaluation; Dalla Lana School of Public Health and Department of Medicine, University of Toronto, Keenan Research Centre in the Li Ka Shing Knowledge Institute, St. Michael's Hospital, Toronto, Canada
Copyright
© Ahmad et al.; licensee BioMed Central Ltd. 2014
This article is published under license to BioMed Central Ltd. This is an Open Access article distributed under the terms of the Creative Commons Attribution License (http://creativecommons.org/licenses/by/4.0), which permits unrestricted use, distribution, and reproduction in any medium, provided the original work is properly credited. The Creative Commons Public Domain Dedication waiver (http://creativecommons.org/publicdomain/zero/1.0/) applies to the data made available in this article, unless otherwise stated.