Research article

Open Access

Open Peer Review
This article has Open Peer Review reports available.
Health and use of health services of people who are homeless and at risk of homelessness who receive free primary health care in Dublin
BMC Health Services Research
2015
15:58
Received: 29 April 2014
Accepted: 28 January 2015
Published: 12 February 2015
Abstract
Background
Homeless populations experience poorer physical and mental health, and more barriers to accessing adequate healthcare. This study investigates the health of this population, following the provision of a free to access primary care service for homeless people in Dublin (Safetynet). The health of this group will be compared to previous studies on homelessness conducted in Dublin prior to the establishment of this service (in 1997 and 2005).
Methods
Participants were recruited through Safetynet clinics. A 133-item questionnaire was administered to determine participants' physical and mental well-being, use of health services and healthcare needs. Prescription data was extracted from participants' electronic health records.
Results
A total of 105 participants were recruited. The majority were < 45 years of age (69%), male (75%), single (52%), Irish (74%) and had children (52%). Multimorbidity was common; with 5.3 ± 2.7 (mean ± SD) physical conditions reported per person. A large proportion of participants had at some point received a formal diagnosis of a mental health condition (70%; 73/105), including depression (50%; 52/105), addiction disorder (39%), anxiety (36%; 38/105), schizophrenia (13%; 14/105) and bipolar disorder (6%; 6/105). With regards to illicit drug use, 60% (63/105) of participants reported ever using drugs, while 33% (35/105) reported being active drug users. Based on AUDIT C criteria, 53% had an alcohol problem. Compared to previous studies, participants reported more positive ratings of health (70% vs. 57% in 1997 and 46% in 2005). The proportion of participants on one or more prescription medication was higher than in previous studies (81% vs. 32% in 1997 and 49% in 2005) and there was a decrease in attendance at outpatients departments (17% vs. 27% in 2005) and a trend towards a decrease in attendance at Accident and Emergency departments (A & E) (29% vs. 37% in 2005).
Conclusions
This vulnerable population has many physical and mental health problems. Use of drugs, alcohol and smoking is common. Following the establishment of Safetynet, self-reported health was rated more positively, there was also a decrease in the use of A & E and outpatient services and an increase in prescription medicines.
Keywords
Electronic Health Record
Zopiclone
Electronic Patient Record
Homeless People
Primary Care Service
Background
Homelessness is associated with higher rates of mortality, morbidity, poor mental health, alcohol and drug use and other risky health behaviours relative to the general population, making them a particularly vulnerable group. [1-5]. Despite the volume of healthcare needs, homeless populations face a number of barriers to receipt of appropriate services, including lack of engagement with services and continuity of care; lack of medication adherence and a lack of coordination between healthcare services, negative prior experiences, perceived prejudice towards homeless people, difficulty affording prescribed medication and medication storage [6,7].
General practice has been identified as an important setting to meet these needs and to provide an opportunity for early intervention [8-10]. This has been shown to improve the health of the homeless and reduce hospital admissions, resulting in reduced overall cost to the healthcare system [9].
In Ireland, in 2011, there were approximately 3,800 homeless people with the majority (2,375) living in Dublin [1]. In Ireland the majority of people pay to visit a GP and for their medication; around a third of the population is entitled to a means tested free healthcare scheme (GMS scheme). Those on the scheme have free access to GPs and prescribed medication. However, it is known from previous studies on the health of homeless people in Dublin that only around 55% of the homeless population have joined the scheme [2,11]. Safetynet was established in 2007 and provides homeless people, and those at risk of homelessness, with free access to primary care workers including GPs, nurses and drug workers regardless of GMS status. The clinics are all based in homeless shelters and foodhalls to allow easy access. It is supported by the Health Service Executive (HSE) and consists of 14 clinics across Ireland, although these are predominately based in Dublin. The clinics use electronic patient record sharing, which allows patients to be treated in any of the clinics participating in the network. The multidisciplinary team available within the Safetynet network and the increased flexibility of this approach should allow increased access to healthcare for homeless patients and potentially lead to better health of this population.
The aim of the current study was to investigate the health and use of healthcare services of a homeless population in Dublin who access the Safetynet services. This will allow us to characterise the population who access this service and to compare the health of the Safetynet population to studies completed prior to its establishment [2,11].
Methods
Ethical approval for this study was granted by the Royal College of Surgeons Research Ethics Committee.
Study design and setting
This observational cross sectional study was conducted according to the STROBE guidelines [12]. Recruitment took place during an eight week period in summer 2011, using a convenience sampling method. Prescription information was collected from the electronic health record retrospectively.
Participants
Two medical student researchers recruited participants from four of the Safetynet health clinics across Dublin city centre. Recruitment continued until saturation.
Participant recruitment
Each of the participating centres requested a gate-keeping mechanism, whereby patients were first informed of the study by a member of Safetynet staff. Interested participants were then introduced to the researchers, who were on site. Participants provided informed consent prior to participation. Each item on the consent form was read aloud to the participant by the researcher and participants could choose to participate in certain elements of the study, including: (i) collection of prescribing information from the electronic Safetynet patient record at baseline and (ii) at 12 month follow-up.
Questionnaire
The questionnaire used in the current study modified and extended that used in two previous studies investigating the health of the homeless in Dublin in 1997 [11] and 2005 [2]. The questionnaire consisted of 133 items that assessed patients' reasons for homelessness, health and well-being, risky health behaviours and use of health services. Participants were asked to report if they 'currently' or 'ever' experienced a list of mental and physical health problems. In addition, the current study included a number of standard questionnaires used to assess patients' mental health and quality of life. These included the AUDIT C to measure problem drinking; the GAD-7 to measure generalised anxiety; PHQ-9 to measure depression; and the SF-12 to measure quality of life. The AUDIT C is scored on a scale of 0–12 with 0 representing no alcohol use, while a score of ≥4 in men or ≥3 in women indicates alcohol misuse [13]. For the PHQ-9, ≥10 indicates the possibility of clinically significant depression, while ≥15 indicates severe depression. For the GAD-7, ≥ 10 indicates the possibility of clinical anxiety, while a score of ≥15 suggests severe anxiety. The SF-12 measures eight health domains including physical functioning, role-physical, bodily pain, general health (physical component summary; PCS) and vitality, social functioning, role emotional and mental health (mental component summary; MCS). According to this norm based scoring system, an average healthy adult would score 50, if a group scores below 47 then the health of the group is lower than average. The questionnaire took approximately 45 minutes to complete, with a researcher (AH or MC) asking the patients the questions and writing down their verbal responses.
Prescribed and Over the Counter (OTC) medications
Medication information was collected from three sources: self-reported prescribed and over-the-counter medications; Six months worth of data from the Safetynet electronic patient health record and non-Safetynet GPs (where relevant). Data from the electronic patient record was collected for the six month period prior to the interview date and from 6–12 months after the interview date (Figure
1
).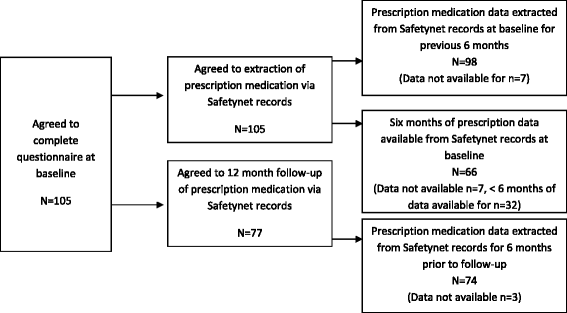 Previous studies
Two previous studies, conducted in 1997 [11] and 2005 [2] used a shorter version of the questionnaire used in this study. In the 1997 study, they recruited participants from hostels, B & Bs, food halls and soup runs that cater for homeless people, while the 2005 study recruited from homeless hostels and B & Bs only.
Conclusions
This study highlights the challenges to the increasing and complex health and healthcare needs of a homeless population in Dublin, relative to the previous homeless studies.
Declarations
Acknowledgements
We would like to acknowledge the previous work of Dr Tony Holohan and thank him for providing us with additional data to allow comparisons to be made. We would like to thank the Safetynet staff, the staff at Merchants Quay Ireland, the Granby Centre, the Capuchin Centre and Beech House, as well as the 105 participants who took part in this study, without their help and expertise this project would not have been possible. We would also like to thank Janet Robinson, Jean Twohig, Michael Cronin, Deirdre O'Connor and Muireann de Paor for their contribution to this project. This study was funded by the Health Research Board of Ireland (HRB) under grant reference HRC/2007/1.
Authors' Affiliations
(1)
HRB Centre for Primary Care Research, Department of General Practice, Royal College of Surgeons in Ireland, Dublin 2, Ireland
(2)
Safetynet, Coolmine House, Dublin 2, Ireland
References
Central Statistics Office: Homless Persons in Ireland: A special Census report. Available at http://www.cso.ie/en/media/csoie/census/documents/homelesspersonsinireland/Homeless,persons,in,Ireland,A,special,Census,report.pdf. accessed 29/10/2013.
O'Carroll A, O'Reilly F. Health of the homeless in Dublin: has anything changed in the context of Ireland's economic boom? Eur J Public Health. 2008;18(5):448–53.View ArticlePubMedGoogle Scholar
Fazel S, Khosla V, Doll H, Geddes J. The prevalence of mental disorders among the homeless in western countries: systematic review and meta-regression analysis. PLoS Med. 2008;5(12):e225.View ArticlePubMedPubMed CentralGoogle Scholar
Hwang SW. Homelessness and health. CMAJ. 2001;164(2):229–33.PubMedPubMed CentralGoogle Scholar
Martens WH. A review of physical and mental health in homeless persons. Public Health Rev. 2001;29(1):13–33.PubMedGoogle Scholar
Canavan R, Barry MM, Matanov A, Barros H, Gabor E, Greacen T, et al. Service provision and barriers to care for homeless people with mental health problems across 14 European capital cities. BMC Health Serv Res. 2012;12:222.View ArticlePubMedPubMed CentralGoogle Scholar
Kushel MB, Vittinghoff E, Haas JS. Factors associated with the health care utilization of homeless persons. JAMA. 2001;285(2):200–6.View ArticlePubMedGoogle Scholar
Woollcott M. Access to primary care services for homeless mentally ill people. Nurs Stand (Royal College of Nursing (Great Britain): 1987). 2008;22(35):40–4.View ArticleGoogle Scholar
Hewett N, Halligan A, Boyce T. A general practitioner and nurse led approach to improving hospital care for homeless people. BMJ. 2012;345:e5999.View ArticlePubMedGoogle Scholar
Department of the Environment Heritage and Local Government. The Way Home: A strategy to address adult homelessness in Ireland 2008–2013. 2008. http://www.environ.ie/en/Publications/DevelopmentandHousing/Housing/FileDownLoad,18192,en.pdf. Accessed 21 March 2014.
Holohan TW. Health and homelessness in Dublin. Ir Med J. 2000;93(2):41–3.PubMedGoogle Scholar
von Elm E, Altman DG, Egger M, Pocock SJ, Gotzsche PC, Vandenbroucke JP, et al. The Strengthening the Reporting of Observational Studies in Epidemiology (STROBE) statement: guidelines for reporting observational studies. Lancet. 2007;370(9596):1453–7.View ArticleGoogle Scholar
Bradley KA, DeBenedetti AF, Volk RJ, Williams EC, Frank D, Kivlahan DR. AUDIT-C as a brief screen for alcohol misuse in primary care. Alcohol Clin Exp Res. 2007;31(7):1208–17.View ArticlePubMedGoogle Scholar
Patterson SM, Hughes C, Kerse N, Cardwell CR, Bradley MC. Interventions to improve the appropriate use of polypharmacy for older people. Cochrane Database Syst Rev. 2012;5:CD008165.PubMedGoogle Scholar
Fazel S, Geddes JR, Kushel M. The health of homeless people in high-income countries: descriptive epidemiology, health consequences, and clinical and policy recommendations. Lancet. 2014;384(9953):1529–40.View ArticlePubMedPubMed CentralGoogle Scholar
Deep Vein Thrombosis. [https://www.evidence.nhs.uk/topic/deep-vein-thrombosis]
Cooke VA, Fletcher AK. Deep vein thrombosis among injecting drug users in Sheffield. Emerg Med J. 2006;23(10):777–9.View ArticlePubMedPubMed CentralGoogle Scholar
Argintaru N, Chambers C, Gogosis E, Farrell S, Palepu A, Klodawsky F, et al. A cross-sectional observational study of unmet health needs among homeless and vulnerably housed adults in three Canadian cities. BMC Public Health. 2013;13:577.View ArticlePubMedPubMed CentralGoogle Scholar
Garner L, Ratschen E. Tobacco smoking, associated risk behaviours, and experience with quitting: a qualitative study with homeless smokers addicted to drugs and alcohol. BMC Public Health. 2013;13:951.View ArticlePubMedPubMed CentralGoogle Scholar
Comisky CM, Kelly P, Leckey Y, McCulloch L, O'Duill B, Stapleton RD, White E, National Advisory Committee on Drugs. The ROSIE study. Drug Treatment Outcomes in Ireland. In. Ireland; 2009Google Scholar
Copyright
© Keogh et al.; licensee BioMed Central. 2015
This article is published under license to BioMed Central Ltd. This is an Open Access article distributed under the terms of the Creative Commons Attribution License (http://creativecommons.org/licenses/by/4.0), which permits unrestricted use, distribution, and reproduction in any medium, provided the original work is properly credited. The Creative Commons Public Domain Dedication waiver (http://creativecommons.org/publicdomain/zero/1.0/) applies to the data made available in this article, unless otherwise stated.