Research article

Open Access

Open Peer Review
This article has Open Peer Review reports available.
A process-based framework to guide nurse practitioners integration into primary healthcare teams: results from a logic analysis
BMC Health Services Research
2015
15:78
Received: 2 July 2014
Accepted: 6 February 2015
Published: 27 February 2015
Abstract
Background
Integrating Nurse Practitioners into primary care teams is a process that involves significant challenges. To be successful, nurse practitioner integration into primary care teams requires, among other things, a redefinition of professional boundaries, in particular those of medicine and nursing, a coherent model of inter- and intra- professional collaboration, and team-based work processes that make the best use of the subsidiarity principle. There have been numerous studies on nurse practitioner integration, and the literature provides a comprehensive list of barriers to, and facilitators of, integration. However, this literature is much less prolific in discussing the operational level implications of those barriers and facilitators and in offering practical recommendations.
Methods
In the context of a large-scale research project on the introduction of nurse practitioners in Quebec (Canada) we relied on a logic-analysis approach based, on the one hand on a realist review of the literature and, on the other hand, on qualitative case-studies in 6 primary healthcare teams in rural and urban area of Quebec.
Results
Five core themes that need to be taken into account when integrating nurse practitioners into primary care teams were identified. Those themes are: planning, role definition, practice model, collaboration, and team support.
The present paper has two objectives: to present the methods used to develop the themes, and to discuss an integrative model of nurse practitioner integration support centered around these themes.
Conclusion
It concludes with a discussion of how this framework contributes to existing knowledge and some ideas for future avenues of study.
Keywords
CollaborationDelivery of health careIntegrating processLogic evaluationNurse practitionersPractice modelPrimary health careRole definitionTeam support
Background
Major challenges for developed countries' health systems in the next decades include pervasive health inequalities; limitations in health services accessibility, care comprehensiveness, and continuity, especially in primary care; demographic shifts; technological developments; and fiscal constraints [1-7]. The pressing nature of these challenges should not, however, obscure the fact that, at the programmatic level, there is strong evidence on effective intervention paths. Among those, increased reliance on primary care over specialized hospital-based care and a greater role for nurses and other non-physician professionals in primary care teams are of particular importance to simultaneously improve efficiency and accessibility [8-12]. In this general context, the current article is focused on one specific objective, which is to provide evidence-based, practical advice to support the effective integration of primary care nurse practitioners (NP) into care delivery systems. We have pursued this objective using an original research strategy combining results from logic and implementation analyses [13].
There is a large body of evidence suggesting that increased reliance on NPs has the potential to improve accessibility of primary care services while controlling expenditures [8,14-20]. However, integrating NPs into primary care teams has proven challenging in practice [8,19,21,22]. There is abundant literature analyzing the underlying causes of those challenges, but operational literature on the solutions to overcome them is considerably more limited.
Context
In 2010, Quebec's government announced it would support NP practice and fund the integration of 500 primary care NPs over the next decade. The main objective put forward was to improve accessibility [23]. This decision was the starting point for a large-scale research project focused on supporting primary care teams that integrated NPs as they went through the process of rethinking care delivery models, processes, and roles.
The majority of healthcare services in Quebec are funded through a Beveridgean public insurance system. Essential Care, whether offered in publicly owned institutions or in private medical clinics, is usually free at the point of service. The Ministry of Health and Social Services (MSSS) funds services through public taxation and has a direct responsibility in the overall governance of the healthcare delivery system. When the government decided to add 500 NPs to the healthcare system, the MSSS had a central role in drafting, implementing, and supervising a "deployment plan" that would reach the broader policy objective of improving accessibility to primary care services. For example, students in NP master's programs are offered a generous bursary package by the MSSS to support their studies and professional travel expenses in exchange for a commitment to work at least three years in a location approved by the Ministry.
In Quebec, primary care NPs are registered nurses who have successfully completed a master's-level, university-based, NP program. Upon employment they are required to work in collaboration with at least one physician, with whom they sign a "partnership agreement". NPs have the legal and regulatory authority, in collaboration with a physician, to assess, diagnose and treat patients for acute common illnesses and injuries, manage chronic diseases, provide pregnancy care up to 32 weeks of gestation, and engage in health and wellness promotion. They order and interpret diagnostic tests, prescribe drugs (based on a formulary) and perform specific procedures within their legislated scope of practice [24]. Upon completion of their educational programs, and prior to registration, NP graduates are accorded the right to practice under medical supervision as "candidates" and have two years to pass the certification exam jointly drafted by the nursing and medical professional boards.
NPs are expected to provide primary care in public organizations providing primary care and social services (CLSCs); hospital-based family medicine units (UMFs), which train medical residents in family medicine; and family medicine groups (GMFs). GMFs are private medical clinics where public hospitals cover the salary and benefits of nursing staff (both RNs and NPs) in exchange for clinics providing extended opening hours and increased care continuity.
Methods
In this paper we report on finding obtained from an original research strategy combining results from logic and implementation analyses [
13
]. The logic data were derived from published literature and implementation data were derived from case studies conducted by the research team in Quebec (Canada). The recommendations presented here are based on a combined logic and implementation analysis. Both evaluation approaches aim to assess the potential value of a given intervention, but each has a different focus. On one hand, "
Logic analysis is an evaluation that allows us to test the plausibility of a program's theory using available scientific knowledge—either scientific evidence or expert knowledge
" [
25
]. Implementation analysis, on the other hand, relies mostly on empirical observations to identify factors that actually enhance or impede the implementation of the intervention or the production of its effects [
26
]. Combining these two evaluation approaches allowed us to build a comprehensive understanding of factors and contextual characteristics potentially influencing NP implementation, which in turn made it possible to provide evidence-based advice to optimize implementation and maximize NPs' effectiveness. Furthermore, implementation analysis was helpful in identifying which determinants of implementation effectiveness were more important than others as deployment of NPs was being planned and phased-in. At the operational level, the research team first conducted a logic analysis of Quebec's NP deployment plan and of NP practice patterns, mostly based on a realist review of the literature and on expert advice. We then conducted an implementation analysis using a case study research design (n = 6 cases) in three health regions of Quebec. The evidence derived from both the logic and implementation analyses was then combined into practical advice pertaining to five core themes that structure the NP integration process. Figure
1
below represents phases of the research process schematically.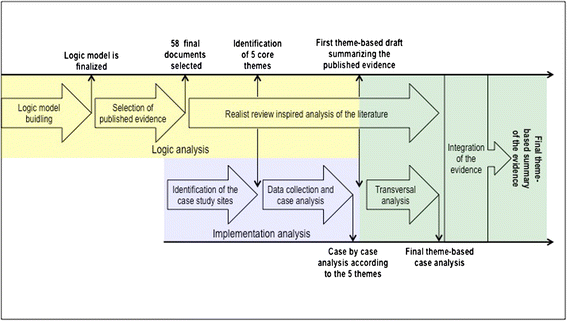 Logic analysis
First we began with a logic analysis which is a three-step approach [25,27] consisting of building a logic model, developing the conceptual framework, and evaluating program theory. To build the logic model, we consulted available documents produced by the Ministry, regional boards, professional organizations and experts from the MSSS who were directly involved in the NP implementation plan in Quebec. We then reviewed the available published evidence through a method inspired by the realist review approach [28-31]. Using the logic model of the MSSS' NP implementation plan we established as a starting point, we iteratively built, from the literature, a conceptual model of the best practices and supporting conditions for NP integration into primary care teams.
Given the complexity of NP implementation, purely keyword-based search syntaxes were unlikely to provide satisfactory results [28,31-34]. As a starting point, we chose instead to conduct a manual search in the Advanced-Practice Nursing (APN) Literature Database [35], in which all the scientific literature published on advanced practice nursing between 2000 and 2009 had been systematically compiled. We extracted the 3,674 references identified as relevant to advanced-practice nursing in the APN database and manually assessed their relevance for the purpose of our study based on titles and abstracts. A total of 159 articles were retained for further review. To be retained, documents had to address NP implementation in primary healthcare teams, practice models, or integration processes. Two members of the research team independently assessed the retained articles for relevance.
Next documents were summarized using an abstraction tool and given a relevance score and a scientific validity score, both ranging from 1 to 3. The relevance score ranged from 1 for documents offering a minor or marginal contribution to the understanding of the phenomena studied to 3 for documents providing detailed insights directly focused on those phenomena. The validity score ranged from 1 for an editorial opinion or significantly flawed research to 3 for an article presenting results from a robust and well-conducted method. For editorial type material with no discernable evidence base, reviewers also had the option of removing the article from the database (score of 0). Only documents with a combined score (relevance and validity) of 4 or higher, 43 articles were retained as primary sources for analysis.
At the time of conducting the review, the APN Literature Database was limited to literature published between 2000 and 2009. To include publications after 2009, we reproduced the search syntax used to compile the APN Literature Database to identify articles published between 2010 and 2012. We applied the same sorting methods to this second corpus of articles and retained 53 articles for full textual analysis. Of these, 15 were added to the 43 documents selected in the first phase. Altogether 58 documents were selected for in-depth analysis.
The documents, both peer-reviewed articles and research reports, were then iteratively read, often several times, and analyzed to build a preliminary conceptual model according to the realist review approach [28,31,34,36]. The model was focused on structuring available evidence to support NP integration. From the literature, five major themes were inductively identified as the conceptual model's core elements: 1) planning the integration, 2) role definition, 3) patient management, 4) collaboration, and 5) support to the team. For each theme, we produced a first summary of the information collected in the literature review. At this point, the interdisciplinary expertise of the research team (which included registered nurses, NPs, physicians, and experts in organizational theory and health administration) was applied to identify new documents on an ad hoc basis. The draft summary for each theme was then used as the analytical framework for the implementation analysis.
Implementation analysis
The second data source, upon which the advice provided here is based, comes from an implementation analysis using six qualitative case studies. Each case was defined as a clinical team into which one or more NPs had been integrated in Quebec. We identified potential cases in collaboration with MSSS and with the Regional Health and Social Services Agencies (ASSS) involved. Cases were selected based on two criteria. First, cases had to involve teams whose NP integration was seen as successful by the MSSS or the ASSS, in order to identify and analyze successful integration models. Second, to improve the external validity of the findings [
37
-
39
] we deliberately sought maximum variation in terms of environment (rural, suburban, urban), organizational setting (privately owned clinics, community-based publicly owned clinics, and hospital-based primary care teams), and stage of NP integration. Table
1
below provides additional information on the characteristics of each case study site.
Table 1
Location and team composition for each case study site
| | Case 1 | Case 2 | Case 3 | Case 4 | Case 5 | Case 6 |
| --- | --- | --- | --- | --- | --- | --- |
| Location | Urban | Rural | Rural | Rural | Urban | Urban |
| Type and number of professionals within the team | 2 NPs, 67 MDs, RNs, nursing assistant, social worker, psychologist, nutritionist, kinesiologist | 1 NP, 15 MDs, 2 RNs, 1 nursing assistant, 1 nutritionist | 2 NPs, 2 MDs, 4 RNs, 2 nursing assistants, 3 social workers, 1 occupational therapist | 2 NPs, 2 MDs, 1 RN, 1 nursing assistant | 1 NP, MDs and residents, RN, nursing assistant, pharmacist | 1 NP, 3 MDs, RNs, social worker, occupational therapist, physiotherapy technicians, pharmacists |
Findings from the case studies are based on 34 semi-structured interviews conducted with members of the clinical teams and other key actors as well as on analysis of available documentation. In each setting, researchers skilled in interviewing conducted interviews with the main stakeholders involved in the NP integration into the primary care team, such as the NP, the physician partner, and the Chief Nursing Officer of the local hospital, and most of the nurses and the administrative staff of each of the primary care teams. All informants gave informed consent, and best practices for the ethical conduct of research were followed. The project was approved and supervised by the research ethics committees of all institutions involved. Each of the six cases was under the responsibility of one team member, who produced a narrative case summary per case, structured around the five themes identified in the literature review. Those summaries were discussed in research team meetings, and cross-case insights were identified. In a second step, we produced five narrative theme-based cross-analyses of the cases to synthesize the contribution of empirical case-study evidence according to each of the five previously identified themes.
Combined analysis
After completing the implementation analysis, we revised the summaries constructed during the logic analysis phase to incorporate empirical knowledge derived from the case studies. Ultimately, the evidence from the logic analysis and the implementation analysis was integrated into one single theme-based narrative, and the specific expertise of each team member was mobilized in that process. The objectives of using two different approaches to analysis were: 1) to be able to cross-validate and compare the evidence derived from the literature to practices identified in our case studies and; 2) to assess the applicability and usefulness of the literature-based advice in real-world contexts and determine which of the factors identified in the literature were most important in supporting the implementation of primary care NPs; and 3) to better appraise implementation dynamics and understand how factors are intertwined during the implementation process.
Three important points should be made regarding the final integration of the material. First, our focus was to offer practical advice. Much of the literature is structured around identifying barriers and facilitators [8,40-44] but offers little to support teams' improvement. It might also be worth stressing here that integration is a process, and thus a dynamic phenomenon, whereas a list of barriers and facilitators is a very static analytical framework. Second, we aimed for a single set of theme-based recommendations for all team members, whether NPs, RNs, MDs, administrators, or support staff. What is your third point?
Results
As described in the Methodology section above, unless otherwise specified, the findings provided here come from the integration of evidence from the logic analysis and implementation analysis components of the study and are structured around the five themes identified.
Discussion and conclusion
The results of our logic and implementation analyses suggest the existing literature on NP integration could be improved in two ways. First, taken as a whole it is too often intradisciplinary, offering analysis and advice that is too targeted to one professional group. Yet, by definition, integrating NPs into primary care teams is an interprofessional endeavor. Second, while the literature offers much converging descriptive evidence regarding barriers to and facilitators of NP integration [8], it is much less helpful in terms of practically oriented advice. When practical advice is found, it is often structured as a step-based linear model. However, in our view such linear models are vulnerable to the broader weaknesses of linear planning strategies [101,102].
Integrating NPs into primary care teams is likely to be a dynamic, complex, and messy process. In real life, many elements often need to be tackled simultaneously; it might make sense to backtrack to find and fix something that was not done right in the first place, and it is impossible to draw a line between what constitutes integration and what are normal activities. This is not to say that NP integration ought to be conceived as a something to be improvised, but rather that it is a process for which the best advice may not be step-based, as is elegantly conveyed in the often-quoted words of D. D. Eisenhower, "In preparing for battle I have always found that plans are useless, but planning is indispensable."
The theme-based processual [101,103] perspective put forward in this article can also be linked with a particular perspective of role theory. In opposition to the dominant functionalist view that focuses on how a role is externally defined, this paper is aligned with the enactment, interactionist perspective. From this perspective, roles are dynamic, context dependent, processual, and interactional. The analytical focus should thus be on the everyday and local processes through which roles are constructed, negotiated, learned, enacted, and performed. Such a view is incompatible with cookbook-type linear advice. In the end, what ought to be done will always be dependent on many contingent factors. We believe the five themes delineated here can provide fruitful starting points for clinical teams striving to develop effective models for integrating new roles.
Ethics
This study has been approved by the ethics committees of the Comité d'éthique de la recherche de l'Agence de Santé et des Services Sociaux de Montréal and by the Comité d'éthique de la recherché en santé de l'Université de Montréal.
Declarations
Acknowledgment
This research was supported by a joint Canadian Institutes for Health Research (CIHR) and Ministry of Health and Social Services of Québec grant (Grant number: 238537). D. Contandriopoulos, A. Brousselle, C.-A. Dubois and K. Kilpatrick also receive salary awards from the fonds de recherche du québec–Santé (FRQ-S). A. Brousselle holds a Canada Research Chair.
Authors' Affiliations
(1)
Faculty of Nursing, University of Montreal, Montréal, Canada
(2)
Department of Community Health Sciences, University of Sherbrooke, Longueuil, Canada
(3)
Department of Family Medicine and Emergency Medicine, University of Montreal, Montréal, Canada
(4)
School of Nursing, University of Victoria, Victoria, Canada
Copyright
© Contandriopoulos et al.; licensee BioMed Central. 2015
This article is published under license to BioMed Central Ltd. This is an Open Access article distributed under the terms of the Creative Commons Attribution License (http://creativecommons.org/licenses/by/4.0), which permits unrestricted use, distribution, and reproduction in any medium, provided the original work is properly credited. The Creative Commons Public Domain Dedication waiver (http://creativecommons.org/publicdomain/zero/1.0/) applies to the data made available in this article, unless otherwise stated.