Research article

Open Access

Open Peer Review
This article has Open Peer Review reports available.
Understanding the modifiable health systems barriers to hypertension management in Malaysia: a multi-method health systems appraisal approach
BMC Health Services Research
2015
15:254
Received: 18 June 2014
Accepted: 8 June 2015
Published: 3 July 2015
Abstract
Background
The growing burden of non-communicable diseases in middle-income countries demands models of care that are appropriate to local contexts and acceptable to patients in order to be effective. We describe a multi-method health system appraisal to inform the design of an intervention that will be used in a cluster randomized controlled trial to improve hypertension control in Malaysia.
Methods
A health systems appraisal was undertaken in the capital, Kuala Lumpur, and poorer-resourced rural sites in Peninsular Malaysia and Sabah. Building on two systematic reviews of barriers to hypertension control, a conceptual framework was developed that guided analysis of survey data, documentary review and semi-structured interviews with key informants, health professionals and patients. The analysis followed the patients as they move through the health system, exploring the main modifiable system-level barriers to effective hypertension management, and seeking to explain obstacles to improved access and health outcomes.
Results
The study highlighted the need for the proposed intervention to take account of how Malaysian patients seek treatment in both the public and private sectors, and from western and various traditional practitioners, with many patients choosing to seek care across different services. Patients typically choose private care if they can afford to, while others attend heavily subsidised public clinics. Public hypertension clinics are often overwhelmed by numbers of patients attending, so health workers have little time to engage effectively with patients. Treatment adherence is poor, with a widespread belief, stemming from concepts of traditional medicine, that hypertension is a transient disturbance rather than a permanent asymptomatic condition. Drug supplies can be erratic in rural areas. Hypertension awareness and education material are limited, and what exist are poorly developed and ineffective.
Conclusion
Despite having a relatively well funded health system offering good access to care, Malaysia's health system still has significant barriers to effective hypertension management.
Discussion
The study uncovered major patient-related barriers to the detection and control of hypertension which will have an impact on the design and implementation of any hypertension intervention. Appropriate models of care must take account of the patient modifiable health systems barriers if they are to have any realistic chance of success; these findings are relevant to many countries seeking to effectively control hypertension despite resource constraints.
Keywords
Medical Officer
Rural Site
Private Care
Hypertension Management
Peer Support Group
Background
The importance of developing robust responses to the growing burden of non-communicable disease (NCD) has been highlighted by two recent events, the 2010 update of the Global Burden of Disease demonstrating the scale of the epidemiological transition to NCDs [1] and the 2011 United Nations High-Level Meeting calling for urgent action to tackle NCDs [2].
Cardiovascular diseases are the largest contributor to the NCD burden worldwide, with hypertension among the most important risk factors [3, 4]. Appropriate responses span public health measures to prevent the onset of disease and health care to tackle risk factors and established disease.
The means to manage hypertension have been available for decades and are cost-effective, requiring no more than a sphygmomanometer for diagnosis, one, or more often a combination, of cheap and effective drugs for treatment [4, 5], but also, and somewhat more difficult to achieve, a health system that can make them available to those in need. The achievable health benefits are large as exemplified by the rapid declines in stroke-related mortality that have occurred in most high income countries during the past four decades [6]. Yet these gains have been elusive in many low and middle income countries, with most hypertensive individuals unaware of their risk and, even if they are aware, unable to receive treatment or achieve blood pressure control [7].
Effectively addressing hypertension requires strategies that are multifaceted, involving preventive actions and improved control, while overcoming established structural and institutional barriers. This can appear unachievable in situations with scarce resources and competing priorities, risking a sense of therapeutic nihilism [8]. Consequently, there has been limited attention from researchers and their funders to the potential to deliver a pragmatic response to hypertension in low and middle income country settings.
NCDs are rising rapidly in many low and middle income countries (LMIC), and prevention and control has potential to make large inroads. One such country is Malaysia, an upper middle income country, where we have studied the barriers to effective hypertension detection, treatment and control. Lessons learnt from Malaysia can be applied to many other countries. In the 2011 National Health and Morbidity Survey conducted in Malaysia, which included 28,000 subjects, 32.7 % of participants, aged 18 and over, had hypertension (systolic ≥140 mmHg, and/or diastolic ≥90 mmHg or self-reported on treatment), of whom only 39.1 % were aware of their status [9]; this places Malaysia in the middle of the range of countries in the Western Pacific region of WHO [10]. An earlier nationwide study of over 16,000 subjects, reported in 2007, found 27.8 % of those aged over 15 had hypertension. Only 34.6 % of the subjects with hypertension were aware of their hypertensive status, and 32.4 % were taking antihypertensive medication. Amongst the latter group, only 26.8 % had their blood pressure under control [11]; thus overall only 9.3 % of those with hypertension were controlled and, to the extent that the surveys were comparable, this suggests that the situation may be deteriorating.
In contrast, some facility-based studies have found higher rates of control but they only include patients who are aware of their condition and are able to receive care, thereby suffering from selection bias. For example, one study of nine clinics found that, overall, 59 % of 1260 patients with hypertension were controlled [12]. However, rates varied substantially among clinics from 23.1 to 74.2 %, also indicating the scope for improvement using practices already in place in some settings that can be replicated elsewhere.
The components of a comprehensive health system response are largely agreed. They include diagnosis, appropriate lifestyle and pharmacological treatment, and regular monitoring to achieve control. However, it is far from obvious that models of care developed in Western countries can simply be transplanted to Malaysia as they may be dependent on availability of resources, healthcare system design, cultural influences and other factors.
One extension of the international PURE (Prospective Urban and Rural Epidemiology) study, which is now following up over 180,000 people aged 35 and over in 21 countries to track trends in cardiovascular disease and its risk factors [13], is the HOPE-4 randomized controlled trial. HOPE-4 seeks to design and evaluate an intervention that will comprise fixed single pill fixed dose cardiovascular combination therapy, coupled with advice on self-management, administered by mid-level non physician health workers. However, as with any complex intervention, the implementation will need to take account of the characteristics of the health systems, population preferences and local context. This requires knowledge of the barriers that are likely to arise and how these can be countered.
In this paper we describe the use of a multi-method health system assessment to understand the barriers and facilitating factors for optimal hypertension management (diagnosis, treatment and control) in Malaysia from a patient perspective. This approach has been previously used to assess health systems performance, whereby it uses a specific condition (such as hypertension) as a tracer that can explore the functioning of the diverse elements of the health care system [14]. In this case we use it to identify barriers to effective management that must be addressed in designing an intervention to be evaluated in a subsequent cluster randomized controlled trial.
Methods
Theoretical framework
The approach to health systems assessment is underpinned by a conceptual framework (Fig.
1
) that draws on the model of health systems proposed in the 2000 World Health Report [
15
]. Recognizing the criticism that the building blocks approach is somewhat mechanistic evaluating each block separately [
16
], the study framework is modified to enable an analysis of the relationship between the various resources and components of a health system (Fig.
1
). It is informed by the "systems thinking" approach [
17
] that addresses the complexity of the health system and the interactions of sub-systems leading to changes in the whole. The approach seeks to explain the causes for certain phenomena, and to identify plausible pathways about how resource inputs translate into outcomes. It draws on realistic evaluation [
18
], in which "mechanism + context = outcome" and where the focus is more on what intervention or policy works in what circumstances. What "works" is assessed from the perspective of the patients and frontline providers, as the ultimate beneficiaries of a well-functioning system.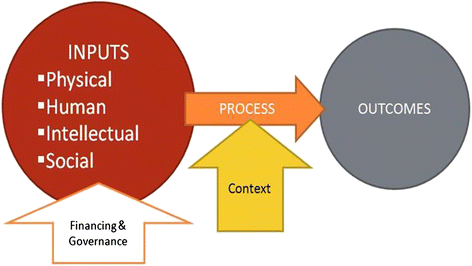 This multi-method approach is suited to many other complex chronic diseases and has most often been used with diabetes [19–21]. It recognizes that adequate health care funding is necessary but not sufficient for optimal health outcomes, which require the effective management of four types of resources: physical, such as health facilities, medical equipment, and drugs; human, such as trained health workers; intellectual, such as evidence-based guidelines and understanding by patients of the nature of the disease and its management; and social, such as means for patients to afford and access necessary treatment. The framework also takes into account the broader societal context and the overarching roles of governance and finance in determining how the different inputs are transformed into outcomes.
Document review and synthesis
The first step involved review and synthesis of official statistics, published and grey literature, survey data and government reports to understand the formal health system and how it is expected to work. This involved searches around key framework domains using Google and PubMed, using the terms Malaysia and hypertension and its synonyms, a search of Malaysian government and the World Health Organization websites, documents identified by key informants, and a follow up of references cited.
Community sampling
This was used to frame the primary research which sought to understand what happens in practice. Study sites were selected from among those participating in the PURE study [
22
] to cover diverse settings within Malaysia: two urban sites close to the capital, Kuala Lumpur (Petaling Bahagia and Sungai Buloh) and two rural sites, one in Peninsular Malaysia (Tanjung Sepat) and one in rural Sabah (Kota Marudu). The sites were chosen on the basis of significant variations in hypertension prevalence and control, with marked differences not only between urban and rural sites, but also within each type of setting (Table
1
). This approach made it possible to capture a diversity of setting-specific barriers.
Table 1
Hypertension data from study sites in subjects aged 35–70 (2013)
| Community name | N | Location | Diabetes mellitus prevalence | Hypertension prevalence | Of which aware | Of which treated | Of which controlled |
| --- | --- | --- | --- | --- | --- | --- | --- |
| Petaling Bahagia | 34 | Urban | 5.9 % | 38.2 % | 53.8 % | 53.8 % | 38.5 % |
| Shah Alam | 133 | Urban | 10.5 % | 45.9 % | 58.9 % | 58.9 % | 17.6 % |
| Tanjong Sepat | 127 | Rural | 7.9 % | 57.5 % | 46.6 % | 32.9 % | 9.6 % |
| Kota Marudu | 334 | Rural | 3.9 % | 47.6 % | 59.1 % | 48.4 % | 23.9 % |
Field work was undertaken by local researchers, most already working on the PURE project, who received training in health systems appraisal at a workshop held in Kuala Lumpur, using a detailed manual developed for hypertension that contained definitions, sampling frameworks, and assessment tools, seeking to improve consistency across sites. At each site, researchers identified the main public health facilities at which people seek treatment for hypertension, and then identified private and traditional providers serving the community.
Fieldwork and data analysis
Semi-structured interviews were conducted with a purposive sample of patients with hypertension and health professionals involved in hypertension management (Table
2
). Each clinic was visited over the course of a few days. Attendance lists were used as a sampling frame, from which patients being treated for hypertension were selected purposively, with the intention of obtaining a mix of subjects by gender, ethnicity, and hypertension control. Inevitably, those included reflected the population served. Thus, all interviewees from indigenous groups were recruited in the community in Sabah. The interview guides drew on earlier research involving the authors on barriers to diabetes management [
19
–
21
] and two systematic reviews conducted to identify health system and service barriers to hypertension control [
23
,
24
]. A convenience sample was used for health professionals, but based on a pre-specified list of those who would have direct patient contact as set out in the study protocol. The interviews, which typically lasted 30 minutes, explored patient pathways (from initial diagnosis to consistent treatment), access to medicines, adherence to treatment, and management of complications. Key informants at national level were identified through documentary analysis and were interviews, including civil servants and representatives of professional organizations, to gain insights into the hypertension-related regulation and policy context. The source of each quotation cited is indicated as key informant (KI), healthcare provider (HP) and patient (PA).
Table 2
Characteristics of respondents by site
Petaling Bahagia (urban, KL)

Tanjung Sepat (rural, peninsula)

Marudu (rural Sabah island)

UiTM (urban, KL)

Total

M

F

M

F

M

F

M

F

Type of Informant

Key Informant

12

Health professional

Public

0

3

1

3

2

3

0

1

13

Private

2

1

0

0

0

0

0

3

6

TCM

2

0

2

0

0

0

0

1

5

Total

8

6

5

5

24

Patient

Public

2

4

0

2

3

8

6

4

29

Private

1

0

1

1

0

0

1

1

5

TCM

0

0

1

0

0

0

0

2

3

Total

7

5

11

14

37

Patient demographics

Hypertension status

Controlled

3

4

1

3

1

3

7

5

27

Uncontrolled

0

0

1

0

2

5

0

2

10

Ethnicity

Malay

1

3

2

3

0

0

7

5

21

Indian

1

0

0

0

0

0

0

1

2

Chinese

1

1

0

0

0

0

0

1

3

Other minority

0

0

0

0

3

8

0

0

11

Total

15

11

16

19

73
Ethical approval was granted by the respective committees at the Universiti Teknologi MARA and the London School of Hygiene and Tropical Medicine. Following informed consent, interviews were conducted in Bahasa Malaysia or English and recorded. Transcripts were coded inductively using NVivo software eliciting major themes and these were then mapped onto the conceptual framework, constructing a narrative summary. Findings and inferences emerging from the interviews were triangulated with routine statistics, policy documents, published and unpublished literature throughout all stages of the study and data interpretation [25].
Results
This section reports thematically the barriers and facilitators to effective hypertension management according to the conceptual framework beginning with a description of the management of hypertension. Findings are interpreted in the context of the Malaysian health system (Appendix Tables 4 and 5).
Discussion
Innovations in health care delivery are frequently implemented without any attempt to evaluate them and assess the extent to which they respond to patient needs. Even when they are subject to an evaluation, it is rare for them to be tailored to the local context [37]. This is in marked contrast to the development of medicines, where vast sums are spent to develop and refine the product, in terms of dosage, presentation, and mode of administration before it ever gets near a patient. One review of malaria programmes concluded that many "fail to utilize findings from social science research and as a result, achieve minimal results" [38].
This study has provided valuable insights into the management of hypertension in Malaysia. It finds that, while NCDs are now high on the political agenda, the focus is predominantly on diabetes, with rather less attention to other conditions such as hypertension. Patients with hypertension are diagnosed when they present with symptoms, which may or may not relate to their hypertension but this suggests that many may be diagnosed at a relatively late stage. Mass screening activities take place but, although not subject to formal evaluation, seem to be of limited value as few people in whom elevated blood pressure is detected are followed up. Once commenced on treatment, arrangements are made for routine follow up but attendance is low, largely because of a combination of travel times (rural areas), difficulty taking time off work (urban areas), and long waits in clinics. The problems are greatest in rural areas, which face shortages of basic equipment and medicines, with shortages of physicians who change regularly, making continuity of care difficult. In more remote areas where many patients are from indigenous groups there may also be language barriers. However, even in urban areas, many of those who can (mostly those with insurance cover), seek private care. Guidelines exist and are generally viewed positively, although some are contradictory and there may be insufficient time to adhere to them in detail. Patient adherence to treatment seems low and, at least in part, this seems to reflect traditional beliefs, from different sources, that view disease as a transient imbalance that, once corrected, does not require continuing treatment. Linked to this, it is apparent that many people seek traditional remedies, in combination with or instead of recommended evidence-based treatments. Notwithstanding these concerns, there does seem to have been some progress since a 2007 evaluation of hypertension services [39].
A recent study undertaken in a tribal area of India echoed our findings in Malaysia, such as reliance on traditional medicine, non-adherence to medication, inappropriate education materials, and logistic challenges in accessing care [40]. Even though that study was undertaken in a completely different setting, its findings are remarkably similar to ours, indicating a broader relevance.
Before discussing the implications for design of an intervention, it is necessary to reflect briefly on the strengths and limitations of this innovative approach to appraise the health system. Its main advantage is that it takes user perspective and identifies upstream bottlenecks at local, district and national level, drawing on theories and frameworks for analysing health systems operations. It uses a range of qualitative and quantitative methods in an iterative and reflexive approach allowing for collection and analysis of data that is rigorous yet pragmatic. Yet whilst a wide range of stakeholders were enrolled in this study, the sampling methodology created an inevitable bias towards those patients who attend health clinics, as well as towards providers and key informants who were willing to provide information, which tended to emphasise the role of the public sector. There was also a bias towards the Malay population due to language spoken by the researchers. However, we did triangulate our findings with different sources, including existing literature. Thus, as in an earlier study, we found that patients most likely to access hypertension care in the public sector are older, female and of Malay ethnicity [30].
Our findings have been very important in designing an intervention that will now be evaluated as a potential means of improved hypertension management. Table
3
demonstrates the various barriers to effective hypertension management within and outside the health system in Malaysia, and at different levels that must be tackled in the design of an intervention. The most important barriers relate to the management and clinical practice within clinics and health beliefs. Both have implications for adherence to treatment, although it is important to note that poor adherence is a virtually universal problem, even if the precise causes vary [
41
–
43
]. We found little evidence for any major financial barriers to accessing care or medication, since public sector care is heavily subsidized and medication is widely available in the public and private sectors. However the rapid staff turnover and long waiting times are a matter of concern. Additionally, the intervention will need to tackle particular problems in rural areas, and among different population, ethnic and socio-economic groups. This is a very different situation from that in Colombia, where this study is also being undertaken, where shortages of drugs are widespread everywhere [
44
]. Nor are there major concerns about financial barriers, with out-of-pocket payments only being paid by those opting for private care, most of whom are at least partially covered by occupational health insurance. We did not find evidence of informal payments, unlike the situation in many other middle income countries. Most clinics reported having adequate diagnostic equipment, even if not always the most modern, but there were significant managerial problems.
Table 3
Barriers to hypertension control in Malaysia
Community and household level

Health service delivery level

Health sector policy and governance level

Environmental and contextual characteristics

Hypertension clinical management

- Health beliefs leading to non-adherence to drugs

- Lack of routine screening

- Lack of effective public awareness campaigns

- Lack of understanding of access issues from a patient perspective

- Supplementary use of traditional therapies, sometimes leading to discontinuation of Western medication

- Lack of follow-up from community outreach activities

- Lack of incentives for health staff or clinics to improve quality of management or care

- Weak response to risk factors for hypertension, such as food industry regulation

- Patients seeking care across public, private and TCM providers, disrupting continuity of care

- Little time with patients for effective counselling and management

- Lack of continuity of care between and within public and private sector

- Lack of regulation of TCM

- Failure to dispense enough medications to last between check-ups

- Lack of evidence for TCM

- Overburdened public health system puts pressure on resources due to private sector dumping

- Clinics are not open out of working hours

External issues

- Access to clinics due to transport or working hours

- Lack of social support or counselling available for hypertension patients

- Weak civil society

- High fat and oil diet is cheap and accessible

- Lack of regulation of food and tobacco industry
This analysis shows how, in Malaysia, an intervention must include messages that take full account of deeply held beliefs that do not recognize long term asymptomatic conditions and lead many patients to use traditional medicines that may conflict with western approaches to management. There is growing recognition of the need to understand health beliefs in influencing medication adherence, with a recent systematic review showing both similarities in many diverse settings worldwide but also some cultural specificities [45]. This paper adds to that literature which, so far, has provided evidence mainly from high income countries. As elsewhere, there is much scope to increase understanding of hypertension among both patients and health professionals, with evidence from other settings that patient empowerment and education can improve health outcomes in hypertensive patients [46] when done well. However there is a need to test messages related to the risks of hypertension and the need for long-term treatment even when asymptomatic. This requires skills in cognitive psychology and market research. There is now considerable experience with social marketing in some areas of health promotion, for example, for reproductive health [47], but less so in relation to cardiovascular disease. However, where it has been tried, it has led to innovative methods, such as the use of community workers or house parties to raise awareness [48]. It is, however, important that these approaches do not become simply tokenistic in their efforts to address cultural diversity [49]. It is also important that the messages emerging should be sustained and consistent throughout the health system, which will require harmonization of guidelines and training for health workers to work towards the same goals [50].
The analysis also identifies the high opportunity cost to patients imposed by transport problems and the time required to obtain care. The former is difficult to tackle by actions within the health system but both may be alleviated to some extent by extending clinic hours. Given the costs that arise in these ways, there may also be a case for considering conditional cash transfers as incentives to attend regular follow up. These have been shown to be effective in relation to other aspects of health care [51], but there are considerable financial and governance challenges.
There is also a clear need to improve detection and treatment of hypertension. Ideally, every patient over a certain age would have their blood pressure measured at every encounter with a health worker. However, this will not be easy (or indeed possible) with the staffing levels available. Even for patients who have had treatment initiated, staffing levels are inadequate, reflecting a national shortage of physicians and maldistribution, with very few working in primary care, especially in rural areas, where those that do exist are employed on short-term contracts or are frequently redeployed. Malaysia also has a low density of nurses compared to its neighbours, although the situation is complicated because it is both a major importer and exporter of nursing staff [52]. This points to the need for task-shifting, and for more of the workload to be undertaken by mid-level non-physician health workers. However, this must be accompanied by enhanced training of those such as nurses, who could assume new roles. This will also require an imaginative response to the legal prohibition on cadres other than doctors prescribing medication. One possibility might be to allow nurses to vary dosages within protocols although, in the longer term, legislative change will be needed.
It will be important to consider new approaches, such as those made possible by technological advances. For example, non-physician health workers could screen patients using electronic sphygmomanometers, complete a check list on a smart phone or tablet that would then calculate cardiovascular risk scores (and stratify individuals into high, medium and low risk), identify concomitant risk factors that require modifications (e.g. smoking or diabetes), key contraindications to specific drugs (e.g. a beta-blocker if there is asthma) and recommend the use of low dose single pill combination medicines, which will reduce the number of "steps", visits and drugs for the health care provider and the patient and generate specific "warnings" when the patient needs to be referred "upwards" to a physician. Such a system can increase adherence to clinical practice guidelines, provide documentation and quality control, minimize costs, and enhance the effectiveness of the non-physician health worker. This approach can also provide answers to frequently asked questions to enable the non-physician health workers to dispel common myths and misunderstandings about hypertension and is being piloted in the next phase of the HOPE 4 study in both Malaysia and in Colombia. However, in the longer term, there is also a need to ensure that there are sufficient staff available and that the country develops measures to increase training and retention.
Conclusion
This appraisal of the Malaysian health system has revealed how, despite a highly-subsidized and mostly easily accessible public health system with good availability of drugs, there are still significant barriers to effective hypertension management. These lie mainly in a limited popular awareness of hypertension as a chronic yet manageable condition, competing health belief models, a shortage of physicians, and poor management of available resources. Although these factors can be found in many settings, an understanding of their specific nature is important for the development of a contextually appropriate intervention. Yet, too often, this step is missing in health systems research. Integrated and innovative solutions are needed to manage patients using non-physician health workers and, if successful, can overcome many of the barriers to effective hypertension control.
Declarations
Acknowledgements
This project is supported by research grant from the Canadian Institutes of Health Research (Hypertension Outcomes Prevention and Evaluation: HOPE-4) and by the Malaysian Ministry of Education Grant number: 600-RMI/LRGS 5/3 2/2011.
Authors' Affiliations
(1)
London School of Hygiene and Tropical Medicine, London, UK
(2)
Universiti Teknologi MARA, Kuala Lumpur, Malaysia
(3)
National Defence University of Malaysia, Kuala Lumpur, Malaysia
(4)
UCSI University, Kuala Lumpur, Malaysia
(5)
Population Health Research Institute, McMaster University, Hamilton Ontario, Canada
Copyright
© Risso-Gill et al. 2015
This article is published under license to BioMed Central Ltd. This is an Open Access article distributed under the terms of the Creative Commons Attribution License (http://creativecommons.org/licenses/by/4.0), which permits unrestricted use, distribution, and reproduction in any medium, provided the original work is properly credited. The Creative Commons Public Domain Dedication waiver (http://creativecommons.org/publicdomain/zero/1.0/) applies to the data made available in this article, unless otherwise stated.