Research article

Open Access

Open Peer Review
This article has Open Peer Review reports available.
Centralized or decentralized perinatal surgical care for rural women: a realist review of the evidence on safety
BMC Health Services Research
BMC series – open, inclusive and trusted
2016
16:381
Received: 29 July 2014
Accepted: 4 August 2016
Published: 13 August 2016
Abstract
Background
The precipitous closure of rural maternity services in British Columbia (BC), Canada, and internationally has demanded a reevaluation of how to meet the perinatal surgical needs of rural women in accordance with the Triple Aim objectives of safety, cost-effectiveness, and satisfaction of all key stakeholders. There is emerging international evidence that General Practitioners with Enhanced Surgical Skills (GPESS) are a well-positioned health service solution due to their generalist nature in low-volume settings. A realist review was undertaken to evaluate international evidence on efficacious models of perinatal surgical care. This article presents findings of the safety of such practice, one discrete part of the full realist review.
Methods
This paper was derived from a larger review, which used a realist review methodology to guide the approach, and adhered to the RAMESES quality standard for realist reviews. Seven academic databases were searched in December 2013, using year (1990) and language (English) limiters in keeping with a rapid review approach. Mining of bibliographies in addition to consultation with international experts led to further inclusion of academic and grey literature up to March 2014.
Results
Two hundred fifty-four articles were originally identified; 119 articles were removed from consideration for lack of fit, resulting in the review of 191 articles from the peer reviewed and grey literature. Of these, 53 pertained to safety and are considered herein. Evidence on the safety of GPESS was consistent in the literature cited. Clinical, case study, and qualitative evidence demonstrates that perinatal surgical care is equally safe when provided by GPESS and specialist physicians.
Conclusion
Findings allow health planners to confidently build perinatal surgical services around the contribution of GPs with enhanced surgical skills and focus on educational, regulatory, and continuing professional development mechanisms to ensure their sustainability. Volume-to-outcomes associations are variable and inconclusive with regards to safety, suggesting the need for more evidence. These findings, and the attendant health services planning directions, are reassuring as they suggest the viability of local models of care where feasible.
Keywords
General practitioners with enhanced surgical skills
GP proceduralists
GP surgeons
Rural maternity care
Rural surgical care
Realist review
Background
Across Canada and internationally, we have seen the precipitous closure of many rural health services [1–5], leading in some instances to deteriorating population health outcomes and reduced quality of care [5–8]. Currently, professional trends in General Surgery and Obstetrics have led to a reduction in their contribution to smaller rural services [9, 10]. This is occurring within a research and policy context that recognizes the benefits of services "closer to home" [11, 12] balanced with the need for fiscally responsible planning [4]. In small-volume centres, a generalist approach has been shown to be the most efficacious way of meeting the needs of the population [10, 13, 14]. In the case of cesarean section, these conditions have created a response from General Practitioners with Enhanced Surgical Skills (GPESS) training to meet the operative needs of the population in many jurisdictions. The primary care focus of their work alongside their availability for limited procedural work addresses the challenges of low surgical volume in conjunction with the primary care needs of rural communities. Although this solution has been recognized and integrated into rural health care planning in jurisdictions such as Australia, the United States, Norway, Scotland, and in more ad-hoc ways in Canada and other jurisdictions, a review of the international literature on the safety and outcomes of GPESS has not been undertaken. In 2012, the BC Ministry of Health held province-wide consultations with key stakeholders in order to establish a set of consensus-driven action items for a provincial primary maternity care agenda, known as the BC Primary Care Plan. These consultations also resulted in a series of short-term "action items." Health care decision makers recognized that any reasoned debate about these issues demanded a rigorous review of the international literature.
In addition to the BC Primary Maternity Care Plan, perinatal planning in British Columbia (BC) has been conceptually guided by a report authored by Justice Peter Seaton in response to the Royal Commission of Health Care and Costs, which recommended "[m]edically necessary services… be provided in, or as near to, the patient's place of residence as is consistent with quality and cost-effective health care" (P. A-6). This recommendation was made based on two features. First, the Seaton report recognizes the challenges rural residents face in accessing health care, including insufficient supply of providers, inappropriate emergency services and the cost incurred by patients forced to travel for treatment [15]. These same challenges are faced by rural residents in various international jurisdictions. Second, the Seaton report expressed the belief that a decentralized health care system would better respond to many health needs within rural and remote communities.
The fundamental challenge to providing operative backup for deliveries in rural communities internationally is lack of availability of surgical providers [16]. This has become the reality in rural British Columbia as well [17]. The solution pursued worldwide is to increase the supply of rural generalist surgeons, including training more General Practitioners with Enhanced Surgical Skills and involving more General Surgeons in the delivery of perinatal surgical services. The relatively small procedural volumes of these programs, however, are associated with important issues regarding program sustainability – which deter specialist practice – including the challenge of maintaining competence for the professional staff, lack of opportunity for intensive application of practitioners' skills, restriction on the numbers of skilled providers that can be supported by the local service demand (leading to vacation and on-call relief problems), and programs associated with high unit costs. Despite this, research evidence has demonstrated the importance of local cesarean section in sustaining rural maternity services [18, 19]. A BC study found local access to cesarean section increased the proportion of local deliveries from less than 30 % (no local cesarean section) to greater than 75 % when operative deliveries were locally available [20, 21]. Similarly, a study in Alberta found a local retention rate of 22.1 % for women in communities without cesarean section compared to 70.1 % in communities with local operative delivery [22].
In the early 1990s, evidence began emerging which suggested that the profession of General Surgery was aging and due to inevitable retirement would not be able to sustain a strong rural presence without training new practitioners [9, 14, 23–25]. However, attracting new recruits was difficult due to the perception of lack of interest in the specialty, leading to demanding call schedules and the lack of sub-specialist support in rural environments [10]. This is despite the recommendations of the Barer-Stoddart report [26], which suggested priority be given to training generalist surgeons for practice in non-urban hospitals. The lack of General Surgeons in rural areas is not unique to Canada but also characteristic of rural Australia [27] and the United States [28–30].
The reality in British Columbia is most rural areas are not serviced by local specialist support: General Practitioners with Enhanced Surgical Skills are the primary surgical service provider [14, 31, 32], making the GPESS model synonymous with "decentralized perinatal surgical services." For populations of 5000–15,000, surgical services are provided locally by one or more GPESS, cesarean section often being the backbone to their procedural skills repertoire. For populations of 15,000–25,000, there is usually a specialist surgeon, in some instances an obstetrician, supported by one or more GPESS (a "mixed" model). In these larger communities, the GPESS provides call relief and often covers the operative delivery program. For populations greater than 25,000, there are usually groups of specialists without any GPESS [32].
In 1995/96, the most recent published data, 1838 c-sections were performed by 200 rural GPs in Canada [33]. Rural intrapartum care was provided by 1704 rural GPs, who attended 25,602 births, 8.4 % of total births in Canada that year [33]. Three-quarters of all GPs performing c-sections were doing so west of Ontario [33], and GPs with Enhanced Surgical Skills practiced at 60 of the 72 small rural hospitals (<51 beds, <15,000 person catchment) providing surgical services in BC, Alberta, Yukon, and the Northwest Territories [34]. Forty-three of those hospitals had GPs performing c-section procedures [34].
Given this context, this review sought international literature on models of care to meet the perinatal surgical needs of rural women in order to provide a broader context to rural health planning in British Columbia. Although GPESS is synonymous with decentralized perinatal surgical care in BC, this review considered all models in jurisdictions with a comparable health services context. Due to space limitations, this paper focuses exclusively on evidence of the safety and outcomes of models reviewed.
This realist review was commissioned by Perinatal Services of British Columbia (PSBC), a provincial policy body in BC, as part of a provincial strategic planning process to establish an evidence-informed primary maternity care agenda. One of the action items resulting from the agenda was focused on resolving some of the inter-professional and regulatory tensions within the medical community regarding GPs with Enhanced Surgical Skills and their role in sustaining perinatal surgical services for rural women. As GPESS were seen as underscoring only one potential model of care, the review question was structured to be purposively open to evidence suggesting the effectiveness of a more centralized response as well (i.e., moving rural women into regional maternity care units for labor and delivery). The final research question was:
Can we meet the perinatal surgical needs of rural women more effectively through an optimally centralized or optimally decentralized model of care?
Commissioners felt that exploring what is known from other jurisdictions, as well as from BC and across Canada, in a systematic and comprehensive way would provide the scaffolding on which to build a framework to address conditions in British Columbia. Although the entirety of the review covered five discrete themes, the focus of this paper is on what was learned from research literature on safety and outcomes. The frequent lack of policy and service context found in academic literature is a considerable barrier to inter-jurisdictional learning [35], and so the contextual features of BC are made explicit with the intention of improving the international applicability of the findings. The findings from other themes are presented elsewhere. The full report is publically available [36].
Methods
In health service research, traditional meta- and systematic reviews have significant limitations for stakeholders in jurisdictions outside of the review setting. Context at every level, including health system structures, health professional relationships, historical precedent, and community expectations all impact the portability of solutions from setting to setting. Given this, it was determined that an efficacious way to look at models of health care delivery and their applicability to the British Columbia context was through a realist review method, which brings a mandate to examine the totality of evidence on a research question with appropriate consideration for the dynamic policy and practice landscape in which that evidence was embedded. This method allows researchers to consider new questions and directions as the literature is examined [37], particularly useful when searching for models of care from other jurisdictions. It is based on an approach Wong et al. [38] call "CMO": understanding the complex relationship of Context, Mechanism, and Outcome. In addition to being contextually located, evidence included in a realist review is broad, reflective of the variety of influencing factors involved.
The RAMESES quality standard for realist reviews guided the methodology [39] with the current study meeting an excellent standard by most criteria (i.e., feasible topic, appropriately structured question, understanding and application of realist philosophy, rigor of appraisal process).
This study emerged from a larger review initiated to address an evidence gap in best practices for meeting the perinatal surgical needs of rural women guided by the question "Can we meet the perinatal surgical needs of rural women more effectively through an optimally centralized or optimally decentralized model of care?" Evidence was requested by Perinatal Services of British Columbia with a particular focus on optimal levels of (de)centralization within a planning context of budget constraint.
Inclusion criteria for the search were research findings published in the English language since 1990 with at least one search term from each of three areas (see Table
1
). Placing limitations on the search parameters is consistent with a rapid review approach. Rapid review methods are often considered in relation to full systematic reviews and have become common place in many health disciplines. Rapid realist methodology, however, is still emerging and is not yet well defined. The procedures of this research were held up to the scrutiny of rigorous realist review guidelines, while the limitations placed on the search, the timeframe of the full review (under 6 months), and the close involvement of an end-user are in keeping with a rapid review definition.
Table 1
Search Terms and Keywords. Search terms and areas for inclusion criteria of literature search
Search area

Keywords

Reasoning

Maternal / Perinatal Health

obstetric*

matern*

perinatal

reproduct*

(birth or birthing)

parturi*

This review focuses on maternal and obstetric care, and so appropriate terms were furnished to limit the search to that singular area of care.

Perinatal Surgical Care

surgery

surgical

(cesarean or caesarean or c-section*)

We aimed for a broad surgical requirement, rather than an exhaustive list of obstetric surgeries.

Rural and Remote

Health Services

(decentral* or de-central*)

rural health*

rural hospitals

rural communit*

remote health*

remote communit*

"hub and spoke"

rural

remote

The review seeks to compare models of centralized and decentralized care. Increasingly since 1990, centralization of care has been the backdrop of studies regarding decentralized models. Moreover, this review seeks to compare models of care in their ability to provide safe, high quality, cost effective perinatal surgical care to rural women specifically, and so rural health was a required search subject.
A broad and iterative approach to the search terms was particularly important due to the consolidated nature of the question (evaluations of optimally centralized or decentralized models) and the need to consider the thematic areas that would address the question (safety, outcomes, sustainability, costs, satisfaction). We searched MEDLINE, PubMed, EMBASE, CINAHL, EBM Reviews, NHS Economic Evaluation Database, and PAIS International for literature. The primary search was completed in December 2013. Grey literature was obtained from Perinatal Services of British Columbia and the SAX Institute of Australia, and the review team mined bibliographies for further academic and grey resources, through March 2014.
The further inclusion criteria were applied at the review stage of the full body articles that account for a relatively high rate (30 %; 57 of 192) of exclusion upon full article review. Articles were included only if they focused on direct discussions of maternal surgical care, including but not limited to safety of practice models, governance of care models, and sustainability of service delivery. Articles were also included on the centralization of decision making, ways of incorporating specialist care into service models, and optimal geography and/or level of service delivery. Much of the literature excluded at the full article review stage was focused on internist, general, or other non-obstetric surgery for rural patients.
Literature from low- and middle-resource settings was excluded manually due to lack of fit with BC's health service delivery context. While BC and the world have much to learn from such health settings, there are meaningful validity problems to synthesizing across distinctly different health contexts around the world, especially when applied to a question regarding medicalized, surgical intervention. The expectation of a realist review includes answering which interventions work for whom under what circumstances, such that material and cultural differences in health service settings challenge the appropriateness of a single review from all jurisdictions. Search parameters did include all settings, however. Consequently, literature was included from international contexts deemed relevant to the context in BC: Scotland, the United Kingdom, Norway, Finland, Sweden, Holland, Germany, New Zealand, the United States, Australia, and the rest of Canada.
The lead reviewer reviewed articles selected for inclusion and extracted appropriate data that was then reviewed by the lead author. A sub-set of articles (8) was reviewed by additional reviewers and compared for consistency of extracted data. There was a high degree of consistency between reviewers.
Although the types of evidence found in the search were varied, the majority of studies were descriptive in nature. Case studies, service reviews and chart audits including retrospective chart reviews were common, often using population level data at the national or regional level. Additionally, several studies used chart reviews to compare outcomes from specialist obstetric surgical care to generalist care. Program or intervention research was a smaller portion of the research than expected, perhaps because of our focus on models of care rather than smaller units of health service delivery. Still, a handful of articles detailed trials of new models of care, including specialist outreach and telehealth. Finally, editorials and grey literature reports that were found with the help of policy and service programming experts in both Canada and Australia were also included. There were no existing systematic reviews or randomized controlled trials in the body of evidence. When considered together and in the broader context of international rural maternity care, however, consistency of findings indicates reliable evidence. The review team approached the research literature mindful of the importance of the role of context in the outcomes of the intervention (GPESS), in contrast to the more traditional cause-and-effect perspective. The focus on context was embedded in recommendations that were made based on the literature.
The commissioners convened two province-wide meetings of policy makers, practitioners, and administrators working in and with GPESS at which findings of this study were considered. The second meeting focused almost exclusively on the findings from the review. These meetings served as an "expert panel" for the review team and allowed a high degree of confidence that all relevant literature was included in the review.
Results
Two hundred fifty-four articles were originally identified as relevant from database searching. Upon consultation with the commissioners, one hundred nineteen articles were removed from consideration for lack of fit. These included articles highlighting clinical evidence on the relative safety of particular morbidities for parturient women (e.g. eclampsia, diabetes, HIV) (
n
 = 27) and articles regarding defensive medicine and litigation concerns (
n
 = 35). In total, 191 articles were subjected to in-depth review. Fifty-three pertained directly to safety and outcomes (see Fig.
1
). A reference table is attached (see Additional file
1
). A supplementary bibliography is also provided of those articles included in the full realist review but not specifically relevant to safety (see Additional file
2
).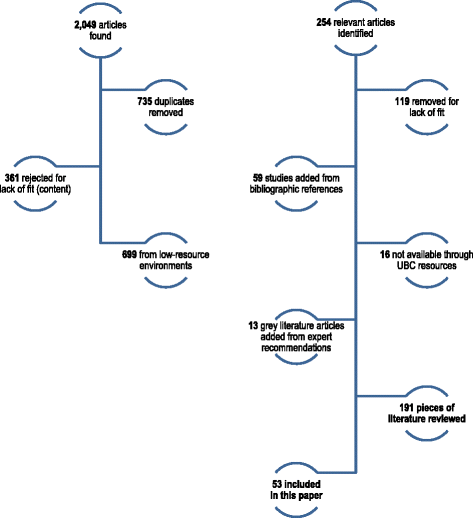 General practitioners with enhanced procedural skills have historically provided cesarean section support for rural maternity units in many jurisdictions internationally, including the United States [27, 40–48], Australia [49–52], Scotland [19, 53, 54], New Zealand [55], and across Canada [17, 22, 56–59]. Internationally, concern over volume thresholds and competency has ultimately led to a series of studies on the safety and service quality of GPs with Enhanced Surgical Skills. This research evidence can be categorized into five sub-categories: best practice standards, community expectations of safety, outcome comparisons by service provider, relationship of volume to outcomes, and consequences of small service closures. Each theme will be explored below.
Discussion
Research literature has shown that local access to cesarean section increases the proportion of women safely able to deliver in their local community to at least 70 % from 30 % in services not offering local cesarean section capacity. Finding and supporting the health human resource compliment in communities with enough volume to sustain such services, however, has been difficult. The very nature of rural services is defined by low volume, making specialist practice in the smaller communities unfeasible. The solution in the international jurisdictions covered in this review has been a reliance on GPs with Enhanced Surgical Skills. Due to the number of sites supporting GP procedural practice and the number of evaluative studies that have resulted, research evidence on the safety and efficacy of this practice is strong. Perhaps equally as importantly, there is no existing clinical, case study or qualitative evidence to suggest that cesarean section is less safe when provided by a GPESS than when provided by a specialist obstetrician.
Supporting and sustaining local maternity services is crucially important to achieving good perinatal health outcomes. Although the proportion of outflow from the community is reduced with local operative delivery, research evidence also tells us that the lack of any local maternity service is worse than services without cesarean section. This is due in part to the unintended morbidities incurred when women present to an unprepared service fully dilated, or physiological and psycho-social morbidities, caused by travelling to access care. Additionally, health service realities – including the lack of continuity of care when women leave their communities – must be accounted for in a comprehensive review of safety of the evidence on small local surgical services.
Enmeshed in concerns over the safety of the practice of GPESS, there has also been the ongoing debate on practice thresholds; that is, the number of procedures performed, both by individual clinicians or in facilities, in relation to outcomes. The literature in this review suggests that volume-to-outcomes associations are extremely variable across procedure and context, but as a whole greater birth volume does not improve birth outcomes. This does not speak to greater procedural volume, however, specifically in regards to cesarean sections. Although we do know that greater volume increases confidence (particularly greater volume in residency) [36], careful consideration of the relationship between GPESS volume of cesarean sections and outcomes is a crucial gap in our evidence and in need of further investigation.
Although a context-mechanism-outcomes (CMO) theory was not postulated at the onset of this review due to the pragmatic intent of the commissioners, it is clear that an a posteriori understanding of CMO can be understood from the reviewed literature and applied to the creation of evidence-based models of care.
The context for these models must include a statement of support from a governance level recognizing the importance of meeting the perinatal surgical needs of rural women as close to home as possible, respecting complexity of procedure, risk status of patient, and health conditions in the community. Additionally, surgical care should be viewed as a regional, rather than institutional, phenomenon. Consequently, the scope of practice and resources needed to implement surgical programs should be organized regionally. General Practitioners with Enhanced Surgical Skills (GPESS) can be safely allowed to practice to the fullest extent of their ability within the context of a regionalized and inter-professional system of referral, consultation, and emergency transfer support. Small ORs should become outreach extensions of core referral hospital surgical programs, and the organization of services should respect the sustainability of the regional referral services and the smaller services.
The mechanism needed to enact the vision of continuous perinatal surgical services (24/7 c-section backup) includes services provided through a well-integrated and balanced surgical team, which includes outreach surgeons and local generalist surgical providers. Surgical competency could be enhanced by regular rotation of team members through a larger referral centre. Training programs for rural nurses need to be strengthened, recognizing the broad skillset and multifaceted nature of rural nursing. Small service surgical team skills and competencies should be built and maintained through an integrated educational program with local referral hospitals. This can be accomplished both through outreach and by rotating small service surgical team members through the referral community's surgical program. Additionally, inter-professional outreach surgical educational and mentorship activities extended from the regional referral hospital to the small surgical sites on a regular basis. This model requires timely and regular feedback within a quality improvement framework.
Anticipated outcomes of the context and mechanism described include a robust and sustainable networked model of rural surgical services equipped to meet basic perinatal surgical needs of rural populations.
Limitations
Following the indications of realist reviews to privilege context in the structure of the review and the interpretation of findings, this review is directly applicable to the history, context and political challenges in British Columbia, Canada. Although similar conditions may be found in other jurisdictions, the exact constellation of conditions will not be the same, thus limiting transferability to other settings.
This review was commissioned in response to a real-time planning challenge that arose out of a provincial priority-setting initiative informed by external time-lines. Because of this, a rapid review approach was used. This demanded attention to the balance of comprehensiveness and timeliness. Although methodological rigor was applied throughout the process, the exhaustiveness of the search could be potentially limited due to time constraints. This was addressed through the involvement of the expert panel, made up of key clinically, politically, and administratively engaged stakeholders in the province. This scrutiny of the review allowed room for the inclusion of grey literature references not captured through the search strategy.
Conclusion
Clinical, case study, and qualitative evidence demonstrates that perinatal surgical care is equally safe when provided by GPESS and specialist physicians. This finding allows health planners to confidently build perinatal surgical services around the contribution of GPs with Enhanced Surgical Skills and focus on educational, regulatory, and continuing professional development mechanisms to ensure their sustainability. Volume-to-outcomes associations are variable and inconclusive with regards to safety, suggesting both the need for more evidence and also the viability of low-volume services particularly suited to generalists who can take on other roles in the community. These findings, and the attendant health services planning directions, are reassuring as they suggest the viability of local models of care where feasible. This policy direction addresses the social and health risks to women from communities without local access to maternity care, leading to improved health outcomes.
Declarations
Acknowledgements
Appreciation is extended to members of the Centre for Rural Health Research who contributed to the reviews including Meagan McKeen, Caitlin Frame, Kelly Garton, Penny Yang, and Mary O'Sullivan. Additional thanks to Taylor Flemming who reviewed articles and prepared the manuscript for publication, and to Renee Turner for editorial comments. Appreciation is also extended to Dr. Stefan Grzybowski for comments on the draft and support through the review process.
Funding
Research was made possible with funding provided by the Canadian Institutes of Health Research (CIHR) and the Michael Smith Foundation for Health Research (MSFHR).
Availability of data and material
Data sharing not applicable to this article as no datasets were generated or analysed during the current study.
Authors' contributions
JK carried out the study, co-articulated the research question, and co-wrote the manuscript. KM led the review of articles and wrote up findings from the data extraction. KW co-articulated the research question, provided the political context for the review, organized the expert panel meeting, and edited the manuscript. All authors read and approved the final manuscript.
Competing interests
The authors declare that they have no competing interests.
Consent for publication
Not applicable.
Ethics approval and consent to participate
Not applicable.
Open AccessThis article is distributed under the terms of the Creative Commons Attribution 4.0 International License (http://creativecommons.org/licenses/by/4.0/), which permits unrestricted use, distribution, and reproduction in any medium, provided you give appropriate credit to the original author(s) and the source, provide a link to the Creative Commons license, and indicate if changes were made. The Creative Commons Public Domain Dedication waiver (http://creativecommons.org/publicdomain/zero/1.0/) applies to the data made available in this article, unless otherwise stated.
Authors' Affiliations
(1)
Department of Family Practice, University of British Columbia, Vancouver, Canada
(2)
Perinatal Services BC, Provincial Health Services Authority, Vancouver, Canada