Research article

Open Access

Open Peer Review
This article has Open Peer Review reports available.
Using the Medical Research Council framework for development and evaluation of complex interventions in a low resource setting to develop a theory-based treatment support intervention delivered via SMS text message to improve blood pressure control
BMC Health Services Research
BMC series – open, inclusive and trusted
2018
18:33
Received: 21 September 2015
Accepted: 15 December 2017
Published: 23 January 2018
Abstract
Background
Several frameworks now exist to guide intervention development but there remains only limited evidence of their application to health interventions based around use of mobile phones or devices, particularly in a low-resource setting. We aimed to describe our experience of using the Medical Research Council (MRC) Framework on complex interventions to develop and evaluate an adherence support intervention for high blood pressure delivered by SMS text message. We further aimed to describe the developed intervention in line with reporting guidelines for a structured and systematic description.
Methods
We used a non-sequential and flexible approach guided by the 2008 MRC Framework for the development and evaluation of complex interventions.
Results
We reviewed published literature and established a multi-disciplinary expert group to guide the development process. We selected health psychology theory and behaviour change techniques that have been shown to be important in adherence and persistence with chronic medications. Semi-structured interviews and focus groups with various stakeholders identified ways in which treatment adherence could be supported and also identified key features of well-regarded messages: polite tone, credible information, contextualised, and endorsed by identifiable member of primary care facility staff. Direct and indirect user testing enabled us to refine the intervention including refining use of language and testing of interactive components.
Conclusions
Our experience shows that using a formal intervention development process is feasible in a low-resource multi-lingual setting. The process enabled us to pre-test assumptions about the intervention and the evaluation process, allowing the improvement of both. Describing how a multi-component intervention was developed including standardised descriptions of content aimed to support behaviour change will enable comparison with other similar interventions and support development of new interventions. Even in low-resource settings, funders and policy-makers should provide researchers with time and resources for intervention development work and encourage evaluation of the entire design and testing process.
Trial registration
The trial of the intervention is registered with South African National Clinical Trials Register number (SANCTR DOH-27-1212-386; 28/12/2012); Pan Africa Trial Register (PACTR201411000724141; 14/12/2013); ClinicalTrials.gov (NCT02019823; 24/12/2013).
Keywords
Intervention developmentMRC frameworkAdherenceHealth careSelf-managementBehaviour modification
Background
Raised blood pressure is an important and common modifiable risk factor for cardiovascular and related diseases including stroke and chronic kidney disease [1]. Although evidence exists that lowering blood pressure substantially reduces this risk, strategies to achieve sustained blood pressure control are complex. These include modifying a range of behaviours related to health including attending clinic appointments, taking medication regularly and persisting with treatment [2–5].
Mobile communications technology has the potential to support behaviour change and treatment adherence in real time by facilitating remote, interactive, timely access to relevant information, providing context-specific support and prompts to action [6].
Systematic reviews of health behaviour change interventions delivered by mobile phones or devices (m-health) have shown small beneficial effects for some conditions in some settings but results are not consistent [7, 8]. Some though not all trials have shown modest effects on treatment adherence and disease outcomes for m-health interventions among adults living with HIV [9, 10]. Similar results have been found in trials of m-health interventions to support behaviour change for people with high blood pressure, diabetes, and heart disease [11, 12].
Behavioural interventions, including those delivered using m-health technologies are often not systematically developed, specified, or reported [13]. The potential to accumulate evidence of effectiveness and to identify the "active components" in successful m-health interventions depends in part on replication of successful interventions across settings and in part on refining interventions (adding or subtracting elements) using evidence of behaviour change [14]. Adequate descriptions of the theory of the intervention and specific intervention components are needed to extend the evidence base in the field and to facilitate evidence synthesis [15].
Several frameworks are now available to guide intervention development but there is limited evidence of their application to describe the development of m-health interventions particularly in resource constrained settings [16, 17]. The Medical Research Council (MRC) Framework for the development of complex interventions (initially published in 2000 and up-dated in 2008) has been used successfully across disciplines which suggest its flexible, non-linear approach may be usefully applied to the iterative design processes used in the development of new technology-based systems [15, 18–20].
The aim of this paper is to describe our experience of using the 2008 MRC framework to develop and test a theory-based behaviour change intervention to support adherence to high blood pressure treatment delivered by mobile phone text message; to reflect on the benefits and challenges of applying this framework in a resource constrained setting, and to describe the final intervention in line with reporting guidelines for a structured and systematic description [13].
Methods
We used a non-sequential, flexible approach guided by the 2008 MRC Framework for the development and evaluation of complex interventions (see Fig.
1
) [
18
]. Table
1
shows the stages of the 2008 MRC framework alongside with the activities we undertook in the development process. Implicit in this development process is the identification of contextual factors that can affect outcomes [
21
].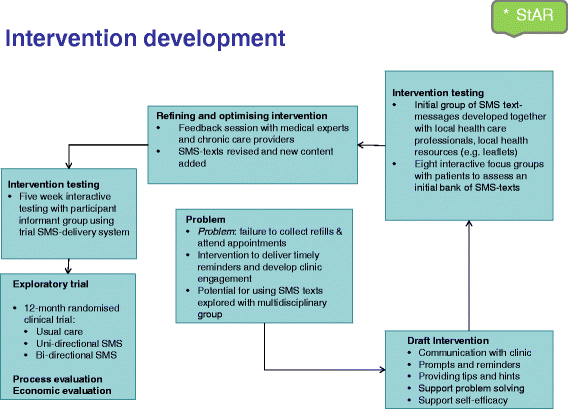 Table 1
Mapping activities to MRC framework
1

Developing complex intervention

 1.1

Identifying evidence base by reviewing published literature and existing systematic reviews

i

Epidemiology of high blood pressure and its control

ii

Evidence base on treatment adherence

iii

Identified existing systematic reviews and trials of interventions delivered by mobile phone

 1.2

Identifying and developing appropriate theory

i

Literature review and meeting with stakeholders and experts to decide on theory, behaviour change techniques, and intervention strategies

ii

Qualitative studies with stakeholder groups to refine content and test delivery system

 1.3

Modelling process and outcomes

i

Used causal modelling approach to link determinants of behaviour to behaviours and subsequent health outcomes

2

Assessing feasibility and piloting methods

 2.1

Testing procedures for acceptability, compliance, and intervention delivery

i.

Tested components for feasibility and acceptability

ii.

Service tested full intervention over 8-week period

 2.2

Estimating recruitment and retention

i.

Recruitment from general outpatient department of a large, single primary care facility

ii.

Review of literature to determine best practice for ongoing retention of trial participants

 2.3

Determining sample size

i.

Data from observational studies used to calculate sample size

3

Evaluating complex intervention

 3.1

Assessing effectiveness

i.

Set up a large pilot RCT (South African National Clinical Trials Register DOH-27-1212-386; 28/12/2012; Pan Africa Trial Register PACTR201411000724141; 14/12/2013); ClinicalTrials.gov NCT02019823; 24/12/2013). Primary outcome change in mean systolic blood pressure at 1 year, data on secondary outcomes along hypothesised casual pathway also collected. Usual care group get infrequent non-health related SMS text messages, intervention groups get regular SMS text messages designed to support treatment adherence

 3.2

Understanding change processes

i.

Intervention fidelity assessed using message delivery logs and logs of participant contact

ii.

In final phase of the trial qualitative study of participants, health care workers, and service providers to explore how the intervention might work (necessary pre-requisites), could be optimised, contextual factors, specific key ingredients which could be included in future interventions

 3.3

Cost-effectiveness

i.

Data on costs of developing, testing, and delivering intervention as well as health service costs collected and analyses in process

4

Implementation and beyond

 4.1

Dissemination

i.

Peer review publications, conference presentations, public engagement activities, making available tools used to develop and deliver intervention

 4.2

Surveillance, monitoring, and long-term outcomes

i.

Consent to access routinely collected health data. If intervention shown to be effective then process and outcome data could inform additional pragmatic trials.
Discussion
Main findings
Using the MRC Framework was feasible in a low-resource multi-lingual setting. The adoption of the framework enabled us to develop a theory- and evidence-based intervention; to specify a proposed causal pathway to modify adherence behaviour and clinical outcomes; to test and refine the intervention delivery system; to design a randomised evaluation of the intervention; and to test and evaluate proposed study procedures.
What is already known on this topic
Mobile devices are a promising approach for delivering health interventions [7, 8]. Replication of study findings is hampered by the lack of adequate description of specific intervention components and their theoretical basis [13–15]. A number of frameworks have been proposed in the health and technology fields to aid the design of technology-based interventions [16, 49–51]. The 2008 MRC Framework has been used to design and evaluate interventions across disciplines which suggest its flexible, comprehensive, non-linear, iterative approach may be applicable to the design and evaluation of m-health interventions [15, 17–20].
What this study adds
This paper shows how the framework can be operationalised for an m-health intervention by explicitly mapping the activities, development, and testing to the stages of the 2008 MRC framework. We have also included detailed descriptions of the various aspects of the intervention and its delivery, reported in-line with TIDieR guidelines, which will enable comparison with other m-health interventions and support development of new interventions. Lastly, we have demonstrated that it is feasible and beneficial to use this approach in a multi-lingual low-resource setting.
Limitations of this study/framework
Sufficient time and resources need to be available to apply the Framework and benefit from the iterative development process and from testing of study-related procedures. For example, it took us several months longer than anticipated to complete the intervention development and testing in part because in resource constrained settings like the public health facilities in South Africa it can be challenging for frontline service staff to find time to engage in intervention design activities (interviews, discussions, message library review.)
Whilst the intervention development work was carried out at several sites the clinical trial was at a single-site. In future, we will engage in both development and testing across sites to tease out factors that are common and unique for specific mHealth interventions.
Lastly, attention also needs to be given to field testing of recruitment and retention strategies as there are many instances where trials of mHealth interventions in similar settings are inconclusive because of poor recruitment and high rates of loss to follow-up [52, 53].
Conclusions
The MRC Framework can be successfully applied to develop and evaluate m-health interventions in a multi-lingual resource-constrained setting. Detailed descriptions of the development process, the intervention and its delivery may advance the evidence-base for m-health interventions, enabling comparison, adaption, and development of interventions.
Abbreviations
MRC:

Medical Research Council
StAR:

SMS text Adherence suppoRt trial
Declarations
Acknowledgements
We are grateful to the patients; health-care workers; pharmacist; clinic administrative staff for their assistance. We are grateful to the Department of Health of the Western Cape for their support and access to facilities. We are grateful to Professor Krisela Steyn and Professor Brian Rayner for their insight and support. We are also grateful for the administrative support from the Chronic Diseases Initiative for Africa secretariat. We are especially grateful to Sr Carmen Delport and Ms. Liezel Fisher.
Funding
This research project is supported by the Wellcome Trust and the Engineering and Physical Sciences Research Council. AF is a Senior NIHR Investigator, and AF and LT are supported by funding from the NIHR Oxford Biomedical Research Centre. The funders had no role in study design, data collection and analysis, decision to publish, or preparation of the manuscript.
Availability of data and materials
Materials used are publically available Medical Research Council (MRC) Framework on complex interventions. TIDieR check list describing final intervention included in supplementary materials. Additional anonymised data from focus groups and cross-sectional survey available on request.
Authors' contributions
KB, AF, TB, NL, BR, MN, LT conceived the study. KB and AF designed and coordinated the study and wrote the protocol. The protocol was refined with contributions from TB, DS, NL, BR, KS, MN, LT, who also contributed to study coordination. NN, NC contributed to the data collection and coding, analysis and edited the manuscript. TB, DS and LT developed and implemented the technical system for sending the SMS text-messages and contributed to the manuscript. LT is the grant holder for the program that supported this work. KB and AF (as joint first authors and equal contributors) wrote the first draft of the manuscript, which was critically revised for important intellectual content by all authors. All authors read and approved the final manuscript. KB and AF are the guarantors of the manuscript, and affirm that the manuscript is an honest, accurate, and transparent account of the research being reported; and that no important aspects of the study have been omitted.
Ethics approval and consent to participate
The study was approved by the Human Research Ethics Committee of the University of Cape Town (HREC UCT 418/211, 017/2014), the Oxford Tropical Research Ethics Committee (OXTREC 03–12, 13–14), and the Metro District Health Services, Western Cape (RP 141/2011). Trial conduct was overseen by a trial steering committee. All participants provided written informed consent. All the requirements of the Helsinki Declaration of 2008 were fulfilled.
Consent for publication
Not applicable.
Competing interests
The authors declare that they have no competing interests.
Publisher's Note
Springer Nature remains neutral with regard to jurisdictional claims in published maps and institutional affiliations.
Open AccessThis article is distributed under the terms of the Creative Commons Attribution 4.0 International License (http://creativecommons.org/licenses/by/4.0/), which permits unrestricted use, distribution, and reproduction in any medium, provided you give appropriate credit to the original author(s) and the source, provide a link to the Creative Commons license, and indicate if changes were made. The Creative Commons Public Domain Dedication waiver (http://creativecommons.org/publicdomain/zero/1.0/) applies to the data made available in this article, unless otherwise stated.
Authors' Affiliations
(1)
Chronic Disease Initiative for Africa, Cape Town, South Africa
(2)
Division of Diabetic Medicine and Endocrinology, Department of Medicine, University of Cape Town, Cape Town, South Africa
(3)
Primary Care Clinical Trials Unit, Nuffield Department of Primary Care Health Sciences, University of Oxford, Oxford, UK
(4)
Women's Health Research Unit, School of Public Health & Family Medicine, University of Cape Town, Cape Town, South Africa
(5)
Western Cape Province Department of Health, Cape Town, South Africa
(6)
Institute of Biomedical Engineering, Department of Engineering Science, University of Oxford, Oxford, UK
(7)
Nuffield Department of Primary Care Health Sciences, Radcliffe Observatory Quarter, University of Oxford, Oxford, UK